Obamacare is dramatically boosting health insurance among Latinos, a group that has historically suffered the highest uninsurance rate in the U.S.
The uninsured rate among Latinos aged 19 to 64 fell from 36 percent to 23 percent after Obamacare's first enrollment period ended earlier this year, according to a new report from the Commonwealth Fund. That's a bigger drop than in the U.S. overall, where uninsured rates fell from 20 percent to 15 percent.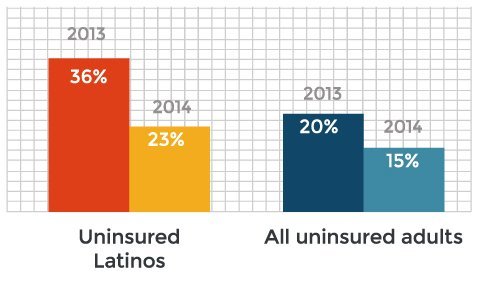 The survey, which compared uninsured rates in the summer of 2013 to rates in the spring of 2014, found significant drops among young Latinos, aged 19 to 34, and low-income Latinos, or those earning 138 percent of the federal poverty level (about $32,499 for a family of four).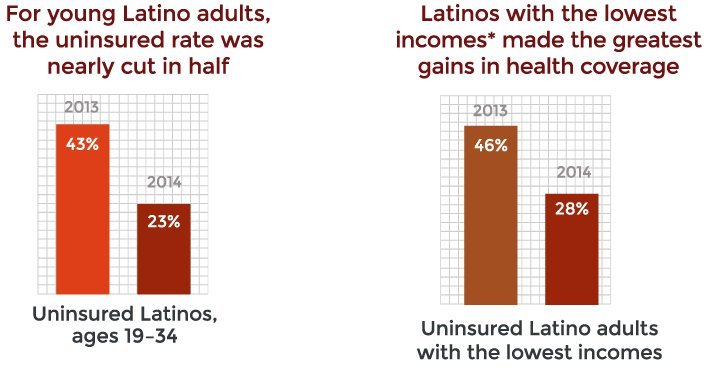 These numbers are more proof that the Obama Administration's targeted efforts to get Latinos and blacks to sign up for insurance under the Affordable Care Act are working, despite a messy rollout.
But not all the data are so encouraging: In Florida and Texas, two states with huge Latino populations that could most benefit from Obamacare's expanded access to Medicaid, the law's effects are being stymied by the GOP's refusal to expand coverage.
In fact, 20 million Latinos live in states that refused to expand Medicaid under the law. In these states, the uninsured rate of 33 percent barely changed, according to the Commonwealth study. In comparison, the uninsured rate for Latinos living in the states that did expand Medicaid coverage saw the uninsured rate fall to 17 percent from 35 percent.
"To achieve the law's goal of near-universal coverage, it will be necessary for all states to expand Medicaid," the Commonwealth report says.

Related
Popular in the Community