The Supreme Court is set to issue a ruling in a major Affordable Care Act case that could force millions off their health insurance this June. But if you're like most Americans, you're pretty much clueless about it.
That's right: More than seven in 10 people have heard "nothing at all" or "only a little" about King v. Burwell, a lawsuit brought by conservative and libertarian activists that seeks to eliminate Obamacare's health insurance subsidies for 6.4 million people in 34 states, according to survey results published Tuesday by the Henry J. Kaiser Family Foundation. The share of Americans saying they'd heard nothing -- 44 percent -- about this latest challenge to Obamacare's survival outnumber those who have heard "a lot" or at least "something" by almost two to one.
At issue is a brief phrase contained in the Affordable Care Act -- "exchange established by the state" -- that the plaintiffs contend limits subsidies to health insurance exchange marketplaces set up by states like California, Idaho and New York, not the federally operated exchanges in most of the states, including Florida and Texas. The Obama administration maintains the statute provides for subsidies in every state, regardless what governmental entity built the exchanges.
A decision for the plaintiffs would take away subsidies from more than 6 million low- and moderate-income beneficiaries, making their coverage unaffordable and causing most of them to be uninsured. Experts also expect that those with the greatest medical needs -- who are the costliest to insure -- would be more likely to seek to retain their policies. That would drive up expenses for insurers, forcing them to raise rates on their remaining customers, which in turn would cause more healthy people to exit the market.
Awareness of the Obamacare lawsuit is slightly higher than it was three months ago, but remains low. That's despite massive news coverage of the oral arguments about the lawsuit in March, and political jockeying by President Barack Obama and Republicans in Congress as the ruling nears and the the need rises for a solution to the problems that a decision against the subsidies would bring.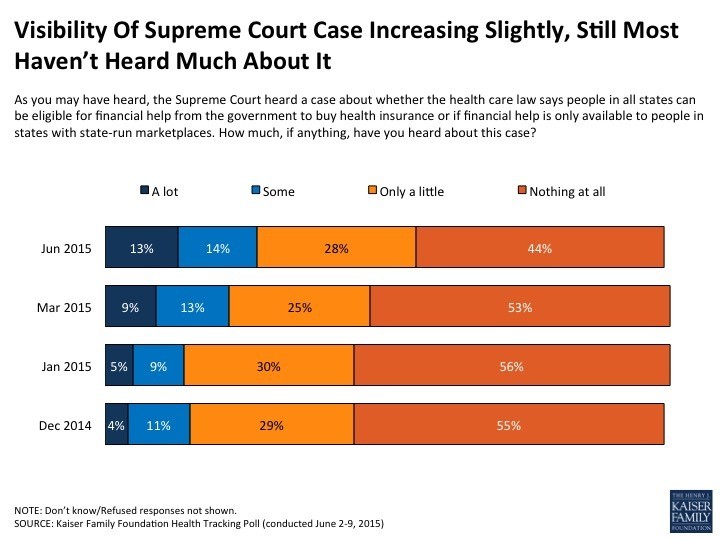 Last Monday, Obama said the high court shouldn't have taken up the case in the first place, and the next day gave a speech labeling those who want to see Obamacare's expansion of health insurance coverage to millions of people rolled back as "cynical."
According to the Kaiser Family Foundation poll, the public wants Congress or state governments to essentially undo a Supreme Court ruling that eliminates health insurance subsidies -- which for now puts a majority on Obama's side in a potential dispute with Congress and Republican state officials. The foundation surveyed 1,200 adults from June 2 to June 9.
Sixty-three percent of those surveyed said Congress should simply give the subsidies back. Views on what Congress should do fall on predictable partisan lines: Eight in 10 Democrats and two-thirds of independents favor this action -- but so do almost four in 10 Republicans. And 55 percent of people who live in locales with federal health insurance exchanges want their home states to create their own marketplaces to keep the subsidies flowing.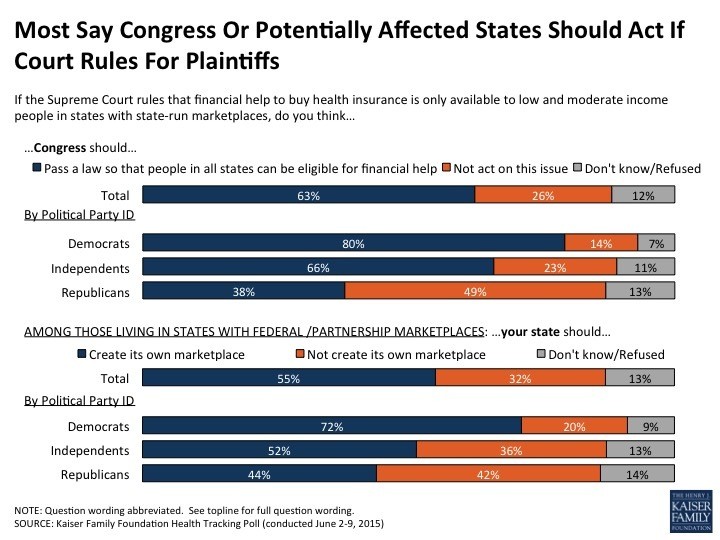 Most Americans would want subsidies restored even though less than half of the public says it even supports the Affordable Care Act, the survey shows. Just 39 percent of respondents view the law favorably, compared to 42 percent who have an unfavorable opinion of it.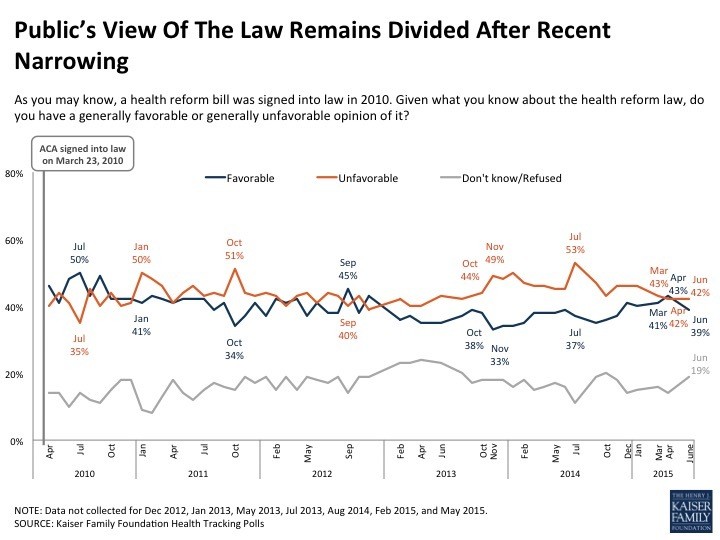 Before You Go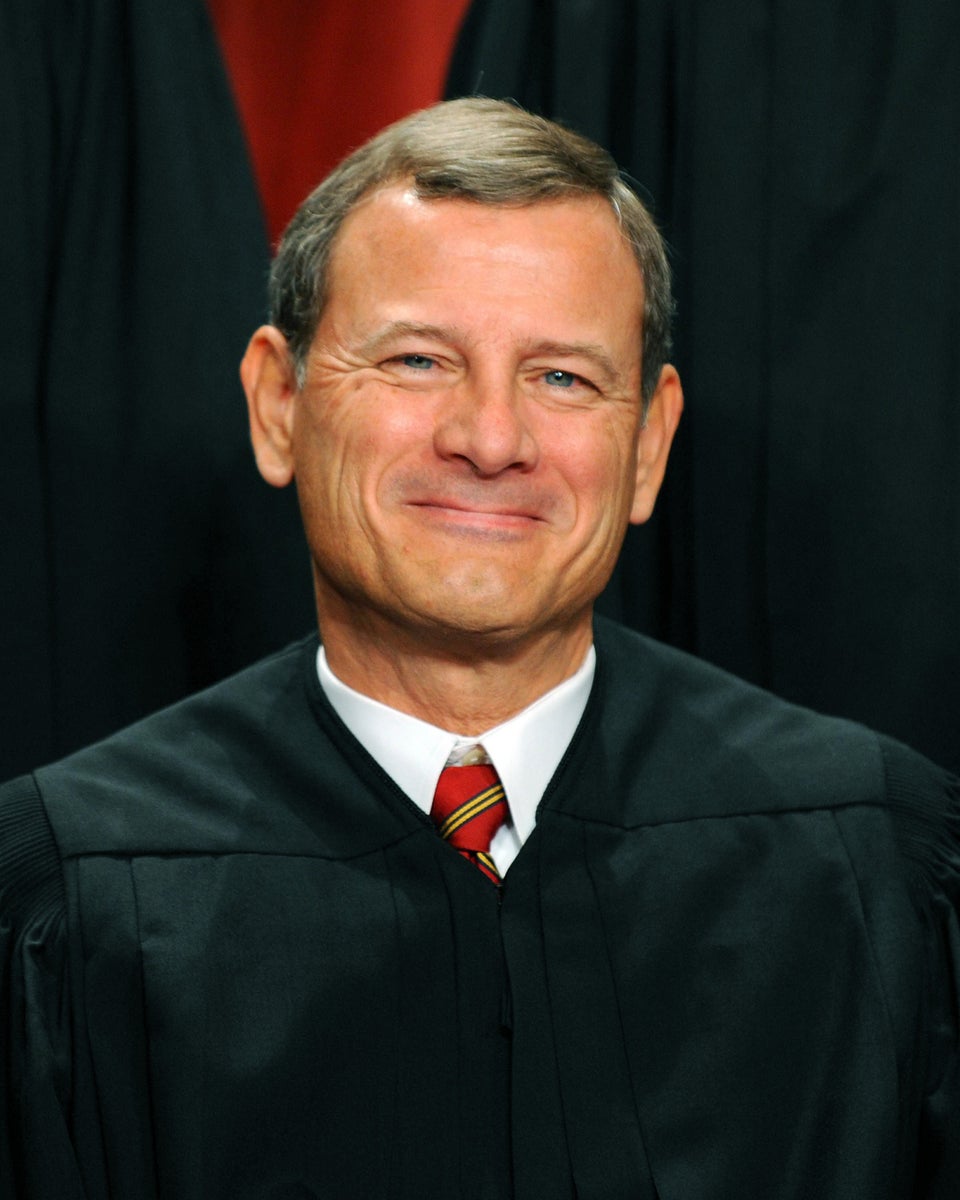 Supreme Court Justices
Popular in the Community