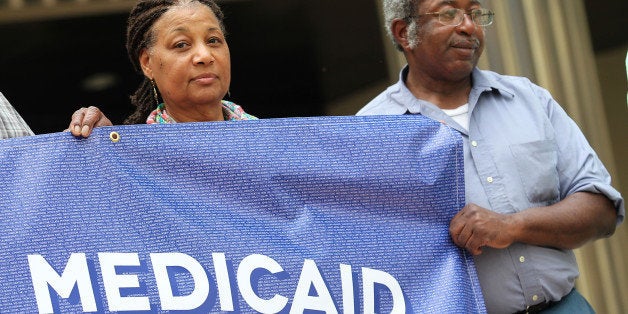 Twenty-five states didn't take up the Obamacare Medicaid expansion at the beginning of this year, and the results speak for themselves: A new survey shows more than one-third of their lowest-income residents remain uninsured, a rate virtually unchanged from last year, even as millions gained coverage elsewhere.
Nationwide, the share of Americans 19 to 64 years old without health insurance fell from 20 percent to 10 percent, as 9.5 million people got covered by Medicaid or private health insurance, according to a poll of Obamacare enrollees published Thursday by the Commonwealth Fund.
Among adults who earn less than poverty wages in states that didn't expand Medicaid, the uninsured rate is 36 percent, a decline of two percentage points (termed not statistically significant) from last year. That compares to a dramatic drop from 28 percent to 17 percent in states that expanded Medicaid.
The debate over the Medicaid expansion remains arguably the most consequential unresolved matter related to the Affordable Care Act, as the refusal by Republican governors and state legislatures to accept federal dollars to provide health care to poor people is having real effects on the ground.
The authors of the ACA didn't foresee this outcome, which was made possible by a Supreme Court ruling in 2012 giving states the right to opt out of Medicaid expansion and granting GOP politicians another cudgel to use against Obamacare.
The law was originally designed to make Medicaid available to anyone who earns less than 133 percent of the federal poverty level, or $15,282 this year for a single person. The law also lets individuals who make between the poverty level of $11,490 to four times that amount get tax credits to cut the cost of private health insurance. But anyone who makes less than that -- or even nothing -- gets no assistance if they live in Texas, Florida, Louisiana or the other states didn't didn't expand the program.
Among Obamacare enrollees with either Medicaid or private health insurance obtained through insurance exchanges, 63 percent didn't have health coverage before. Two-thirds of new Medicaid enrollees were previously uninsured. The greatest gains in health coverage were among young adults, poor adults and Latinos, the survey found.
The Commonwealth Fund poll, conducted through telephone interviews of 4,425 people by the firm SSRS from April to June, focused special attention on the six most populous states.
California, which expanded Medicaid, cut its uninsured rate in half to 11 percent. In Florida, which did not expand the program to more people, the share of uninsured residents declined from 30 percent to 26 percent, a difference deemed statistically insignificant. Texas also didn't expand Medicaid, but its uninsured rate still fell from 34 percent to 22 percent, the survey found. Texas and Florida still have the highest uninsured rates in the nation.
Related
Popular in the Community