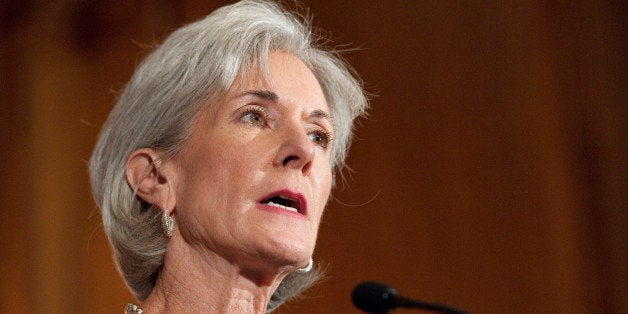 More than 100 organizations in 34 states will receive $67 million in federal funding to help consumers shop for health coverage on the new health insurance exchanges under President Barack Obama's health care reform law, the Department of Health and Human Services announced Thursday.
"It's fundamentally important that there will be now and forever people whose job it is to help you with your health insurance decisions and questions," said Karen Pollitz, a senior fellow at the Henry J. Kaiser Family Foundation in Washington. "People are going to want to talk to somebody they can rely on to get information."
The list of navigator grant recipients runs the gamut from large private companies, charities, health care providers and universities to local legal-aid providers and faith-based organizations.
Ascension Health, the largest nonprofit hospital chain in the U.S., will serve as a navigator in Alabama and Kansas. Planned Parenthood affiliates in Iowa, Montana and New Hampshire won navigator grants. United Way will provide navigator services in Alaska, Indiana and Texas. Organizations focused on outreach to Latinos, people with mental illnesses, Native Alaskans and Native Americans, AIDS patients and others also won federal grants.
"Navigators will be among the many resources available to help consumers understand their coverage options in the marketplace," Health and Human Services Secretary Kathleen Sebelius said in a press release. "A network of volunteers on the ground in every state -- health care providers, business leaders, faith leaders, community groups, advocates and local elected officials -- can help spread the word and encourage their neighbors to get enrolled."
The health care reform law provides for a number of types of in-person help to consumers, run either by the federal government or the states and including these navigators, certified application counselors and private insurance agents and brokers.
These organizations will determine how many navigators they hire, and the administration can't predict how many will be available to help consumers, Chiquita Brooks-LaSure, the deputy director of policy and regulation at the Center for Consumer Information and Insurance Oversight, said during a conference call with reporters Thursday.
Consumers needing help signing up for health insurance on the exchanges will have access to navigators in person or by telephone to walk them through the process of choosing a health plan, something that previously wasn't available to people shopping for their own coverage, the Kaiser Family Foundation's Pollitz said.
"They are the trusted sources of assistance that consumers have been telling us for years that they want in the health insurance system," she said. "They'll be trained and they are there to help you. They're not trying to sell you anything."
The administration increased the funding available for navigator grants from $54 million to $67 million by tapping dollars from the health care reform law's prevention fund, Brooks-LaSure said.
But with such a relatively small amount of money available, navigators might be stretched thin, especially in states like Texas and Florida, where large numbers of uninsured people live but where Republican-led state governments aren't helping federal efforts to help consumers get enrolled, Pollitz said. This will result in wide variation among the states in how much help is available and how many people get covered, she said.
"The resources are pretty constrained for the first year," Pollitz said. People who want assistance from navigators should seek help as soon as possible after Oct. 1, in case there are long waits for appointments, she said. "There definitely might be a queue."
Navigators employed by the federal grant-winners will undergo 20 to 30 hours of training on the health insurance exchanges and on ensuring the security of consumers' personal information, according to HHS.
The administration also released a list of more than 100 "Champions for Coverage" -- organizations that have pledged to assist federal and state governments with health insurance enrollment efforts. Participants include the American Medical Association, American Hospital Association, the NAACP and the American Heart Association.
See the full list of Affordable Care Act navigator grant recipients below:
REAL LIFE. REAL NEWS. REAL VOICES.
Help us tell more of the stories that matter from voices that too often remain unheard.
BEFORE YOU GO
PHOTO GALLERY
Health Care Reform Efforts In U.S. History