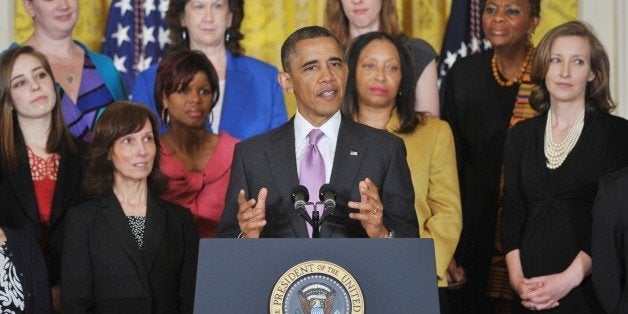 But there's also good news: Clinton's effort to spread awareness of the exchanges is getting a big boost from an unlikely ally -- Obamacare's most fervent antagonists. They may not like Obamacare, and they're working hard to sabotage it, but they're -- perhaps unwittingly -- helpfully informing the the public about all of the people standing at the ready to hook them up with health insurance.
It wasn't always this way. In weeks past, Obamacare opponents scored some victories by merely denying the Obama administration avenues to dispense public information about the health insurance exchanges. The most notable example is the pressure Senate Minority Leader Mitch McConnell (R-Ky.) and Senator John Cornyn (R-Texas) put on the National Football League, which the Obama administration had sought as a partner in the effort to get the word out about the new benefits afforded people under the health care law.
More recently, however, the tactics of Obamacare opponents -- while still troublesome for the agencies setting up the exchanges -- have nevertheless managed to remind people that they'll soon have a range of new health care options, and identified where and how they can sign up for insurance.
"Let me tell you what we're doing (about ObamaCare)," Georgia Insurance Commissioner Ralph Hudgens bragged to a crowd of fellow Republicans in Floyd County earlier this month: "Everything in our power to be an obstructionist."

After pausing to let applause roll over him, a grinning Hudgens went on to give an example of that obstructionist behavior, this one involving so-called "navigators" who are being hired to guide customers through the process of buying health insurance on marketplaces, or exchanges, set up under the federal program.

"We have passed a law that says that a navigator, which is a position in that exchange, has to be licensed by our Department of Insurance," Hudgens said. "The ObamaCare law says that we cannot require them to be an insurance agent, so we said fine, we'll just require them to be a licensed navigator. So we're going to make up the test, and basically you take the insurance agent test, you erase the name, you write 'navigator test' on it."
This is a good example of a person who doesn't know enough to speak softly about the things he should be keeping under wraps. All this did was generate a news story, in the state's largest paper, that readily informed the public of two things: Obamacare "navigators" -- that is to say, people who can be called up for assistance in "navigating" the bureaucratic elements of the exchanges -- exist, and officials in the state are working really hard to ensure that the bureaucracy remains difficult to surmount. (And doing so solely because they crave the applause of ideological allies. It's not like Ralph Hudgens has his own solution to the sticky matter of keeping people alive.)
Organizations that received the latest round of health law navigator grants say last week's letter from House Republicans could have a chilling effect on efforts to hire and train outreach workers to sign up Americans for health insurance by Oct. 1, the opening day for new online insurance marketplaces.

The letters were signed by 15 Republican members of the House Energy and Commerce Committee and requested that the organizations provide extensive new documents about their participation in the program and schedule a congressional briefing by Sept. 13. The letters went out to 51 organizations -- including hospitals, universities, Indian tribes, patient advocacy groups and food banks -- out of 104 that shared $67 million in grants.

"I find the letter quite offensive," says Lisa Hamler-Fugitt, executive director of the Ohio Association of Foodbanks, which received a $1.9 million grant. "It is shocking. It is absolutely shocking."
Now, Gold and Kaiser take a dim view of this effort to drown navigators in pointless paperwork at this critical time in their set-up period. They're joined in their dislike of these tactics by the American Enterprise Institute's Norm Ornstein, who calls such efforts "simply unacceptable, even contemptible."
This obstructionism is going to provide a significant obstacle for providers to surmount, but here's the silver lining: Thanks to the Republicans on the House Energy and Commerce Committee, more people than ever before are aware of the fact that there are "hospitals, universities, Indian tribes, patient advocacy groups and food banks," out there, providing navigator services.
By the way, now that House Republicans have helpfully hung a target around 50-some-odd navigator grant recipients in "Arizona, Florida, Georgia, Indiana, Louisiana, Missouri, New Jersey, North Carolina, Ohio, Pennsylvania and Texas," they've also helpfully pointed reporters in those states to the specific organizations who will be running the customer service side of Obamacare implementation. And while the organizations may now be newly buried under a lot of pointless busywork, I have a feeling that somebody will be available to take those reporters' calls. So, pretty soon, residents of those states may learn more about whom they can turn to for assistance in getting enrolled.
Finally, there's one more thing to consider. When a Ralph Hudgens publicly brags about the enormous effort he's undertaking to scuttle the Obamacare exchanges, he's making the implicit admission that he doesn't expect the exchanges to simply fail on their own. Failure requires a push. This is a very different set of admissions from those Obamacare opponents -- darkly warning of "death panels" and the certainty of "rate shock" (another phenomenon that is steadfastly refusing to happen) -- made in the past about the law's implementation.
By their rhetoric and their actions, Obamacare opponents have essentially shifted from being worried that the Affordable Care Act isn't going to work to being worried that the Affordable Care Act is going to work too well. That's the other thing they're "raising awareness" about. And they're doing a bang-up job.
Calling all HuffPost superfans!
Sign up for membership to become a founding member and help shape HuffPost's next chapter
BEFORE YOU GO
PHOTO GALLERY
Lies And Distortions Of The Health Care Debate