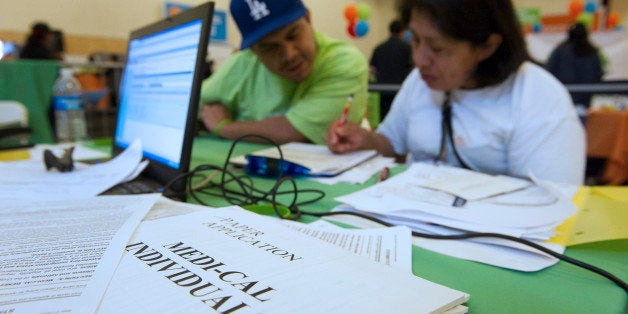 The fate of Obamacare will be determined by the grassroots outreach, and in California it is Ground Zero and a microcosm of that battle.
Much of the country is watching California's rollout because of the size of the state and the fact it has one of the highest state rates of uninsured residents – an estimated 20 percent.
To reach those who qualify for the Affordable Care Act, community health centers have dispatched an army of outreach workers to help low income Latinos understand the program and how to fit into the new medical system.
The Obamacare war in the trenches will be especially important in Los Angeles County where the majority of Latinos who qualify for government subsidized health care coverage live.
Latinos account for almost half of the 2.6 million Californians eligible for Obamacare.
"We are trying to make sure the community doesn't have a lot of anxiety about it," says Olga Duran, program director at Valley Community Clinic in North Hollywood, which typifies the local health facilities engaged in the campaign.
"We let them know, especially because so many of our population is low income, that they are still eligible for Health Way LA. And for those who are undocumented, we will still provide care. It's the unknowns that always cause a little bit of angst."
That army of outreach workers has been fanning out for weeks to farmers' markets, job fairs and grocery stores across California to inform Latinos about the historic Affordable Health Care Act, which has become the cornerstone of the Obama presidency.
"There's a lot of misinformation," says Xavier Morales, executive director for the Latino Coalition for a Healthy California which has been focusing special attention on the state's Imperial Valley. "We want people to understand the opportunity it brings."
Since the Oct. 1 rollout of Obamacare, more than 43,000 people have already been signed up in the California's health-insurance exchange where the Obama administration has sent almost $1 billion in exchange grants.
"This is a good start, but the pace of enrollment will have to accelerate for California to meet its goals," says Gerald Kominski, director of the UCLA Center for Health Policy Research. "I hope they have eliminated the glitches."
California may enroll more than 2 million people
Open enrollment ends March 31, with an estimated 500,000 to 700,000 Californians expected to enroll with subsidies by then.
California's goal is to enroll more than 2 million people in subsidized health insurance or an expansion of Medicaid by the end of next year, more than any other state.
Meanwhile, members of that outreach army say the biggest hurdle they sometimes face is the uncertainty about aspects of Obamacare in people's minds.
"I am hearing a lot of questions," says Angelica Marquez, an outreach worker with the Community Health Alliance of Pasadena. "People know things are changing, but they don't know how they will be affected."
Some 5.3 million Californians will have access to coverage through Covered California, the state exchange, or on their own, with about half eligible for financial assistance by next year, according to California officials.
Another 1.4 million will be newly eligible for the state's Medicaid program.
"These are big numbers, and they're proof of the pent-up demand for coverage that is here in California and also across the nation," said Peter Lee, Covered California's executive director, who described the response as "phenomenal."
But in the trenches, the challenge for Obamacare remains the state's large Latino population – and getting Latinos to enroll is not an easy task, according to Dulce Delgadillo, a research assistant at Harder+Company, a San Francisco-based community research firm.
"There is a general fear of government by that population," says Delgadillo. "And there is a huge gap in knowledge."
REAL LIFE. REAL NEWS. REAL VOICES.
Help us tell more of the stories that matter from voices that too often remain unheard.
BEFORE YOU GO
PHOTO GALLERY
Latinos And Health Insurance