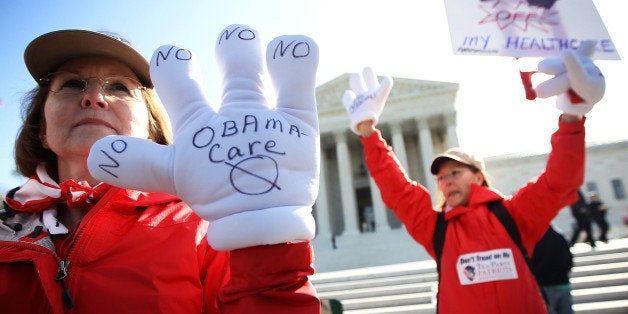 In a new survey, more than half of self-identified Republicans said they didn't think the Affordable Care Act is increasing the number of people with health insurance, with a fifth of respondents saying it has actually reduced the number of people with coverage.
For the record, the evidence suggests these people are flat-out wrong.
The poll is from YouGov.com and, like some other recent surveys, the results suggest hostility to the law is waning. The evolution is slow and, even now, "Obamacare" has lots of skeptics. The YouGov survey asked, among other things, whether respondents think the health care law is "more of a success" or "more of a failure." Forty-percent chose failure, while 30 percent chose success.

Still, that's progress from October 2013, when, upon launching, Healthcare.gov and most of the state-run websites for purchasing insurance barely worked. Back then, just 14 percent thought the law was closer to success, while 58 percent thought it was closer to failure. More important, perhaps, 49 percent of respondents in the YouGov poll said the law should be "kept the same" or "expanded," while just 40 percent said it should be repealed. That's also a shift from the past, when pluralities in the YouGov poll favored repeal. (In surveys by other organizations, pluralities have generally favored keeping or strengthening the law.)

But the most revealing part of the YouGov poll was a more specific question about how people perceive the Affordable Care Act's performance -- specifically, whether respondents think the number of people with insurance has increased, remained the same, or fallen over the last 12 months.

The question is revealing because it broke out response by partisan identification. Among Democrats, 77 percent said the number of people with insurance had risen, while just 9 percent said it had decreased. But among Republicans, just 43 percent thought the number of people with insurance had increased, while 21 percent said it had decreased.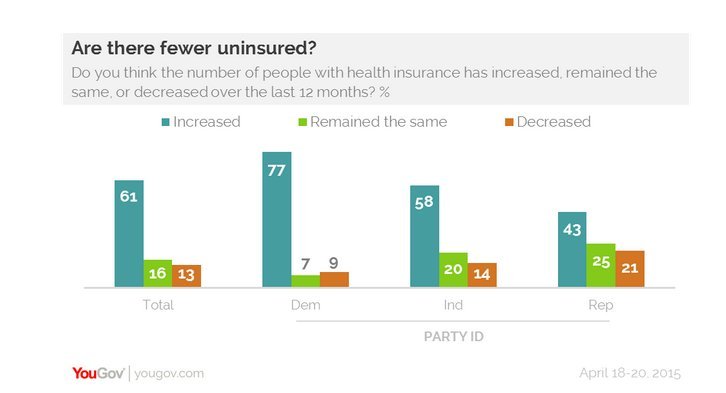 To put it another way, less than half of Republicans think the number of uninsured is coming down, while one in five think it is going up.

Every major study -- including official estimates by the federal government and analyses by independent researchers -- has shown that the number of people with health insurance has risen substantially since the Affordable Care Act took full effect. While experts disagree over the precise magnitude of the increase, they don't question its existence -- except at highly partisan, right-wing think tanks and on a certain cable television network.
It's likely that perceptions of the Affordable Care Act are affecting the way some people assess its performance, rather than the other way around. In other words, when some conservative respondents hear a pollster ask questions about whether the health care law is helping people to get insurance, they may simply think about Obamacare and everything they hate about it -- and instinctively give a negative response.
That would mean these self-identified Republicans aren't denying reality so much as refusing to even think about it. Either way, it suggests some people will never support the Affordable Care Act, no matter what its effects on the real world.
Calling all HuffPost superfans!
Sign up for membership to become a founding member and help shape HuffPost's next chapter
BEFORE YOU GO
PHOTO GALLERY
Lies And Distortions Of The Health Care Debate