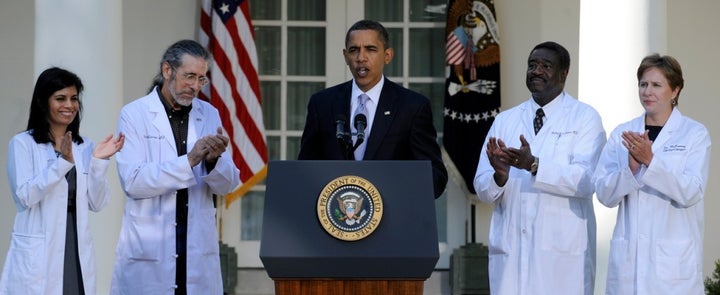 Within the first two weeks of President Trump's administration, efforts to replace the Affordable Care Act with a system that works for everyone has already begun. Doctors Rand Paul (R-KY) and Bill Cassidy (R-LA) recently floated bills to amend Obamacare. While repealing Obamacare appears to be a political inevitably, implementing the proper replacement plan will be critical. The guiding feature must be to "do no harm."
Sen. Paul's plan, known as the "Obamacare Replacement Act," would create more affordable insurance plans, eliminate the gap between private and employer-sponsored care, and allow consumers to save unlimited amounts of money in health savings accounts. It would also provide a two-year open-enrollment period under which individuals with pre-existing conditions can obtain coverage, all while giving "individuals the option of a tax credit of up to $5,000 per taxpayer for contributions to an HSA."
Sen. Cassidy's bill is geared on achieving a bipartisan consensus. Cassidy would allow states to continue to offer Obamacare, urging "price transparency" on medical procedures, keeping existing subsidies and tax credits provided in the 2010 law, and extending coverage to 30 million more uninsured Americans. Both of these reform plans recognize the importance of ensuring that Americans caught in the labyrinth of government programs, subsidies, and tax benefits created by Obamacare don't not become worse off than they are today.
There is growing recognition on Capitol Hill, and even from President Bill Clinton, that both the original law failed to accomplish its stated goals and that most efforts to replace the law are fraught with peril. Premiums and deductibles continue to skyrocket while providers pull out of markets, often leaving patients with only one or two providers.
Republicans should be applauded for their efforts to fix the bill, but they must be careful to not fall into the same political quagmire that Democrats find themselves in today. They will only have one chance to get this right and the first step is to honor existing obligations so that Americans don't fall through the cracks while the GOP comes up with a better plan.
An outright repeal of some reinsurance and cost-sharing programs would negatively impact hundreds of thousands of people in rural areas both economically and medically. Over half of the households currently on the exchange are getting some form of cost-sharing subsidies, including over 6 million working low and middle-class families that earn up to $61,000 a year. Without subsidies, families will be forced to pay skyrocketing premiums or lose their insurance entirely once they can no longer pay the out of pocket expenses. Congress must recognize that at least through 2017, whatever plan is adopted must ensure that millions of people forced or enticed onto the existing exchanges do not see their premiums skyrocket.
It is likely we will see a transition period that gets those on the exchanges an opportunity to find better plans at competitive prices. Jonathan Gruber, the MIT professor known as the Obamacare "architect," recently admitted that the "law wasn't designed to help everyone." True, but a Pandora's box of subsidies, giveaways, and incentives has made some — albeit a small group — better off than in the past. Pulling the plug without recognizing this reality will inevitably force many people to lose their coverage. The GOP must understand the pitfalls and minefields that Obamacare has created and act accordingly to make sure that no American is left behind.
Popular in the Community