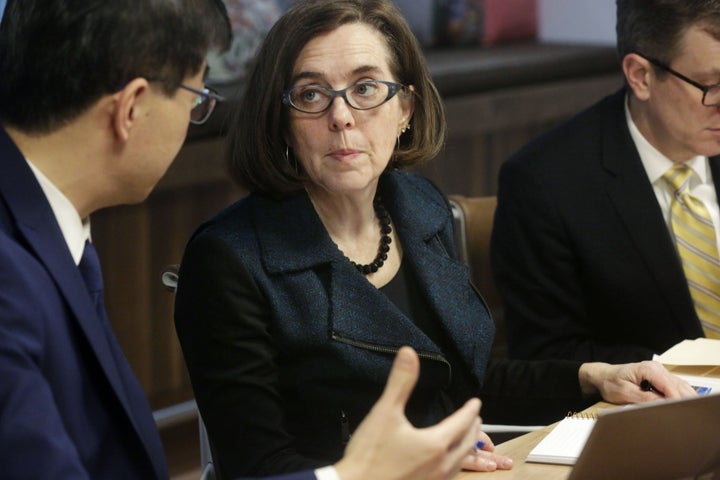 WASHINGTON ― There are a lot of things Oregon Gov. Kate Brown (D) doesn't like about Republicans' Obamacare repeal bill. It significantly raises costs on seniors. It kills the requirement that insurance companies offer maternity care and mental health care as essential health benefits.
But there's one particularly staggering effect that repealing the Affordable Care Act would have on her state: As many as 475,000 people would lose their health insurance. That's more than 10 percent of Oregon's population.
"It just creates a nightmare," Brown said in a Thursday interview with The Huffington Post.
As many as 40,000 Oregonians would lose their jobs as a result of repeal, as those jobs were created as a result of more people participating in health insurance. That's according to the Economic Policy Institute, which offers a state-by-state breakdown of the effects of Obamacare repeal.
The governor said she's been hearing from rural health care providers around her state who are worried about the effects of the GOP's repeal bill on their populations seeking drug treatment. The legislation ends the requirement for insurance companies to offer the treatment, which means thousands of people in Oregon would lose it, Brown said.
"These are, generally speaking, people suffering from opioid addictions," she said.
The only lawmaker in the Oregon congressional delegation supporting the repeal bill is Rep. Greg Walden (R), who is also the state's only GOP congressman. His office did not respond to a request for comment about all the people who would lose health insurance in his state.
Walden, who chairs the House Energy and Commerce Committee, has played a pivotal role in shaping the repeal bill. During a Friday morning committee hearing, he said Republicans amended the bill late Thursday to dedicate $15 billion to a new fund to help states pay for essential health benefits, like substance abuse treatment. That flexibility for states, he argued, is the better option, rather than requiring insurance companies to cover all essential health benefits.
"I'm proud of the product," Walden told the Rules Committee, which met hours before the House is set to vote on the bill.
Brown disagreed that the GOP's proposal, which would ultimately kick 24 million Americans off of health insurance and offer roughly $200 billion in tax cuts to the wealthy, is a good thing.
"I think it is the wrong direction for Oregon," she said. "Ninety-eight percent of children are covered. Ninety-five percent of adults are covered. We want to move forward, not backward."
Calling all HuffPost superfans!
Sign up for membership to become a founding member and help shape HuffPost's next chapter
BEFORE YOU GO
PHOTO GALLERY
Health Care Reform Efforts In U.S. History