Americans have complicated feelings about Obamacare, according to a new poll, with voters divided over whether to keep the law, but only a minority supporting the Republican strategy of trying to eliminate it quickly.
The poll, which the Henry J. Kaiser Family Foundation conducted in December, finds the public almost evenly split on whether to repeal the Affordable Care Act ― 49 percent want repeal, 47 percent do not. Those numbers have a partisan tint, as most Republicans favor repeal and most Democrats oppose it.
But even many Republican voters seem unenthusiastic about eliminating the law before Congress crafts a replacement, as House Speaker Paul Ryan (R-Wis.) and other GOP leaders have proposed. Overall, according to the poll, just 20 percent of Americans say that is their preferred strategy for eliminating Obamacare.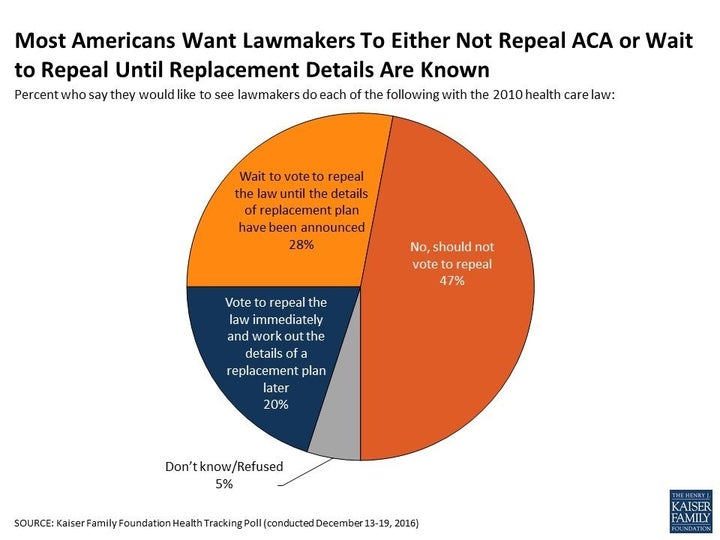 The survey also says 62 percent of Americans think it's important to guarantee access to health care, even if that means bigger government or more federal spending. That's more or less what Obamacare has done, by using government programs to help more than 20 million people get health insurance.
By contrast, just 31 percent say it's more important to limit federal spending, reduce the reach of government, or give states more power. Republicans have emphasized all three goals in their calls to repeal the law.
Kaiser has been tracking public opinion on the Affordable Care Act monthly since it became law in 2010. At first blush, the results from December seem at odds with results from November, when only a quarter of respondents said they supported full repeal, while three-quarters said they preferred some other option ― scaling back the law, keeping it as is, or strengthening it.
But Liz Hamel, Kaiser's director of public opinion and research, told The Huffington Post that the shift was largely a function of wording poll questions differently. In the most recent survey, she explained, Kaiser decided to focus specifically on how the public feels about repealing the law before replacing it.
Overall, Hamel said, "There's a group – somewhere between 20 and 25 percent – that just wants to get rid of the entire thing, another group – between 25 and 30 percent – that doesn't like the law, but doesn't want it taken away without something to replace it, and about half who don't want it repealed, which is consistent with our earlier polling."
Of course, that doesn't mean public sentiments are static. In fact, the Kaiser poll also tested whether respondents felt differently about repeal options after hearing arguments for or against.
Sure enough, a portion of respondents who originally said they opposed repeal changed their minds after hearing that the law had increased premiums for some consumers. At the same time, a portion of respondents in favor of repeal took back that opinion after hearing that the number of uninsured would rise as a result.
Those results suggest that public opinion remains in flux, depending on how politicians and the media shape the conversation.
Kaiser's poll, based on a nationally representative random-digit dial telephone sample of 1,204 adults, comes with a margin of error of plus or minus 3 percentage points for the entire sample.
Want more updates on policy & politics from Jonathan Cohn? Sign up for his newsletter, Citizen Cohn, here.
Popular in the Community