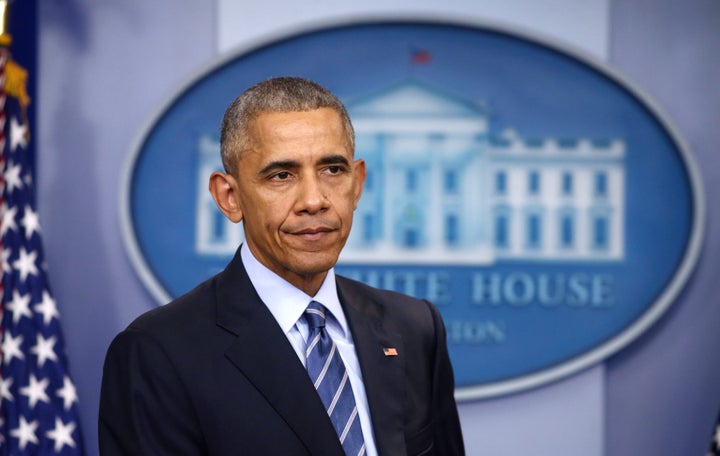 Republican lawmakers plan to take up a repeal of Obamacare as soon as Congress returns in January.
"Next week, Republicans in Congress will once again turn to repealing a law that's provided coverage to 20 million uninsured Americans, extended consumer protections to many millions more, improved the quality of care offered by our health professionals, and helped slow the growth of health care costs," a White House official said in a statement. "In light of this, on Wednesday, January 4, President Obama will visit a meeting of the House and Senate Democratic Caucuses."
The official added that Obama will thank the members for helping advance the health care system.
"He will discuss the work still left to do, including the ideas he has put forth to strengthen the Affordable Care Act (ACA). And he will share his perspective about the dangers posed by Congressional Republicans' stated strategy to repeal the ACA before proposing any replacement, creating chaos in the health system in the short run ― and holding hostage Americans' health care ― while Republicans develop their plan," the official said.
A senior Democratic Senate aide confirmed that the meeting would be about the party's "fight against GOP repeal efforts."
Democratic leaders have been defiant about Republicans' chances of pulling off this effort. House Minority Leader Nancy Pelosi (D-Calif.) predicted that Republicans would not repeal Obamacare once they realized how difficult it would be to replace.
"They're not going to repeal it," Pelosi said earlier this month. "I don't think they're going to repeal the Affordable Care Act."
In a letter sent to House and Senate Democrats last week, congressional leaders are advising their members to prepare for a national day of action against repeal efforts on Jan. 14 in coordination with governors. House members were directed to plan press events on Jan. 7 to highlight the risks of undoing Obamacare.
Still, the GOP is rushing forward and party leaders are unanimous about scrapping the law. The American people, however, aren't exactly enthused about the idea, according to a post-election survey by the Henry J. Kaiser Family Foundation. Only about one-quarter of Americans favor fully repealing the Affordable Care Act, while nearly half want to leave it in place or expand it.
As for what guidance Obama may be able to give congressional Democrats about how to stop, or even influence the direction of, the GOP's repeal-and-delay strategy, that isn't easy to imagine.
Republicans control both chambers of Congress. Democrats have virtually no tools at their disposal to alter the House's direction on health care. And in the Senate, Republicans plan to use the budget reconciliation mechanism ― which allows a measure to pass with a simple majority and can't be filibustered ― to knock out the biggest parts of the Affordable Care Act early next year.
Reconciliation bills are limited to changing laws that affect taxes and spending, which covers key elements of Obamacare. The health care reform law raised taxes on wealthy individuals and health care companies and cut Medicare payment rates to medical providers in order to finance new spending on health benefits.
The GOP's current plan is to move swiftly on repeal legislation and then spend up to four years developing a consensus on a new set of health care reforms ― an achievement that has otherwise eluded the party for years. But Republicans are already split over how long they'll spend creating that replacement. Party leaders expect it to take years, but some conservatives are pushing for a replacement to be finished within one year.
Based on the White House's description of Obama's planned visit to Capitol Hill, it seems the outgoing president aims to give his beleaguered party a pep talk and to remind them why they paid such a high political price over the past six-plus years. The Affordable Care Act attempted to fill the biggest hole in the social safety net and succeeded in driving down the uninsured rate to the lowest level ever recorded.
Their best hope is that Senate Democrats can use their sizable minority to obstruct GOP health proposals over the next few years and to exert pressure on Republican senators who, looking to their own re-election chances, have concerns about the disruption that would be caused by repealing most of Obamacare without a "replacement" for three to four years.
Democrats can also highlight fresh evidence that the Affordable Care Act is emerging from its initial troubled period and that the health insurance exchanges, where individuals and families shop for coverage and apply for financial assistance, may be improving.
Enrollment during the current period, which ends Jan. 31, appears to be outpacing last year's, the Obama administration announced this month. And after losses had led insurers, including UnitedHealth Group, to scale back their participation in the exchanges, the financial ratings company Standard & Poor's recently reported that the financial picture for insurers on the exchanges is getting better.
Popular in the Community