Senate Republican leaders and Trump administration officials, trying to rally support for their health care bill, are apparently dangling an offer of some new money to help low-income people get health insurance. It could be as much as $200 billion over 10 years, according to reports in Bloomberg and The Hill. 
The plan also involves giving states more flexibility on how to implement federal health programs.
The details are still fuzzy, and it's not clear how far discussions have gone, but the basic math of what party leaders have in mind is straightforward. And that basic math is stark.
The Better Care Reconciliation Act, the proposal that Senate leaders are trying to bring to the floor next week, would take $756 billion out of Medicaid over the next 10 years, according to the nonpartisan Congressional Budget Office. The bill would also reduce tax credits for people buying private insurance on their own, bringing the total reduction in federal spending to $1.2 trillion.
Putting something like $200 billion of that back into health coverage isn't nearly enough to blunt the effects. A cynic might even say the primary goal in offering this money is to trick wavering Republican senators or to give them an easy excuse for voting yes, rather than to provide health insurance for the people who stand to lose it should the Senate bill become law.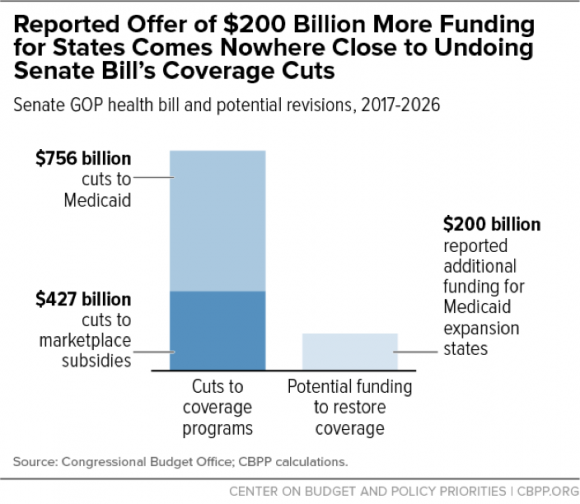 The stakes are huge. CBO data estimates 15 million fewer people would receive Medicaid coverage under the Senate bill by 2026. The majority of those people would have qualified for the program under the Affordable Care Act's expansion ― an expansion that the Senate bill would mostly end, by cutting off the extra federal funds that make it financially possible for the states to carry out. 
The masses losing access to Medicaid would mostly be the working poor ― people who have jobs or live in households with breadwinners, but have income below or just above the poverty line. (The official threshold is 133 percent of the federal poverty line, which works out to $16,040 in annual income for an individual and $27,159 for a family of three.) On their own, they would have no way to shell out the thousands of dollars a year it would take to buy regularly priced private health insurance policies on the open market.
In theory, the Senate bill anticipates this by expanding eligibility for health insurance tax credits, so that nobody living on poverty wages or less would have to pay more than 2.14 percent of his or her income, with adjustments, to get coverage. In practice, that subsidy would purchase a relatively skimpy policy similar to what sells currently as a "bronze" plan, with deductibles of more than $6,000 in today's dollars.
The coverage would be effectively worthless, because these families don't even have hundreds, let alone thousands, of dollars lying around to pay medical bills before their insurance benefits kick in. Most would not bother getting insurance and even those who did would be exposed to crippling medical bills. They would skimp on treatments they need, dodge debt collectors for the care they get, and come to rely on safety net hospitals ― who, in turn, would be on the hook for more and more uncompensated care.
And that's just the effect of rolling back the expansion. Over time, the Senate bill would also impose a new funding formula for Medicaid, almost certainly creating a gap between what states need to cover enrollees and what they would be getting from Washington.
The gap would get bigger over time, and most states would scale back their programs in response ― by reducing what Medicaid pays providers, shrinking the benefits it includes, and simply offering insurance to fewer people.
Republican Sens. Shelley Moore Capito of West Virginia, Dean Heller of Nevada, Lisa Murkowski of Alaska, and Rob Portman of Ohio have all spoken out against the Medicaid cuts and said they cannot support the Senate bill in its current form. Not coincidentally, all come from one of the 31 states that expanded Medicaid, along with the District of Columbia.
To win over those senators, administration officials are now saying they can let states tap into some extra funds ― maybe as much as $200 billion, although senators who met with administration officials last night said no specific numbers were discussed.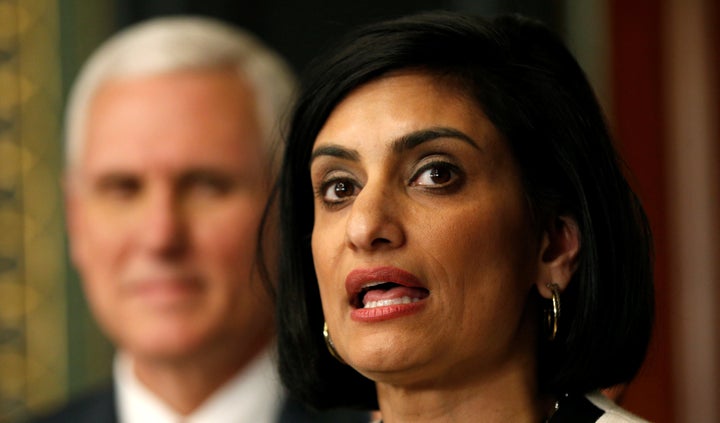 Under one scheme that Seema Verma, director of Medicare and Medicaid, has sketched out for Republican officials, the states could use the money to create supplemental coverage ― or a "wraparound" ― that would reduce out-of-pocket costs in private plans for people at low incomes. The idea, according to media accounts and health policy experts who have heard about the proposal, is to make those policies affordable and more similar to Medicaid, which in most states has virtually no cost-sharing whatsoever.
The kinds of private policies that people get through large employers tend to offer wider physician access than Medicaid does. And surely many people would appreciate that. But those plans probably aren't the policies most low-income people would be buying under the Senate bill, because they'd be hunting for the cheapest available options and those are the policies that, like Medicaid, have limited physician access.
You're talking about covering a minority of the expansion population at best.

Aviva Aron-Dine, Center on Budget and Policy Priorities
And even generous private policies aren't always a good substitute for Medicaid, because they don't guarantee the same exhaustive set of benefits. This is especially true for children, who under Medicaid are entitled to extra screenings ― for lead poisoning, just to pick an example ― as well as any treatments physicians deem medically necessary.
The GOP scheme also raises some legal issues, because of the rules of how states can spend Medicaid money. This is the kind of problem that sounds trivial but can create major implementation challenges, unless the architects of legislation have spent the time necessary to figure out the constraints and work around them. It's unclear whether administration officials and their Senate counterparts have studied the policy at this level of detail and figured out how to actually make such a scheme work.
But the biggest issue, by far, is that even $200 billion would not go that far ― especially because insuring people under private coverage generally costs more than insuring them under Medicaid, which, whatever its flaws, is dirt-cheap for the government to run.
The wraparound scheme could have some serious budgetary implications, too ― the kind a CBO assessment would reveal if the agency had a chance to analyze it before a vote took place.
Any effort to make private insurance more attractive to lower-income consumers would require the federal government to finance subsidies for more people. There's a chance it could increase the total cost of the bill ― and that's before taking into account the effects of the amendment, from Sen. Ted Cruz (R-Texas), to undermine protections for people with pre-existing conditions. That amendment could also increase the bill's cost.
Merely by offering the states extra money, administration officials and Senate leaders would seem to be conceding what they have tried so hard to deny: that the broader Medicaid cuts in their proposals would be damaging. But by offering an insufficient sum, these leaders are also showing they remain committed to deep cuts in the program anyway.
Capito, Heller, and the other holdouts have said repeatedly they cannot accept that. They may soon get the chance to prove it with their votes.
Calling all HuffPost superfans!
Sign up for membership to become a founding member and help shape HuffPost's next chapter
BEFORE YOU GO
PHOTO GALLERY
Health Care Reform Efforts In U.S. History