WASHINGTON ― Sen. Bob Corker (R-Tenn.) is worried that getting rid of the revenue increases in Obamacare while maintaining its subsidies will force the Republican Party to raise taxes later on.
"Right now, the track we're on, the repeal process is going to repeal all the revenues, but keep in place the subsidies for three years," Corker said at breakfast hosted by the Christian Science Monitor on Friday morning.
That raises the prospect of increasing the annual budget deficit, he added, a result he would like to "overcome." Corker estimated it would cost $116 billion to keep subsidies for three years without the law's revenue increases.
"You're taking $116 billion, by our calculations, and just throwing it into a mud puddle by continuing subsidies without revenue," he said. "So I hope that what is going to happen over time, over the next few weeks, is that people will deal with this on a fiscally sound basis, too."
Obamacare, otherwise known as the Affordable Care Act, provides subsidies to low- and middle-income people who purchase health insurance on exchanges created by the law. It pays for those subsidies though a number of different taxes, including a tax on the investment income of wealthy individuals. 
Though Congressional Republicans have already begun drafting legislation to repeal the health care law, including its revenue increases, Corker is among a growing group of senators expressing doubts about the pace and nature of the legislative push.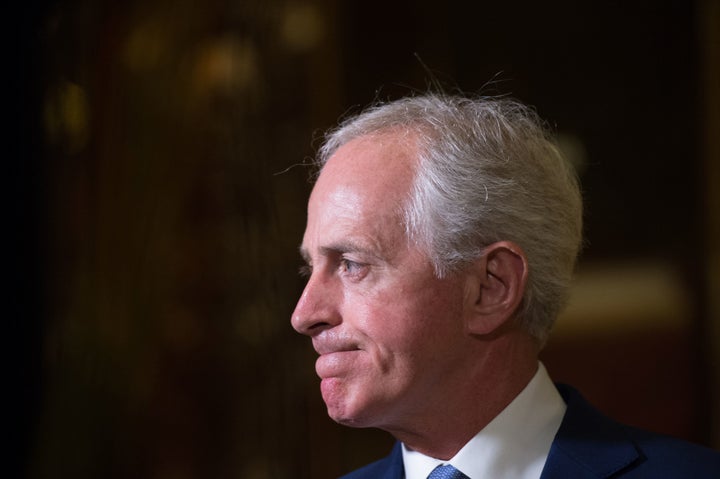 He's also the first to frame it as a recipe for a tax increase down the line.
Corker suggested that if subsidies were extended beyond the three-year period for which he expects Republicans to keep them in place, perhaps as part of replacement legislation, it would put Republicans in a "box canyon" where they "would have to vote for a tax increase" to pay for the subsidies. 
Several Republican politicians have said they are wary of repealing Obamacare without an adequate replacement. Sens. Tom Cotton (R-Ark.), Susan Collins (R-Maine), John McCain (R-Ariz.), Lamar Alexander (R-Tenn.) and Rand Paul (R-Ky.) expressed strong reservations about the so-called repeal and delay strategy favored by other GOP lawmakers.
President-elect Donald Trump has also warned that repealing the law too quickly could prove politically dangerous.
Corker said he supported Trump's comments, but did not indicate he would vote against repeal unless there was a plan ready to replace it.
"The President-elect's position is the right position," he said. "If you look at some of his quotes recently, he continues to offer caution. In fact, during the campaign, he said that the repeal and replacement should take place simultaneously."
"That, to me, is the prudent course of action," he concluded.
Jessica Schulberg contributed reporting.
Calling all HuffPost superfans!
Sign up for membership to become a founding member and help shape HuffPost's next chapter
BEFORE YOU GO
PHOTO GALLERY
So Far, These Are The GOP's Best Alternatives To Obamacare