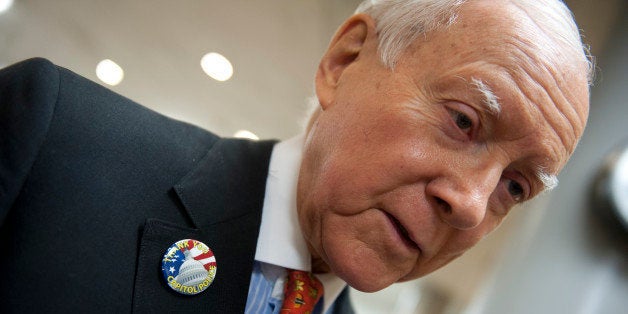 WASHINGTON -- Three Senate Republicans unveiled an alternative to Obamacare Tuesday, offering their party a path forward if the GOP is ever successful in its ongoing attempts to repeal the health care reform law.
Calling it "common-sense, patient-centered reforms," they argued that it will "reduce health care costs and increase access to affordable, high-quality care." While it gets rid of the individual mandate, it also does away with some of the Affordable Care Act's more popular provisions, including ones meant to prevent women from facing discrimination by insurers.
The Patient Choice, Affordability, Responsibility, and Empowerment (CARE) Act, put forward by Sens. Richard Burr (R-N.C.), Tom Coburn (R-Okla.) and Orrin Hatch (R-Utah), would essentially lower rising health care costs by asking individuals to pay a greater share. By "sensitizing" patients to how much various health care resources cost, they may make smarter decisions, according to their thinking.
But the burden may not fall on everyone equally. One of the most popular provisions of Obamacare was barring insurers from discriminating against women and charging them higher premiums than men. A 2012 report by the National Women's Law Center found that 92 percent of the best-selling insurance plans charged a 40-year-old woman more than a 40-year-old man for coverage, even for plans that did not cover maternity services.
"It would be back to, being a woman is a preexisting condition because the ACA prohibits pricing based on gender," said NWLC Vice President of Health and Reproductive Rights Judy Waxman. "And this plan repeals that and lets insurance companies do it again. ... We would be right back to women getting charged more because they're women, even though there won't be maternity coverage. Right back to that."
The Senate GOP plan would also bar discrimination based on preexisting conditions, but only for people with continuous coverage. Anyone who let their coverage lapse, then tried to get health care again, could face higher premiums or be barred completely from certain plans by insurers. As National Journal noted, this requirement is essentially a replacement for the individual mandate in Obamacare, where individuals would want to get coverage not because they'd be fined if they don't, but because they wouldn't want to face the threat of discrimination.
White House press secretary Jay Carney commented on the GOP plan Monday, saying in the press briefing, "It would result in restoring in the health care and health insurance equation in America the primacy of insurance companies over individuals, giving back to insurance companies the power to deny an American coverage because he or she has a preexisting condition or to charge women twice what they charge men because they're women."
When asked for comment about how the Senate GOP plan would benefit women, Coburn spokesman John Hart argued that both men and women would benefit from the repeal of Obamacare.
"We move women and men out of Obamacare's virtual bread line, in which they're supposed to buy a 'superior' government-mandated product on a website that doesn't work in a system that isn't viable, and give them the ability to make better choices with a generous tax credit," he said. "We trust men and women to be smart and responsible shoppers. Obamacare doesn't."
"We protect men and women with pre-existing conditions with our 'continuous coverage' policy," he added, commenting on the individual mandate replacement. "However, unlike Obamacare, we don't destroy the private health insurance market -- and consumer rights and options -- in the process. For millions of men and women, Obamacare itself has become a pre-existing condition that has caused them to lose their coverage and doctors."
Former Republican presidential candidate Mitt Romney also said when he was running for president that he supported "continuous coverage." But a 2012 Commonwealth Fund report found that between 2004 and 2007, 89 million Americans were without coverage for at least one month.
Under Obamacare, most health insurance companies and employer plans must offer certain preventive services at no cost to patients, if they have been recommended by the U.S. Preventive Services Task Force. That panel is composed of independent, volunteer physicians and academics selected by HHS. Mammograms, breast cancer prevention drugs and HPV vaccines are among the services that are covered.
That requirement also would disappear under the new GOP plan.
"Unlike Obamacare, our plan does not rely on comparative effectiveness research programs and instead trusts patients and doctors to decide what is medically necessary," said Hart in response. "Remember, Obamacare depends on the recommendations of the U.S. Preventive Services Task Force, the very panel that was responsible for once advising women under 50 to not undergo annual mammograms."
"Yeah, make choices, but it's really choices the insurance companies offer. So preventive care services offered without a copay -- that's gone," said Waxman. "It's a lot of shifting costs onto the consumer -- onto the woman, onto any consumer. It probably saves the federal government money, but I don't see how it lowers health care costs. It simply shifts them from the government and the taxpayer onto each individual."
Calling all HuffPost superfans!
Sign up for membership to become a founding member and help shape HuffPost's next chapter
BEFORE YOU GO
PHOTO GALLERY
Senate Polarization, 1989-2013