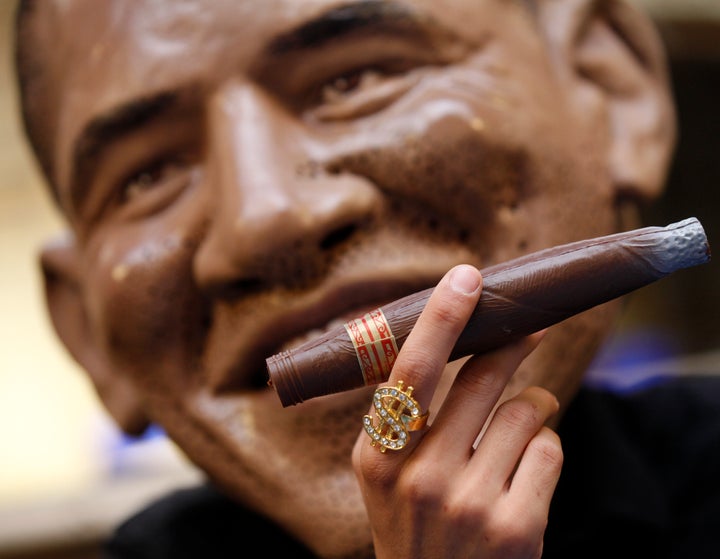 WASHINGTON -- Affordable Care Act rules that allow health insurance companies to charge higher premiums to tobacco users are undermining the law's aim of expanding health coverage, a study published Wednesday suggests.
Smokers eligible for the Obamacare exchanges were 7.3 percentage points less likely to have health coverage than nonsmokers in 2014, Yale University researchers found by analyzing data from the Centers for Disease Control and Prevention and other sources.
One of the hallmarks of the Affordable Care Act is its prohibition against health insurance companies setting prices based on health status and medical history, including a ban on rejecting customers with pre-existing conditions.
The sole exception to this standard is that tobacco users may be charged up to one and a half times the price that a nonuser pays for the same insurance plan.
The argument behind this policy is that people who smoke or chew tobacco generally have higher long-term health care costs, so they should be made to pay more.
In addition, the higher premiums are meant to serve as an incentive to quit using tobacco, particularly when paired with another Affordable Care Act rule that requires insurers to cover cessation programs without charging copayments.
Americans like the idea: A Gallup survey two years ago found that 58 percent of respondents believe greater health insurance premiums for smokers are "justified."
But anti-smoking organizations like the American Cancer Society and the Campaign for Tobacco-Free Kids have warned that surcharges on health insurance for tobacco will simply cause many users to remain uninsured because they can't afford the coverage. Thus, these tobacco users would continue to lack access to medical care and tobacco cessation programs.
Based on the new study, which appeared Wednesday in the journal Health Affairs, that appears to be just what happened.
Obamacare has brought the national uninsured rate down to a historic low -- but it appears to be leaving some tobacco users behind. The new analysis suggests this is true, despite other evidence that many smokers simply report that they don't use tobacco to avoid paying extra.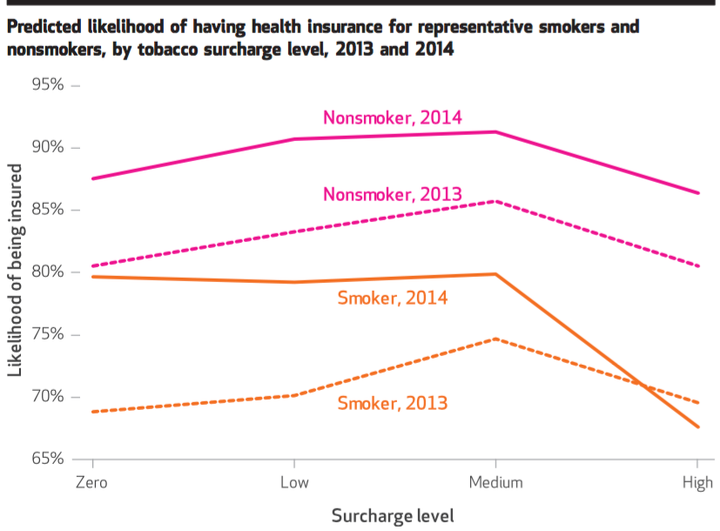 And because smoking is more common among lower-income people, that means Obamacare is failing to reach a portion of those it is designed to help the most.
According to separate CDC data, more than one-quarter of people below the poverty line use tobacco, compared to 15 percent of Americans with higher incomes. In 2008, Gallup also found a strong inverse correlation between income and smoking.
Although the Affordable Care Act permits insurers to charge tobacco users up to 50 percent more than nonsmokers, most states have established lower maximum surcharges, and insurers are not required to assess the full amount or any surcharge at all.
Crucially, the tobacco surcharge can't be paid using the health insurance tax credits available to people with low and moderate incomes. Those subsidies are based on income and on the base price for the insurance, not counting a tobacco surcharge.
The size of the surcharge, unsurprisingly, plays a major role in how much it drives down health insurance enrollments, the Yale researchers found.
Smokers in states with surcharges below 10 percent were virtually as likely to be covered as smokers in states without surcharges, the study shows.
As surcharges get bigger, the effects are dramatic.
The likelihood of coverage among smokers in states with tobacco surcharges between 10 percent and 29 percent was 4.3 percentage points lower than for smokers in states with no surcharge. The difference was 11.6 percentage points in states where the surcharge ranged from 30 percent to 50 percent.
Smokers under 40 were even more prone to go uninsured rather than buy health insurance with any surcharge, the study found. These younger adults in high-surcharge states were 19.9 percentage points less likely to get insurance than smokers in the same age range who were subject to little or no surcharge.
Because young adults are generally less costly to insure than older people -- including tobacco users in the short term, according to a 2014 University of Tennessee study -- the surcharge policy may be keeping away the customers most needed to stabilize the health insurance market and keep down premiums for everyone who uses an exchange or buys plans via a broker or directly from an insurer.
And going without health insurance can be less expensive for tobacco users than for non-users.
One is that anyone whose cheapest insurance option costs more than 8 percent of household income is exempt. The University of Tennessee study found this made tobacco users more likely to find coverage unaffordable and thus not be subject to the mandate.
What's more, the Yale analysis also found, Obamacare rules requiring that tobacco cessation programs are covered with no out-of-pocket costs aren't working, either, because of the surcharges.
Smokers in states with low surcharges were actually less likely than smokers in no-surcharge states to participate in quitting programs, while higher surcharges didn't have a statistically significant effect either way, the study found.
"This suggests that tobacco surcharges increased neither smoking cessation nor financial protection from high health care costs -- the primary goal of the Affordable Care Act," the authors conclude.
Support HuffPost
The Stakes Have Never Been Higher
Popular in the Community