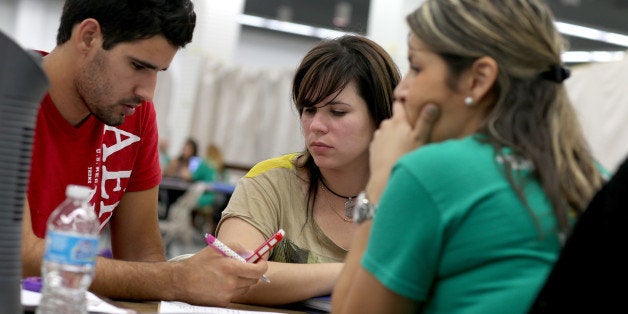 Obamacare made huge strides in extending health coverage to millions of uninsured people in its first year. Keeping up that momentum could be challenging.
An estimated 54 million Americans are still uninsured. But many of those who haven't yet been helped by the Affordable Care Act might be some of the hardest people to get signed up, according to the people trying to reach them.
"The people the second year are going to be a little bit harder. We got the low-hanging fruit," said Richard Onizuka, the CEO of the Washington Health Benefit Exchange, the insurance marketplace for consumers in Washington state.
More than 10 million previously uninsured people signed up after Obamacare enrollment began last October. That group is considered the most eager for coverage. People with pre-existing conditions, who had been shut out of the market under pre-Obamacare rules and needed health care the most, were now able to get covered. Lower-income families were offered expanded Medicaid and subsidized private insurance.
One big hurdle to future sign-ups is the public's chronically poor understanding of how key parts of Obamacare can help low- and middle-income people afford coverage. These include the availability of Medicaid or subsidies for people who earn up to four times the federal poverty level -- or $46,680 for a single person this year. And public opinion about the law itself is negative.
Certain segments of the population also proved more difficult to reach during the initial sign-up period. Sign-ups of Hispanics lagged behind those of other groups, even though the uninsured rate is higher among Hispanics. People who have less education, live in remote rural areas, are disconnected from community or religious groups, are homeless, don't have Internet access or don't consume news often may not always know that new programs are in place. And smaller numbers of people will find they can't afford even subsidized insurance, or will simply opt to remain uncovered.
And as evidence from California suggests, those who have been without health insurance the longest may turn out to be the most difficult to get signed up. Eighty-two percent of those still uninsured in the Golden State have lacked coverage for at least two years or have never had it, according to a survey by the Henry J. Kaiser Family Foundation in Menlo Park, California.
"There's an expectation that the farther along we go, that it will be the kind of chronically uninsured who end up being the hardest to reach," said Karen Pollitz, a senior fellow at the foundation.
No one expected Obamacare to give everyone health insurance in a single year -- or ever.
The Congressional Budget Office projects the law will reduce the uninsured by 12 million through the end of this year, but that just 7 million will gain coverage in 2015.
And the CBO also expects there still will be 57 million U.S. residents without health insurance a decade from now. That equals 11 percent of the population, including undocumented immigrants who are ineligible for government-supported health benefits. Though it's 26 million fewer uncovered people than there would be absent the ACA, the gap suggests the law can never achieve universal coverage.
Besides undocumented immigrants, there's another category of people left out of the coverage expansion: residents of the 24 states that took advantage of a Supreme Court ruling allowing them to refuse expanding Medicaid eligibility up to 133 percent of poverty, or $15,521 for a single person. The uninsured rate fell in states that expanded Medicaid, but barely moved in those that didn't, a July Gallup poll found. According to the Urban Institute, more than 60 percent of the remaining uninsured live in states that opted against expanding Medicaid.
The results of the first year of the coverage expansion, however, can't be denied. The most official national count of the uninsured, from the census, won't be available until more than a year from now. But numerous polls and analyses make plain that the ACA has made rapid progress in reducing their ranks despite the law's rocky rollout last year.
Kentucky, which expanded Medicaid and operated a state-run exchange, achieved a big reduction in its uninsured rate, largely through Medicaid. With more than one-quarter of the state's residents now enrolled in that program, finding and signing up more eligible people may not be easy, said Lisa Lee, deputy commissioner of the state's Department for Medicaid Services. "It's almost like looking for a needle in a haystack at this point, but we will continue our aggressive outreach," she said.
In states that resisted Obamacare and didn't expand Medicaid, the path to making major progress on the uninsured is steeper, said Jodi Ray, program director of Florida Covering Kids & Families at the University of South Florida in Tampa.
"There's a huge number of folks," Ray said. "To assume we've captured all the low-hanging fruit would be a gross misstatement in a state like Florida."
An Enroll America survey conducted in April provides some insights into why uninsured people didn't get covered, and what might work to get them enrolled. One key finding is that 61 percent of them want health coverage, compared to 15 percent who don't.
Improving public understanding of the subsidies appears to be crucial to boosting enrollment. More than half of the people who signed up were aware there was financial assistance available, compared to just over one-quarter of those who didn't enroll, the survey shows. Likewise, nearly half of people who didn't try to enroll believed they couldn't afford it, according to the survey.
"There was sometimes a mismatch between perception and reality," said Jenny Sullivan, director of Enroll America's Best Practices Institute. "They didn't necessarily have the knowledge that financial help was available."
Advocates believe they can build on their success with methods that have already proven effective, such as in-person help with applications and spreading the word about financial assistance. Groups plan to expand such efforts to more communities and more people.
"We're going to see continued progress there," Sullivan said of the strategies. "It's really leaning into some of those very same messages that worked well during the first open enrollment period and making sure that we get those to an even broader swath of folks."
Related
Popular in the Community