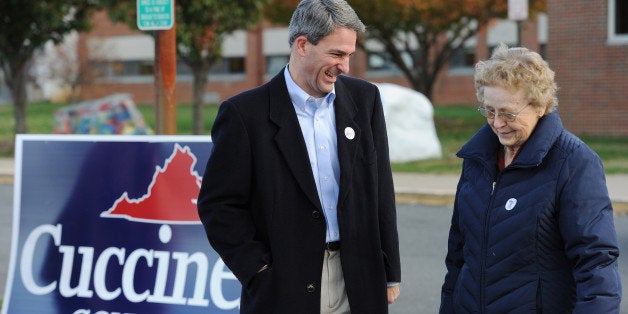 WASHINGTON –- Two weeks before Virginia's gubernatorial election Tuesday, Republican candidate Ken Cuccinelli's pollster e-mailed his senior campaign advisers with the latest polling results. They weren't good.

"There is nothing in the data that suggests it's not all that bad," pollster Glen Bolger wrote. "It's pretty bad."

Cuccinelli was down 9 percentage-points among voters labeled "10's" by the campaign because they were considered most likely to vote, trailing Democratic candidate Terry McAuliffe 38 percent to 47 percent. Cuccinelli was also down 33 percent to 44 percent among all the voters surveyed, with 10 percent for Libertarian candidate Robert Sarvis.

Public polling was about the same. The HuffPost Pollster average on Oct. 18 gave McAuliffe, a former Democratic National Committee chairman, an 8.5-point lead, 45.5 to 37 percent. Bolger informed the Cuccinelli brain trust that the numbers were terrible for a few reasons: "We are being badly outspent, and the shutdown/end game has not been successful at revving up Republicans OR deflating Democrats."

The claim by Bolger and by many Republicans now, in the wake of a much narrower than expected, 2.5-point McAuliffe win on Tuesday, is that the numbers closed in in the last two weeks as Cuccinelli honed in on Obamacare. He stressed his early opposition to the law in 2010 as attorney general, just as the law kicked in, suffering massive implementation problems.

The takeaway, then, for some, is that Obamacare became a millstone that almost dragged McAuliffe from a sure victory to an epic collapse.

"Despite being outspent by an unprecedented $15 million, this race came down to the wire because of Obamacare," Cuccinelli said in his concession speech Tuesday night.

The problem is, there's not much evidence for this.
Closer to Election Day, on Nov. 1, Cuccinelli campaign manager Chris LaCivita e-mailed supporters and claimed that among the "10's," McAuliffe had just a 1-point lead. This wasn't from a poll done by the campaign, however. Bolger told HuffPost on Wednesday that the Oct. 18 poll was the last one the campaign conducted. "Had no more money," he wrote in an e-mail. (LaCivita did not respond to an e-mail asking what he had based his Nov. 1 claim on.)

In addition, the public polling itself was not as volatile as people thought. In mid-July, McAuliffe began opening a lead, and the HuffPost/Pollster average of the public polling showed that advantage at around 5 points for most of August and September, and at 7 points in October, all the way up to Election Day. A cluster of polls showing McAuliffe up by double digits in mid- to late October, followed by two polls showing him up only four points and two points, respectively, created the impression of a tightening race.

Late last week, in a briefing with reporters, McAuliffe's pollster said that their internal polling had showed the race steady for a month.

"Our margin both in the head-to-head and in the three-way race are exactly what they were a month ago," Geoff Garin, the Democratic pollster, said. Garin didn't say then what the margin was, but in a phone conversation the same day he told HuffPost's Mark Blumenthal that it was 4 points. The day after the election, Garin said, "Terry's lead from mid-summer on was always in the 2-4 range."

Voter modeling conducted for McAuliffe by a group of former Obama campaign analytics experts gave McAuliffe a 2-point lead. McAuliffe's team believes they drove up Cuccinelli's negatives over the summer with attack ads, and the race never moved from there. McAuliffe communications director Brennan Bilberry said Wednesday that the Cuccinelli number showing the Republican trailing by 11 in mid-October was "lunacy."

Here's why the Democrats might be right, and why the Republican theory that Obamacare gave Cuccinelli momentum may be wrong: the Democrats continue to hold a data advantage over Republicans. The quality of their voter information is better, but perhaps more importantly, there is a greater cultural willingness among Democratic pollsters and campaigns to do surveys and voter targeting based on enhanced voter files.
And so McAuliffe's polling, predictive modeling and voter targeting was, quite likely, vastly superior to Cuccinelli's and to the public polling. If that is the case, it is a repeat of what happened in 2012, when Mitt Romney's pollsters, and the public pollsters, were outclassed by the Obama machine and its deadly combination of rigorous quantitative analysis and a vast army of ground volunteers vacuuming up large quantities of raw data and feeding it back to headquarters.

Because of the 2012 election and the massive amount of resources thrown into Virginia by President Obama's reelection campaign, the Democrats said they had better data on which to base their predictive models for who was going to vote, who they were going to vote for and who was open to being persuaded.

"We just have richer data. We've been collecting more data and we've been using the same file more consistently for the past few years," McAuliffe campaign manager Robby Mook said last week.

This data edge drove the McAuliffe campaign's decisions on how to conduct its polling, which then dictated the results it got. It also drove the campaign's decisions on how to allocate ground-game resources, and early voting effort, as well as TV ad strategy.

If Republicans had hard data showing them closing to within a point or two, wouldn't that have drawn money for more ads into the race in the last few days? The fact that this didn't happen suggests the GOP was flying blind in Virginia, and that they are still struggling to catch up to Democrats in the realm of data-driven campaigns.

Although Republicans have promised that they are going to leapfrog the Democrats in running data-centric campaigns, the bottom line is they are trying to make up ground that has been lost over several years, which will take time to rectify.

"The problem is not that this stuff takes a ton of money to figure out once you have the data. The problem is the gathering of the data is so fucking labor intensive and requires so much work," said one Republican operative. "The richer the data you have, the better targeting you can do."

That explains why the Republican National Committee dedicated its resources in Virginia to building out a ground operation. They spent $3 million on the race, but an RNC official acknowledged that their efforts were also "building the party's presence in Virginia."

"We went into this race working with the campaigns about what they needed to win based on their plans. We committed to funding/running the ground games and minority engagement –- that's what we did," the RNC official said.

The residue of the 2012 Obama campaign also helped McAuliffe with his ground game. The Democrat claimed to have 13,513 volunteers working for the campaign in the last four days, and said his campaign knocked on over 2 million doors and made 2 million phone calls. Cuccinelli said he doubted these numbers, but neither his campaign nor the RNC ever disclosed their own ground-game numbers, despite repeated requests before and after Election Day.
None of this is to say that Obamacare is not a political problem for Democrats, and could play a big role in the 2014 midterms.
"They have to get it fixed and they have to get it fixed fast," Democratic Congressional Campaign Committee Chairman Steve Israel (D-N.Y.) told HuffPost's Sam Stein.
But it's not clear that in Virginia, Obamacare played the role some Republicans say it did.

Before You Go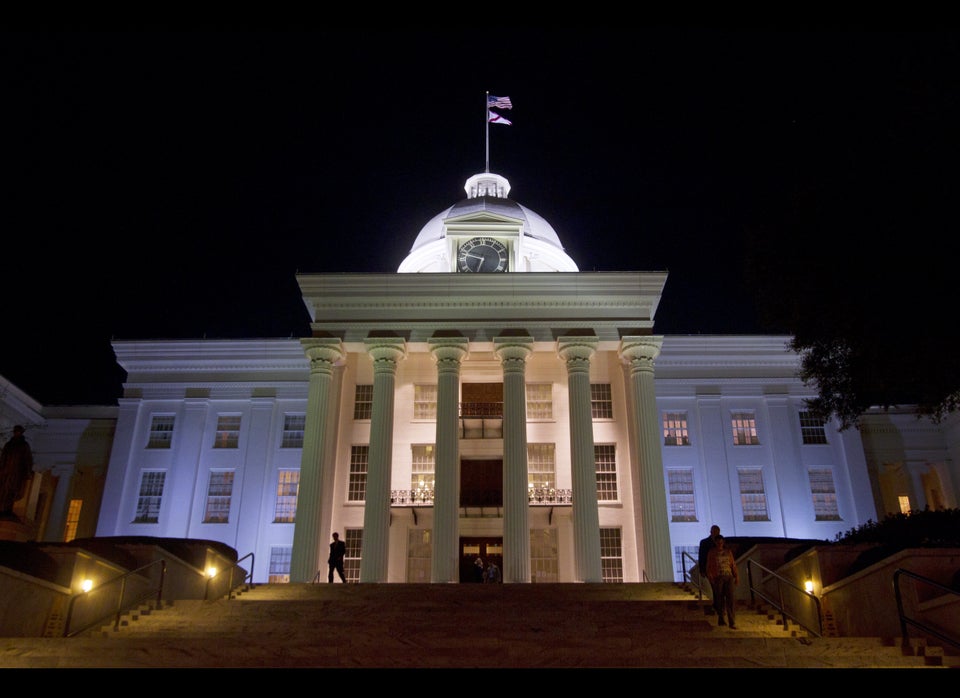 U.S. State Capitol Buildings
Popular in the Community