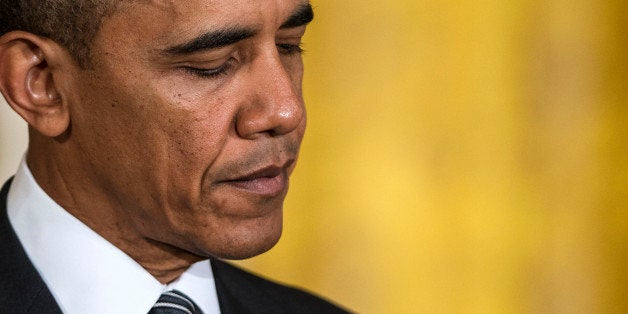 NEW YORK, Oct 25 (Reuters) - Americans hitting roadblocks on the new U.S. government-run healthcare website have been contacting insurers directly and enrolling in plans away from the federal marketplace, representing a lost opportunity for President Barack Obama's landmark reform.
Since its launch on Oct. 1, technical problems have stalled Healthcare.gov, the website meant to help millions of uninsured Americans sign up for coverage as part of the biggest U.S. social program since Medicare plans for the elderly launched in the 1960s.
Nearly a dozen insurance companies offering plans on the exchange who were interviewed by Reuters say they have received at most a trickle of enrollments through the federal marketplace serving 36 states, some of them with errors that require the insurers to separately verify information about applicants.
At the same time, consumer inquiries at insurance company call centers and websites are up, in some case even double the amount of normal traffic. When they hear from potential customers who appear to qualify for government subsidized plans, they take phone numbers, create shopping baskets for the plans they like and send them to Healthcare.gov to verify eligibility.
But if the shoppers do not qualify for a subsidy, insurers say they sell them a plan directly. More often than not, those plans are individual policies that are not available on the government-run exchange.
PHONES RINGING 'OFF THE HOOK'
Health First Health Plans in Florida, one of nine insurers selling individual plans in the state through Healthcare.gov, has sold only a handful of exchange-based plans through the government marketplace.
But its phones have been ringing "off the hook" since Oct. 1, said Jason Alford, director of individual and marketplace sales. Many of the sales are for plans that extend coverage from 2013 into 2014 and that do not include many of the government program's most significant benefit requirements.
"We have begun taking a number of off-exchange applications," Alford said.
A chain of five Blue Cross Blue Shield insurance plans, including BCBS of Texas and BCBS of Oklahoma, said it is also sending buyers who qualify for subsidies to the exchange, while those who do not qualify for subsidies have been buying off exchange plans more often.
"I'm very hopeful that individuals will come back and purchase the product," said Kurt Kossen, vice president of retail at parent company Health Care Service Corp, referring to customers who get information about a plan but do not buy it on the spot.
The move off exchanges is another way in which the Healthcare.gov problems may jeopardize the administration's efforts to sign up as many as 7 million Americans for coverage on the exchanges in their first year, including an estimated 2.7 million young and healthy members needed to make the system work financially.
The administration and the contractors it has hired say they are working around the clock to fix the problems. The government said on Thursday that about 700,000 applications have been submitted so far for coverage through Healthcare.gov and 14 insurance exchanges run by states.
The loss of potential customers could become more critical if the federal exchange is not fixed in time for an expected influx of enrollments by Dec. 15, the last day to sign up and have benefits available on Jan. 1.
Dan Mendelson, Chief Executive Officer at Avalere Health, which has been tracking the exchanges closely, said although he expects the Healthcare.gov problems to be solved, "There is a void right now and the void is being filled in many cases by insurers engaging directly with patients."
He said that "ultimately there will be a modest uptick in the off-exchange products as a result of this."
White House officials on Wednesday met with chief executives of 12 leading insurance companies, including Aetna Inc, Humana Inc and WellPoint Inc. The administration promised to fix problems with enrollment data sent to the health plans and address issues that have prevented insurers from directly enrolling consumers who are eligible for subsidies.
For some small insurers selling only on the exchange, the technology issues have affected all of their business. Community First Health Plans in San Antonio, Texas said that it was still experiencing technical problems and that the volume of sales was small. Community Health Choice in Houston, Texas said sales from the federal exchange had been slow.
"I see that every day the system is getting a little bit easier," said Daisy Morales, vice president of marketing and outreach.
Some insurers are selling 2013 plans that extend into 2014 and do not have all the benefits required by the 2010 Affordable Care Act, commonly called "Obamacare," making them less costly.
As a result, a shift to off-exchange products could signal that more healthy consumers will not be part of the Obamacare exchanges.
In the first year of the exchanges, insurers are reimbursed by the Obamacare risk adjustment program if they enroll very sick people. The more people in the pool, the lower the risk, and in the health insurance market, lower risk has meant more competition and lower premium prices.
"I can't give you a magic number, but insurers need a big enough pool of risk," said Jay Angoff, a former official at the U.S. Department of Health and Human Services who now works as a lawyer at Mehri & Skalet in Washington DC.
Jefferies & Co analyst David Windley said that a weaker enrollment in Obamacare exchanges, with a final tally of a few million consumers, could mean the risk pool has a higher concentration of sick consumers.
It would mean "that the healthy ones tried and gave up (on enrollment) and the sick ones were the persistent ones that actually got through the process," Windley said.
In 2014, risk adjustment payments would help cover any hit that insurers take because of the sicker population. After that, it could mean higher premiums and therefore more government spending per person on subsidies.
WellPoint Chief Financial Officer Wayne DeVeydt said in an interview that the company, which has the largest presence on exchanges among health insurers, is selling both exchange-based products and off-exchange products from its websites. It sends people eligible for subsidies to Healthcare.gov.
"It messes the timing up a little, just because those off exchange can get in a little bit sooner," DeVeydt said. "It doesn't change the outlook. None of these policies start until Jan. 1 anyway."
At the same time, WellPoint on Wednesday told investors it would not yet give a forecast for 2014 financial results due to uncertainty over how the Obamacare exchanges will work next year.
Calling all HuffPost superfans!
Sign up for membership to become a founding member and help shape HuffPost's next chapter