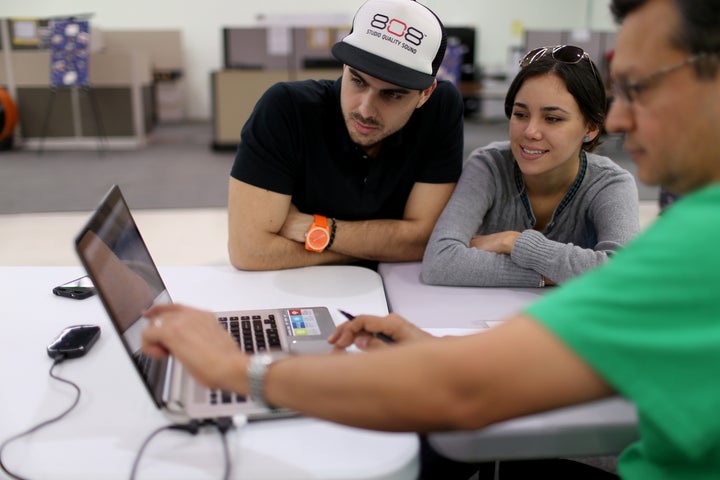 Consumers shopping for insurance on healthcare.gov in the next few months will be able to navigate the website with less fuss -- and more information -- if some new enhancements work as planned.
The Department of Health and Human Services on Friday unveiled a series of upgrades for the website, which residents of Florida, Texas and 35 other states use to purchase insurance through the Affordable Care Act. (California, New York and 11 other states, plus the District of Columbia, use their own websites instead of healthcare.gov.)
The changes include a series of tweaks designed to make the process easier for consumers to follow and to prod them if they've entered information incorrectly. But the most important improvements will be the gradual introduction of three new online shopping tools, allowing consumers to compare the likely out-of-pocket costs, provider networks and drug formularies they will encounter under various plans.
The updated "window shopping" feature, which allows consumers to browse plans on healthcare.gov without going through the actual application process, is scheduled to go live on Sunday night. At that time, HHS officials said, it will include the out-of-pocket calculator. The provider and drug formulary tools will come online later, most likely on or after Nov. 1, when open enrollment for 2016 formally begins.
All three tools will initially appear in "beta" testing mode, officials cautioned. One reason is that translating insurer data for the site has been a challenge. As Robert Pear of The New York Times reported this week, HHS officials argue that insurers have been slow to provide the information, while insurers say the agency gave them unrealistic deadlines. For now, the website will inform users that the data in the tools may be incomplete or contain errors -- and suggest they confirm information directly with insurers or providers.
If and when the new tools function as they should, they could be a big help to consumers with chronic ailments in particular. For example, if you rely on a specific drug, you'll want to know whether your insurer covers it. If you've been seeing the same doctor for many years, you'll probably want to stick with him or her, particularly if it's for treatment of a serious condition.
Until relatively recently, insurers had so much leeway over benefits and pricing that comparing plans was difficult even for educated consumers. The Affordable Care Act has started to change that, in part by establishing four standard levels of coverage -- bronze, silver, gold and platinum. But the categories are big enough to mask a lot of variation. For a particular consumer, the difference between choosing one silver plan over another could still be thousands of dollars a year.
The new tools should give consumers a much clearer sense of what they're getting with a given plan, HHS officials say.
"The new features we are adding to healthcare.gov are based on feedback we heard directly from our consumers," Lori Lodes, a department spokeswoman, told The Huffington Post. "The improvements we're making will help consumers better understand the cost of coverage based on their own situation and better understand their health care options -- providing them with the information they need to pick the plan that best meets their needs."
In theory, publicizing this information could have an important secondary effect. If consumers become more capable shoppers, insurers will have to work harder to attract and keep beneficiaries -- by offering policies with better coverage, lower prices or some combination of the two.
In practice, though, it might take both more aggressive shoppers and more detailed information to unleash such a vibrant and competitive market. The out-of-pocket tool asks consumers to estimate whether they are "high," "medium" or "low" users of health care, based on key indicators like how frequently they expect each person in their household to require hospitalization. Some families, even those with predictable illnesses, are bound to guess wrong.
And while the formulary tool will indicate what which each plan covers, it will not distinguish between drugs that insurers cover fully and those that are only partially covered.
(HHS officials noted that, having compiled all of this information from insurers, they will also be making electronic versions of the data available -- thereby enabling web developers to build their own tools for providing more specific and reliable guidance.)
The fact that administration officials are even discussing enhancements to healthcare.gov is a sign of how far things have come since the program's launch in late 2013, when the website was basically non-functional for several weeks. 
Healthcare.gov did work smoothly during last year's open enrollment period, but the system as a whole is still prone to administrative and technological problems. On Thursday, for example, the General Accounting Office released a report demonstrating that the system was making erroneous eligibility decisions and remained vulnerable to fraud.
Calling all HuffPost superfans!
Sign up for membership to become a founding member and help shape HuffPost's next chapter