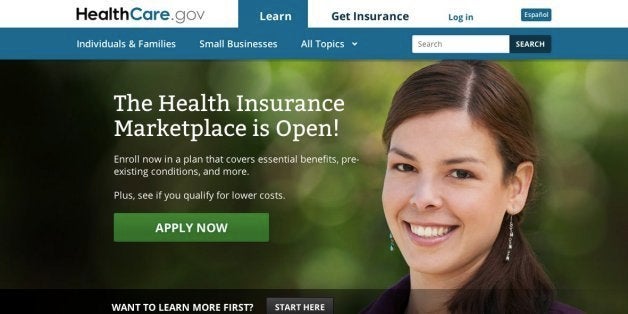 More than a week after its glitch-plagued launch, the federal government's online health-insurance exchange is slowly getting more functional.
For the first time, curious shoppers at HealthCare.gov, the federal portal for insurance enrollment created by President Barack Obama's health-care reform law, finally have the option to browse plan options and prices without having to get past the website's balky log-in process.
HealthCare.gov quietly added a feature on Thursday enabling shoppers to review insurance premiums after entering some basic information, like where they live and the kind of coverage they're seeking. This workaround could ease the crush of traffic on the part of the website that takes applications for insurance and financial assistance while allowing Americans to get a glimpse of what Obamacare could cost them.
The first 10 days of the six-month enrollment period for health coverage have been rocky, as the government struggled to provide consumers with one of the fundamental promises of Obamacare: a simple, one-stop-shopping destination where the uninsured, people who buy health insurance directly, and small businesses could compare health plans by price and benefits and learn whether they qualify for financial help.
Consumers now can view partial pricing information via a part of HealthCare.gov mostly unaffected by the failures that have impeded enrollment for people in the more than 30 states where the federal government is running the exchanges. State-run exchanges in places like Colorado, Connecticut, Kentucky, and Washington state already offered the option to access real prices and without first creating accounts, verifying identities and logging into the system, whereas the federal website still requires that to see detailed information.
The new tool on HealthCare.gov could help people who are eager at least to get a rough idea of what insurance will cost them next year. By answering a few basic, anonymous questions, visitors can see a list of the insurance products being sold in their states, along with their average list prices.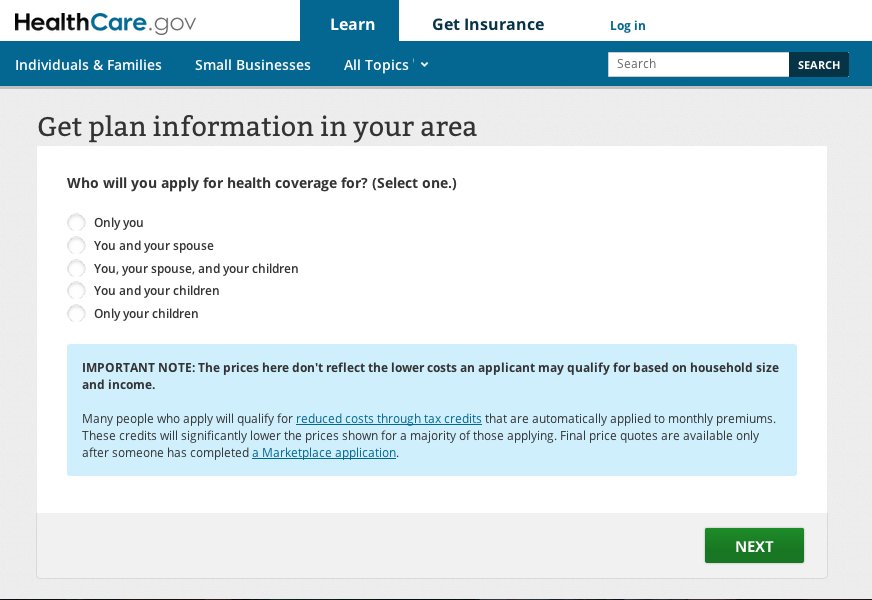 The prices shown on this feature, however, don't factor in vital information that could have a significant effect on how much a family or business would pay.
Individuals and families who want estimates of how large of a tax credit they could receive, if any, or whether they would qualify for Medicaid coverage, can use a calculator created by the Henry J. Kaiser Family Foundation.
Visitors to HealthCare.gov have been confronted with long lag times, multiple error messages and crashes that make online shopping close to impossible, though the Department of Health and Human Services says an undisclosed number of people have applied for coverage. The administration has been adding capacity to handle the millions of people trying to use the website and re-writing the computer code at the root of some of the difficulties. The account-creation and log-in systems have been identified as a major culprit of HealthCare.gov's technical problems, the Wall Street Journal reported.
But while HealthCare.gov has shown some improvements in performance in recent days, it remains far from reliable. This sharply contrasts with most of the state-run health insurance exchanges, which have made greater strides in fixing the glitches on their websites.
The enrollment period for health insurance that takes effect in 2014 runs until March 31. People who want their benefits in place by Jan. 1 have to choose a plan by Dec. 15. In order to avoid paying any tax penalties for not complying with the law's individual mandate that most U.S. residents have health coverage, consumers would need to buy a plan by Feb. 15.
Calling all HuffPost superfans!
Sign up for membership to become a founding member and help shape HuffPost's next chapter
BEFORE YOU GO
PHOTO GALLERY
Obamacare Haters