HealthCare.gov, the online portal to Obamacare enrollment, will reliably allow consumers to shop and sign up for health coverage by late November, a senior adviser to President Barack Obama said Friday.
Nearly a month after the launch of the health insurance exchanges that are central to Obama's health care reform law, the HealthCare.gov website and the information technology behind it continue to pose problems to consumers and health insurance companies alike.
On Friday, health care entrepreneur and Obama adviser Jeffrey Zients, who is overseeing a so-called tech surge to repair the site, for the first time offered a concrete timeline for the project. "By the end of November, HealthCare.gov will work smoothly for the vast majority of users," Zients said during a conference call with reporters.
"The bottom line is the performance of the system has been unacceptable," Zients said, echoing an assessment Obama offered Monday. "We're executing a plan of attack and the system is getting better." At its worst, HealthCare.gov only allowed three out of 10 users to get all the way through the application for financial assistance, he said.
"The HealthCare.gov site is fixable. It'll take a lot of work and there are a lot of problems that need to be addressed," he said. Zients is a former official at the White House Office of Management and Budget and will become director of the White House National Economic Council at the beginning of next year. The administration has described his involvement with Obamacare implementation as short-term.
Reaching this newly announced late-November target would give consumers as little as two weeks to choose a health insurance plan that would be in place at the beginning of next year. Because of lag times between selecting coverage and its effective date, the latest an individual or family could make the first payment to their insurer is Dec. 15 if they want benefits in place by Jan. 1.
This latest assessment follows months of assurances by Obama and numerous administration officials that HealthCare.gov would be fully operational when it debuted Oct. 1, including statements made just days before the online marketplace launched.
The administration expected to enroll 7 million people into health coverage via the more than 30 exchanges being run by the federal government and the more than a dozen operated by states, based on Congressional Budget Office projections. The open enrollment period for 2014 runs until March 31.
The health insurance exchanges have processed about 700,000 applications for financial assistance to date, and almost half came through the federal system, which includes HealthCare.gov, a telephone hotline and paper applications, according to Centers for Medicare and Medicaid Services spokeswoman Julie Bataille.
Applications for tax credits to cut health insurance costs aren't the same as actual enrollments, however. Consumers eligible for financial assistance also must choose a private health plan and make a payment to be enrolled. The Obama administration won't release enrollment figures until the middle of next month, though some state-run health insurance exchanges are reporting tens of thousands of enrollments into private health insurance and Medicaid so far.
In a major shift, the administration has assigned a private company as the "general contractor" overseeing the federal health insurance exchanges and HealthCare.gov, Zients said. The Centers for Medicare and Medicaid Services had been responsible for coordinating the multiple contractors working on the technology until now, and contractors at a House committee hearing Thursday said it was the agency's decision to postpone full testing of the system until the two weeks before its Oct. 1 launch.
A unit of the health insurance giant UnitedHealth Group will take over this coordination, Zients said. Quality Software Services Inc., or QSSI, is a unit of Optum, a UnitedHealth Group company. UnitedHealth Group was not among the health insurance companies represented at a meeting with White House officials Wednesday.
QSSI built the data hub used by the federally managed and state-run health insurance exchanges, which serves as the conduit for information transmitted between consumers, multiple government computer systems and health insurance companies. Despite concerns prior to the debut of the exchanges, the data hub has performed well, Zients said.
The Centers for Medicare and Medicaid Services is expanding QSSI's existing contract, Bataille said. The administration will not disclose what other companies or individuals are participating in the Obamacare "tech surge."
"There's a clear path forward," Zients said. "There's a 'punch list' of fixes, and we're going to punch them out one by one." Issues include problems on the user end, such as navigating through the registration, application and enrollment processes, and on the back end, like health insurance companies receiving corrupted data about their new customers, he said. "There will be a relentless focus on speed and execution to work through the punch list. Each week the site will get better."
The administration also is looking into rectifying a quirk with the enrollment deadlines that could subject some people to a portion of the tax penalties for violating the law's individual mandate to have insurance. Currently, consumers would have to select a health plan by Feb. 15 to avoid partial penalties. The administration is working to ensure that anyone who buys health insurance by the end of enrollment on March 31 won't be penalized, Bataille said. The White House announced it was pursuing this policy on Monday.
CORRECTION: An earlier version of this story inaccurately stated three of 10 HealthCare.gov users were able to enroll in health coverage.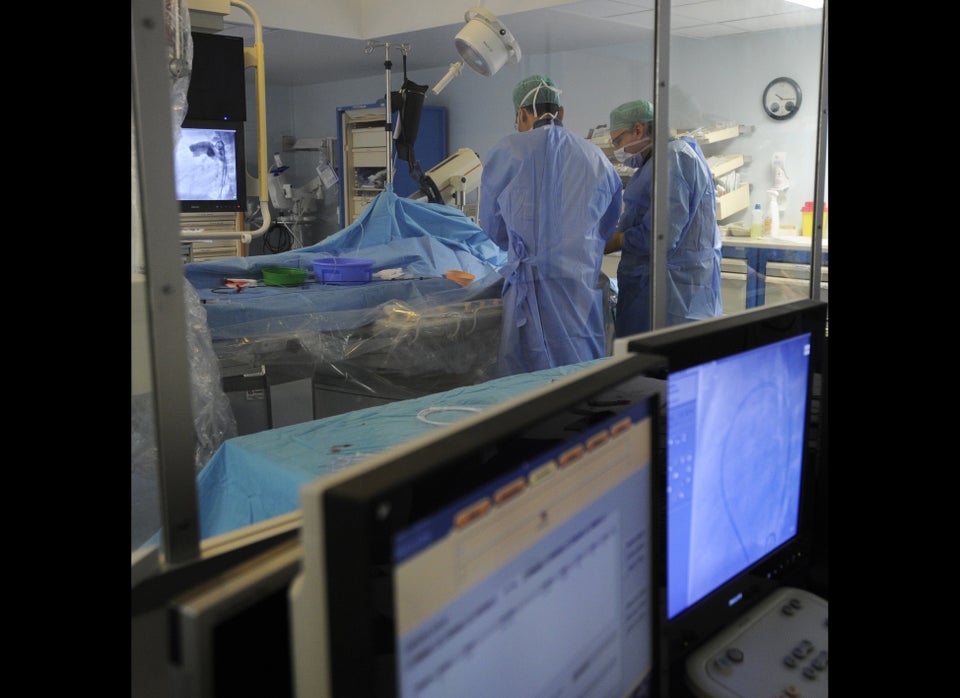 Lies And Distortions Of The Health Care Debate
Popular in the Community