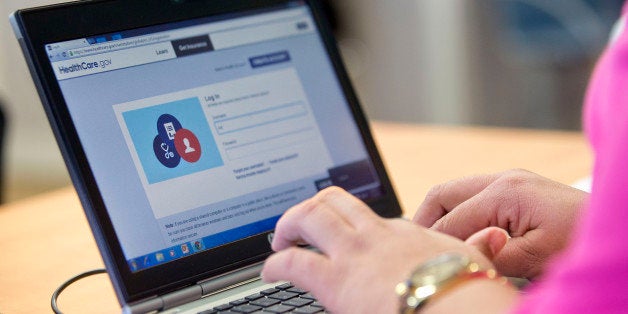 WASHINGTON -- As it prepares for both a wave of new health insurance shoppers and a return of many seeking to re-enroll, the team behind HealthCare.gov says the website will be able to handle twice as many simultaneous users as it did on the busiest day of its troubled first enrollment period.
Visits to the website peaked at 125,000 concurrent users on March 31, 2014, which was the nominal deadline for individuals to sign up for health insurance, according to the Centers for Medicare and Medicaid Services (CMS), the agency in charge of the insurance exchanges. Now, with new fixes, the site will be able to handle an estimated 250,000 individuals using the online health insurance application system at once.
Open enrollment for health coverage next year begins next Saturday, Nov. 15, and will run through Feb. 15, 2015. Consumers will get a first look at prices early next week.
The enhanced capacity of HealthCare.gov is one of several major technical improvements that Obama administration officials outlined in an interview with The Huffington Post on Friday. These officials say the fixes, taken together, will allow for a user experience far smoother than the one that followed the disastrous launch of HealthCare.gov on Oct. 1, 2013.
"We really wanted to spend the year focused on how to make it work better for consumers who were coming to HealthCare.gov, and we put through a series of upgrades over the summer," said Andy Slavitt, principal deputy administrator at CMS.
HealthCare.gov's performance already improved over the course of last year's open enrollment period. While the site was initially plagued by crashes that made it virtually impossible to use, a team of technicians eventually got the system working well enough to enroll millions of consumers for health insurance. But the reputational damage lingers, so much so that administration officials have fretted that potential customers might still be hesitant to use the site.
President Barack Obama himself vowed earlier this week week that HealthCare.gov will perform better.
"We're really making sure the website works super-well before the next open enrollment period. We're double- and triple-checking it," the president said during a press conference Wednesday. "There are a number of people who, the first time around, sat on the sidelines, in part because of our screw-ups on HealthCare.gov," he added.
Upwards of 7 million existing customers will be able to make changes to their coverage starting Nov. 15, and millions of new customers are expected to join them. HealthCare.gov serves insurance shoppers in more than 30 states, while an additional 13 states and the District of Columbia run their own exchanges.
Organizationally, administration officials say that much has changed as well since October 2013. The team responsible for managing the website has been organized more hierarchically, and there are daily progress checks for the tasks in need of completion. While the administration has also brought in some new faces to help improve the website experience, the core of the CMS team and contractors who helped fix the site initially were either retained or kept working through the summer. These team members number in the "hundreds," one official told HuffPost.
Slavitt himself helped lead the HealthCare.gov rescue effort last year in his capacity as an executive at a subsidiary of the insurance company UnitedHealth Group, which was one of the government contractors working on the project. He officially joined the administration in June.
"It's been an incredibly busy summer," he said.
The main goals going into the second open enrollment, Slavitt said, were to improve the consumer experience, make the system faster and more reliable, boost capacity to serve large numbers of people at once and beef up security.
Slavitt said that the administration had retained some elements of the original system, upgraded others, and replaced still others.
The HealthCare.gov team streamlined the application process for about 70 percent of users, reducing the application's length from 76 pages to 16. Existing customers who return to the website to make changes to their coverage also won't have to re-enter their personal information because about 90 percent of it will be stored in the system, Slavitt said.
The mobile version of HealthCare.gov also has been enhanced. An estimated 20 percent of applications during the inaugural enrollment period were filled out using mobile devices like smartphones and tablets, according to to CMS.
And Slavitt said that one of HealthCare.gov's most notorious features, a "virtual waiting room" where users got stuck when the website wasn't working, has been improved. Previously, if one component of the system was malfunctioning, no new users could begin any part of the application process and were instead forced to wait. Now, the system is able to keep different functions separate, so only visitors trying to use the balky part of the website will have to wait, while others can continue to access the rest of it.
The first time around, HealthCare.gov didn't undergo adequate testing to reveal its flaws, which left the White House flat-footed when the website didn't work. In sharp contrast, in preparation for the second open enrollment period, CMS began four phases of testing more than a month ago.
Slavitt expressed cautious optimism that his team's improvements had worked and that the testing was successful.
"We hit all our dates and milestones. That doesn't mean we won't find bugs here and there, even after four rounds of testing, because that's how software works," he said.
Even as the second enrollment period is set to begin, HealthCare.gov remains a work in progress, and Slavitt predicted that more tinkering will likely be needed.
"Are we all the way there? I think in year three, we'll have a list of things we will be able to do based upon what happened in year two that will make it even better," he said.
See a slideshow demonstration of the new application process on HealthCare.gov:
Popular in the Community