 WASHINGTON -- Traditional valentines are often paired with chocolate or flowers, but the White House would rather see them coupled with Obamacare. The Obama administration launched an aggressive campaign Friday targeted at women and young people, urging them to spread the word about signing up for coverage under the health care law.
The effort includes a two-day social media push, using the hashtag #ACAValentines, with valentines and graphics that link to HealthCare.gov -- the online portal where consumers can shop for coverage under the health care law's exchanges. Outside groups such as Young Invincibles, the National Women's Law Center and Moms Rising have launched online media campaigns of their own to reach moms and women, in particular.
The National Women's Law Center, for example, created three graphics designed for moms to send to their adult kids with a reminder about the March 31 enrollment deadline. The group even created a website, WordofMom.org, that enables moms to nudge their kids where they're most likely to be found -- on Twitter, Facebook or email.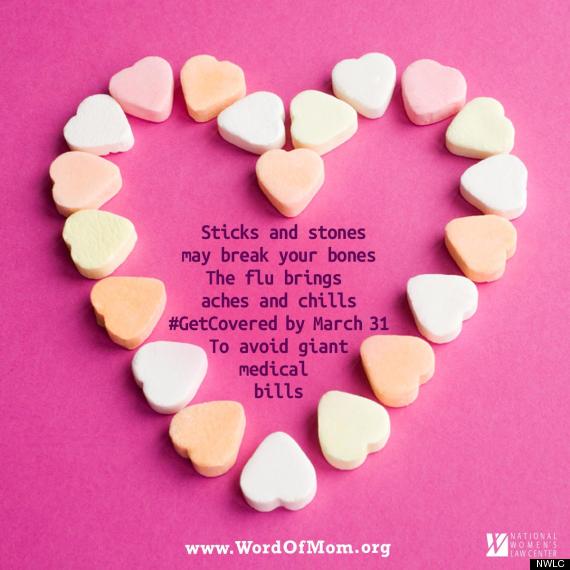 The campaign is timed with National Youth Enrollment Day, scheduled for Feb. 15 -- a day the administration and allied groups have dedicated to getting young people to sign up for insurance. The youth bloc is critical to the law's success, since younger, healthier individuals would pay premiums that would help offset the cost of elder, sicker policyholders.
"With just 45 days to go before the deadline for open enrollment through HealthCare.gov, the White House is working with stakeholder groups to launch a social media campaign encouraging moms and women to send their loved ones Affordable Care Act Valentines today, as a way to urge their kids or family members get covered," an administration official told The Huffington Post. "As you know, research shows that moms can wield the most influence in helping their family members, especially their adult children, make health care decisions – and this Valentine's Day campaign is another creative way we are hoping moms can help us with the enrollment push."
Young Invincibles has played a particularly large role in setting the stage for National Youth Enrollment Day and plans to hold over 100 events across the country on Saturday, spokesman Colin Seeberger said. The group is relying on celebrities to expand its reach. The valentines created by Young Invincibles feature stars like Beyonce, Neil Patrick Harris and Adam Levine, all vocal supporters of the Affordable Care Act.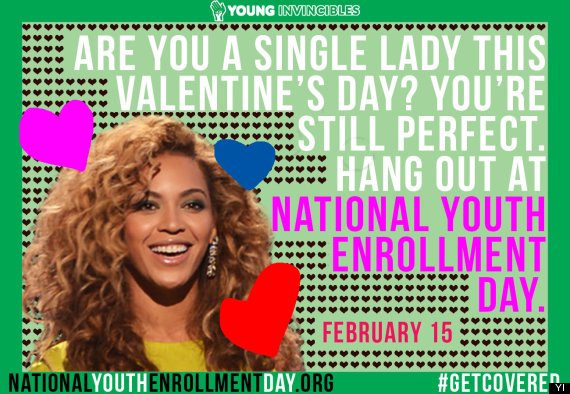 The Social Security Administration plans to take its service offline from 3 p.m. Saturday to 5 p.m. Tuesday for scheduled maintenance. Although Healthcare.gov will remain online throughout this period, some of its functions that rely on Social Security data -- such as determining if consumers qualify for a tax credit -- will be unavailable during this time.
As a result, the administration has extended the enrollment deadline for March 1 coverage from Feb. 15 to Feb. 18 for those who are unable to complete their eligibility determinations by 3 p.m. Saturday. Seeberger said even though the application process will be on hold after 3 p.m. on National Youth Enrollment Day, Young Invinicibles and other groups will be armed with paper applications and other means to collect information from consumers who want to sign up.
Overall, enrollment in Obamacare has continued to pick up steam after the health care law's rocky debut. The administration announced Wednesday that about 1 million people signed up for private insurance in January, bringing the tally for enrollment under the exchanges to roughly 3.3 million. But adults aged 18 to 34 made up just 25 percent of total enrollment in private insurance plans through the end of January, meaning the administration has work to do before reaching its target of 38 percent.
A number of celebrities joined the Valentine's Day campaign Friday and shared messages on Twitter, Facebook and Instagram to their millions of followers, including Julia Louis-Dreyfus, Eva Longoria, Mindy Kaling, Sarah Silverman and Pharrell Williams.
This article has been updated to add details about Healthcare.gov functions that won't be available during the Social Security Administration maintenance period.
Calling all HuffPost superfans!
Sign up for membership to become a founding member and help shape HuffPost's next chapter
BEFORE YOU GO