Republicans are trying to pick up the pieces of their plan to repeal Obamacare, nearly two weeks after their last effort failed. But now they face a new problem: The law has become more popular than ever.
Americans' views of the current health care law are more positive than they've been since the bill was signed in 2010. On average, nearly half of the public now favors Obamacare, according to HuffPost Pollster's aggregate, with only about 42 percent opposed.
According to a new Gallup survey, Obamacare approval has jumped 13 percentage points in the last five months, thanks to increased backing from both Democrats and Republicans, as well as a notable 17-point swing among political independents.
Fifty-five percent of the public now approves, the first time Gallup polling has found majority support for the law.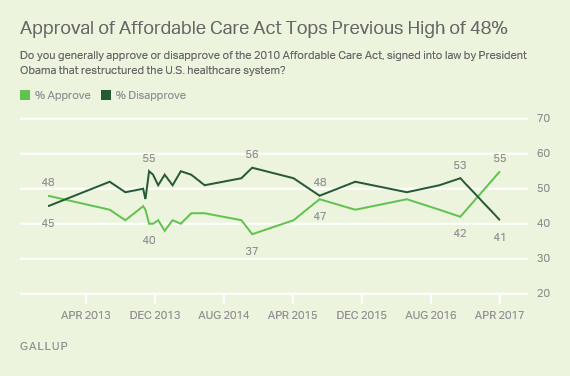 "If that majority holds, it would be a significant development," Gallup's Jim Norman wrote. "Politically, it creates a major obstacle to Trump and Congress' ongoing efforts to change or replace the law. In future elections, it could turn the GOP's opposition to the law from an asset into a liability. More importantly in the daily lives of Americans, it might mean that the most sweeping changes to the nation's healthcare system in decades will remain the law of the land for the foreseeable future."
Another survey released Tuesday finds less overwhelming support for Obamacare, but little appetite for its repeal.
In the Kaiser Family Foundation's latest tracking poll, views of the current health care law are evenly split, with 46 percent in favor and 46 percent opposed. But 64 percent of Americans say it's a good thing that the GOP health care plan failed ― 31 percent because they oppose an Obamacare repeal, and 29 percent because they had concerns about replacing it with the Republicans' American Health Care Act.
Most also now hold the Trump administration responsible to keep Obamacare running: 61 percent say that Trump and the congressional GOP are responsible for any problems with the law in the future, and three-quarters believe the Trump administration should do what it can to make Obamacare work.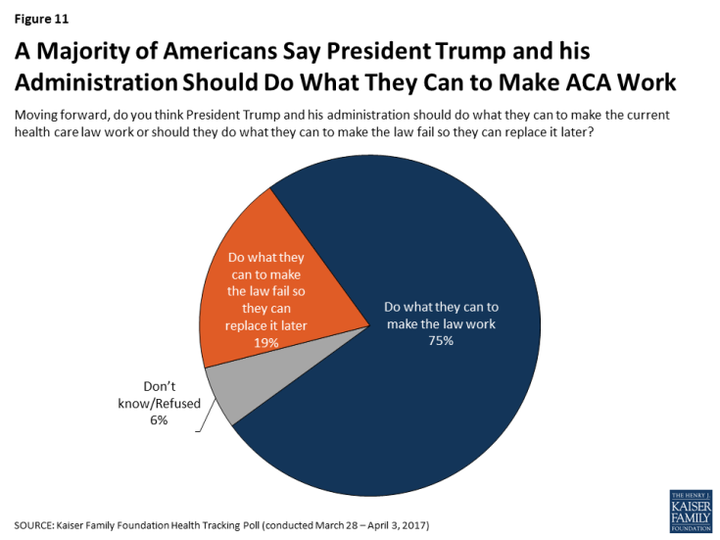 Health care is a particularly sensitive issue for Americans, and it's newly at the top of their minds. In a survey taken at the height of debate on the GOP bill, concerns about health care eclipsed the public's perennial worries about the economy, especially among Clinton voters and older Americans.
The Republican health care bill drew strong opposition, but only tepid support among the public, and a plurality of Americans said in the wake of its failure that they'd like to see the GOP move on to other issues.
Gallup surveyed 1,023 adults on April 1 and April 2, while the Kaiser Family Foundation poll surveyed 1,203 adults from March 28 to April 3. Both used live phone interviewers to reach landlines and cell phones.
Popular in the Community