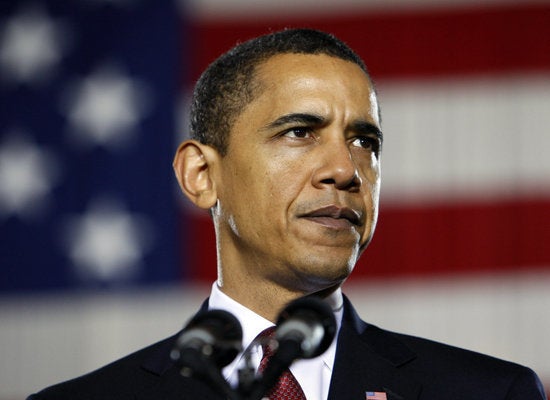 Back in March, President Obama played Wall Street analyst, telling the American public that "buying stocks is a potentially good deal."
Well, the Huffington Post wanted to see how Obama's financial predictions have played out. So, to mark his 100 days in office, we've taken a look back at just a few of the cold hard numbers.
So far, the results have been mixed.
The Dow has gone from 7,949.09 on Jan. 20, the day of Obama's inauguration, to 8,016.95 as of Tuesday's close. While this is a 0.9 percent increase, it would likely have been much worse if not for the stock rebound spurred by the banks' questionable first-quarter profits.
Still, it was just around the time that Obama suggested buying into the market that stocks began their upward climb.
Another useful metric to measure business health is the price of gold. Since the days of the gold standard, the yellow metal has been considered a safe haven by investors. When its price rises, it is often a sign that investors are looking for a safe place to park their capital.
Since Obama took office, gold prices have increased 4.4 percent, going from $853.25 an ounce on Jan. 20 to $891 an ounce as of Tuesday.
As gold prices rise, the value of the dollar often declines. Obama's 100 days is a case in point: $1 can now buy 0.769704 Euros, compared with 0.773395 Euros on Jan. 20, a 0.5 percent drop.
It is also useful to look at the yield on Treasury bonds, or the debt issued by the government. As the price of a Treasury bond drops because demand is weak due to perceived risk, the yield rises. In this case, the yield on the 10-year Treasury was 3.05 percent on Tuesday. On Jan. 20, it was just 2.40 percent.
REAL LIFE. REAL NEWS. REAL VOICES.
Help us tell more of the stories that matter from voices that too often remain unheard.