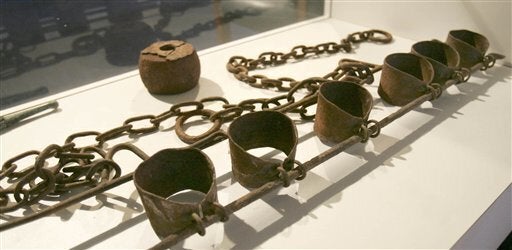 If you are a human trafficker or someone who profits from the modern-day slave trade, and you come up against Lou de Baca: God help you. Tuesday, President Obama nominated de Baca, one of the nation's most decorated federal prosecutors, to be his Ambassador-at-Large to Monitor and Combat Trafficking in Persons at the State Department (TIP). If confirmed, de Baca will serve as America's antislavery czar, heading up a vital but woefully underfunded office dedicated to pressuring foreign governments to free slaves, defined as those forced to work, under threat of violence, for no pay beyond subsistence. He has his work cut out for him. Despite over a dozen international conventions banning slavery and the slave trade, there are more slaves today than at any point in human history. Estimates begin at 12.3 million slaves worldwide, and go as high as 27 million. In the United States, which until now has been de Baca's principal battleground, as many as 17,000 are trafficked into slavery annually.
Saying that de Baca has a vigorous attitude about slave traders is like saying Killer Whales have an affinity for seals. Since 1994, stripping traffickers of their freedom, and restoring that of their victims, has been more than de Baca's job; it's been his passion. As a Mexican-American child growing up in Iowa, de Baca described Edward R. Murrow's 1960 exposé of migrant labor exploitation, Harvest Of Shame, as "our lunch counter," a galvanizing moment akin to the early northern epiphanies about southern injustice during the Jim Crow era. In 14 years as a trial attorney, then as a special litigator in the Justice Department's Civil Rights Division, de Baca won convictions for more than a hundred human traffickers, and most recently as Majority Counsel at the House Judiciary Committee, he updated America's flagship anti-slavery law to provide police with more tools to break slave traders' backs. Most meaningful to de Baca, however, are his successful rescues and rehabilitations of over six-hundred slaves. That is a record unmatched by any law enforcement official at any level since Reconstruction. And central to his approach has been his deeply felt compassion for the victims. "I always felt safe when Lou was working on our case and I knew we would be okay," said "Katya," a survivor of brutal sex traffickers who Lou helped put behind bars for a total of 21 years. "He is a good man." Too often in the past, law enforcement has dealt with slaves as if they were the perpetrators of a crime against the state, rather than victims of a crime against humanity. But for de Baca, fighting slavery is personal.
Those of us who have met slaves, survivors and traffickers know de Baca's passion well, because we feel it ourselves. During five years of research for A Crime So Monstrous, I encountered several hundred slaves, survivors, traffickers and abolitionists. On four continents I was a witness to negotiations for the sale of human beings. Five hours from HuffPo's SoHo headquarters, I was offered a 10-year-old girl for domestic and sexual slavery for $50. In a putrid, underground brothel in Bucharest, Romania, a tattooed trafficker offered me a young woman with Down syndrome, who had apparently recently attempted suicide in an effort to escape daily rape. He asked for a used car in trade. In Florida, I met a young woman who had been trafficked at age nine into domestic bondage in a $351,000 house in a placid, gated suburban Miami community. There, languishing for three years as a slave maid, she was whipped regularly by her mistress and raped repeatedly by her mistress's adult son.
I also spent years parsing the actions of the handful of Bush Administration officials who took on the 5,000 year old crime. Those officials tended to be aggressive, but narrowly focused on one form of slavery. Though his State Department's advocacy broadened somewhat during his second term, President Bush, effectively lobbied by a small but influential coalition of Evangelical leaders and academic feminists, disproportionately funded efforts to eradicate just one form of slavery: forced prostitution. Commercial sex slaves, while their horrendous plight grabs headlines, actually represent less than ten percent of those held in bondage worldwide, according to the International Labour Organization. By prioritizing one narrow category of slaves' emancipation over that of all others, the Bush administration failed to recognize that all slavery incorporates rape, humiliation, torture, murder. And by allocating less than one percent of the funds to fight the traffic in human beings as they allocated for the traffic in illegal drugs, Congress and the last administration left our nation on the wrong side of history. De Baca's record shows that he does not discriminate between types of slaves; he works tirelessly to rescue all of them, regardless of what type of bondage they are trapped in. He and his team have locked up more pimps on trafficking charges than anyone in American history; but he has also successfully prosecuted the thugs who enslave their victims in areas as diverse as begging rings, factories, farms and restaurants.
One thing de Baca is not is a political operator. He has not been a huge fundraiser for Team Obama, nor has he ever held elected office. He is that rare breed of political appointee whose only qualification is that he is enormously qualified to do the job. The president, who hasn't shied away from comparisons to Lincoln, took a bold step today towards completing the "unfinished work" that the 16th president spoke about at Gettysburg. But as the recession may shrink an already razor-thin budget to combat human trafficking, de Baca has his work cut out for him. His predecessors as TIP ambassador succeeded or failed based on their abilities to rally public support for the new abolitionist movement.
De Baca needs a constituency, starting now. John Kerry, Dick Lugar, and the rest of the senators who sit on the Foreign Relations Committee must understand the need for swift confirmation: for those in bondage, delay is denial. And then de Baca, and the antislavery groups that his office will partner with, need our sustained support. (On my website, www.acrimesomonstrous.com, I list two of the most effective such groups.) Abolition is a collective pledge, and a "good man" needs all of our help to get the job done.
Popular in the Community