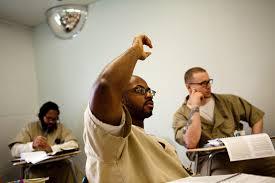 Obama's prison reform agenda is pushing on towards the possibility of achieving another milestone for the reduction of recidivism in this country. Secretary of Education Arne Duncan announced this past week plans for the Second Chance Pell Pilot Program, designed to reinstate access to Pell Grants to certain segments of incarcerated populations, namely individuals set to be released within the next five years who the eligibility requirements set out in Title IV.
A more detailed history of Pell Grants can be found here , but in most basic terms they are considered to be "entitlements," meaning that unlike other types of grants or funding which may be of limited supply, if you meet the minimum criteria, you are entitled to receive funds. When the Basic Education Opportunity Grants (later Pell Grants after one of its key architects, senator Claiborne Pell) came into being, they were designed specifically to include the incarcerated amongst the eligible. But during the 1980s' and 90s' "war on drugs" and "three strikes" fervor, conservative critics began to point to the 3.3 million of the students receiving the grants as the reason why struggling families across the country could not send their children to college.
Republicans once again whipped up a false panic suggesting that non-incarcerated children were being cut out of the funding pie because funds were being given to prisoners. Placed in context--which proponents of the prohibition did not do--the number of prisoners receiving Pell Grants represented 0.005% of recipients. Senator Pell also reminded legislators that they were presenting a strawman argument; as an entitlement, both the children of the unincarcerated and the prisoners would receive funding provided they met the criteria--it was never a situation of one or the other.
Critics further argued that inmates should only have access to education in the trades--managing to devalue the contributions of those who work in the trades by suggesting that their training and education is somehow less valuable than that which comes from college. Disregarding any of arguments from program supporters, the government passed legislation rendering anyone serving time ineligible for the program.
Not surprisingly, critics both then and now repeatedly ask the wrong questions. They ask why prisoners should have access to such programs when the children of the unincarcerated struggle to pursue post-secondary education themselves? But instead of bemoaning the fact that the incarcerated are accessing this program--with the view to contributing to society in doing so--why are they not asking the question why a college education is not more accessible to everyone? Why have Pell Grants for anyone not been adjusted for purchasing power since 1975? Because prisoners make for an easy scapegoat--one that cannot easily protest and acts as a lightning rod to deflect from the fact that conservatives have failed low-income families repeatedly when it comes to post-secondary education.
We cannot, on the one hand, loudly proclaim the successes of ex-convicts who have changed their lives and become successes while, on the other hand, dismissing calls for improving the likelihood of such scenarios existing-it's taking credit for results for which we have not, as a society, contributed to realizing.
And while critics may resort to those old strawman arguments that fuelled the rhetoric of the 80s and 90s with these new announcements, those crunching the numbers are already clear on the costs. Participation in correctional education programs has been correlated with a 43% decrease in the likelihood of recidivism. These findings come from the same RAND report that indicates that each dollar spent on such programs ultimately results in five dollars are saved on three-year incarceration costs.
It's no longer a question of if prison education is cost-effective, the only remaining questions relate to how to implement programs that optimize these findings. Restoration of Pell Grants to prisoners is a step towards doing that.
We are still somewhat scarce on the finer details of the program, as it's clear that expansion will require amendment to the Higher Education Act. The seemingly arbitrary restrictions on former inmates with drug possession convictions need to be removed. And in order to make Pell Grants meaningful to prisoners across the country, serious changes regarding access to education--particularly as relates to online/correspondence courses--needs to occur in tandem with these efforts. We are heading down the right path, but there is a long, long journey ahead.
Calling all HuffPost superfans!
Sign up for membership to become a founding member and help shape HuffPost's next chapter