As Election Day neared last fall, the Obama campaign went big with a 30-minute television ad that profiled four American families struggling to keep afloat in a worsening economy. Between each of the "American Stories," as Obama called them, the video showed the candidate on the hustings, promising "a rescue plan for the middle class."
Four months into Obama's presidency, only one of those folks has seen anything resembling a rescue -- and it wasn't because of any government program. After the ad aired, a mysterious angel donor helped cover the costs of surgery and copayments for the Ohio retiree who suffered from crippling rheumatoid arthritis in her right hand.
But not much has changed for the New Mexico educator. And the Ford employee in Kentucky has been anxiously watching the administration as it guides General Motors into bankruptcy, a process with ripple effects that could cost him his job. Things are bad enough for the fourth person featured, Rebecca Johnston, a 34-year-old mother of four in Missouri, that she has come up with a rescue plan of her own.
Obama said in the ad, Johnston is "all about her family." That's why next week she'll be joining the Army Reserves.
"My kids' ages range between 15 to 3. At this point I look at it like I can't contribute anything to their college, I can barely make their health care costs, we're just skimming by paycheck to paycheck," Johnston told the Huffington Post.
"When you're as desperate as we feel at this age...you gotta do what you gotta do to make ends meet."
In the ad, Johnston showed Obama's cameraman where she put her kids' snacks in the refrigerator door. Some of the shelves were bare. "If they know this is it for them for the whole week, then they will make it last longer."
Johnston told the Huffington Post that she's enlisting for the family health benefits. "It will considerably cut our costs," she explained. Johnston added that the army will help pay off her student loans and allow her to return to school to earn a bachelor's degree. And Johnston's husband, Brian, will be able to get the knee surgery that Obama said the family had been putting off to pay for other things.
But the benefits come with a price tag. After basic training, Johnston will have to serve one weekend a month and two weeks a year. And she will face the prospect of a war-zone deployment every few years in a six-year commitment.
Sgt. Darron Howell, Johnston's recruiter, told the Huffington Post that she will be enlisting in the 325th Combat Support Hospital based in Independence, Mo., a unit that returned from Afghanistan a few months ago. Johnston will work as a patient administration specialist, a job similar to the one she currently holds at Liberty Hospital. But it isn't just the family health benefits and education funding that motivate her.
"She's got some service-to-country feelings," Howell said. "She's been raised a very patriotic person."
Johnston said she is prepared for deployment in a war zone. "It's a risk I'm willing to take. I'm not opposed to supporting my country," she said. After a year she said that she may switch to active duty. Despite that patriotic upbringing (her brother is headed to Afghanistan in July), Johnston said her parents don't approve of the plan, and neither do some of her friends. "We're just going to have to show them," she said. "What works for one family doesn't necessarily work for another, and just because it's not conventional doesn't make it wrong."
She said that she created a "big giant black binder" that has all the "mom" info her husband will need if she goes to Afghanistan. "It has everything -- all the important phone numbers, medical authorizations, grocery lists, recipes," she said.
Despite her personal sacrifice, Johnston said she still thinks President Obama is doing a decent job.
"I believed in everything that he wanted to do for us," she said. "I'm not disappointed yet."
The positive feelings of the participants in the Obama campaign ad reflect recent polls showing that the president continues to receive high approval ratings despite rising unemployment and economic uncertainties.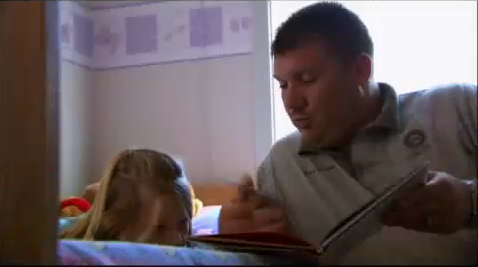 Mark Dowell, a union rep at a Ford plant in Louisville, Kentucky, also approves of the young administration.
"I really truly think the Obama administration is doing everything they can to help out the domestic auto industry," he said. "This has got nothing to do with the president allowing me to be in this commercial."
In the ad, Obama's voiceover described how Dowell was a third-generation Ford man whose hours had been reduced and whose wife, who also worked for Ford, had been laid off in July.
"Now they are struggling to make ends meet," Obama said. But the ends are still meeting - Dowell said his family's finances are in decent shape.
"We don't have any credit card debt -- the only debt I have right now is house payments," Dowell said. "I'm not behind on any payments. I've always lived within my means."
So long as his plant stays open, Dowell said his family of four will survive. So far, the pickup trucks and big Ford Expeditions and Lincoln Navigators manufactured there are selling well enough to keep the assembly line moving.
"For every truck we're building there's another being ordered," he said.
Still, Dowell worries about what would happen to his Ford's part suppliers if its other clients go bankrupt. "Ford motor company is holding off on all the layoffs because they don't know how the GM or Chrysler bankruptcy is going to affect us," he said.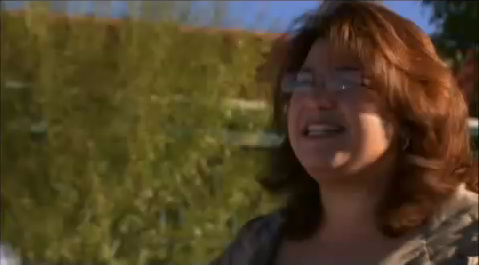 The New Mexico educator, Julianna Sanchez, 43, said in a telephone interview that right-wing radio host Rush Limbaugh didn't like her story.
"I had phone calls coming in telling me Rush Limbaugh's talking about you, everybody's talking about you," she said.
Obama described Sanchez as a widow with two children and a mortgage in Albuquerque, N.M.
"Financially, the pressure is just to keep your head above water," Sanchez said in the Obama ad. "So you don't feel like you're drowning all the time. Health care, food, electric, gas -- it takes out so much out of my pay check. You go buy a gallon of milk and you're like going ok -- is it a gallon or half gallon? What can I afford? You feel like you can't breathe even though you need to breathe."
Limbaugh certainly found something to criticize about the Sanchez segment.
"This humongously large fat family eating dinner at a huge table," the right-wing talk show host told his audience. "I said my gosh, this is a bad TV show. Mom goes off to teach problem kids at what looks like a kid prison...Mom has to ration milk because of high gas prices, bad economy. This fat family had to be twelve people sitting around the dinner table."
"He judged me for two and a half minutes," Sanchez said.
Sanchez said her basic situation hasn't changed since the ad aired. She works at a school for at-risk kids and takes care of a 7-year-old with special needs in the afternoon. At night, she takes business classes online.
"Financially it's been rough," she said. Sanchez has kept her head above water by avoiding credit cards and unnecessary purchases. "I haven't bought new clothes, new shoes," she said. "My daughter had to buy her own clothes for graduation. I felt bad. There isn't anything extra right now."
Sanchez remains optimistic, both for herself and the president. "I think he's doing a wonderful job," she said. "People just need to give him some air and some breathing room."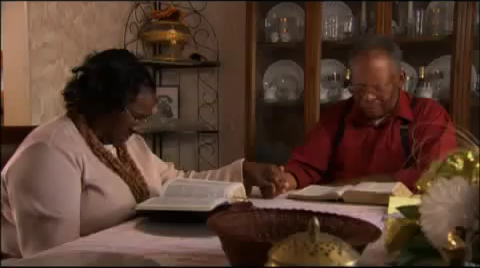 The Stuarts, an older couple in Sardinia, Ohio, also took some right-wing heat for their role in Obama's ad. Namely, the conservative FreeRepublic.com questioned their existence. (There are no Stewarts in Stuarts' county -- FreeRepublic.com had the wrong spelling.)
And Juanita Stuart, 65, told the Huffington Post that some people called their house to say strange things.
"One gentleman stated that he was my grandson. He said I'm right outside your door cutting your grass," Stuart said. She asked her husband, Larry, to look outside. Nobody was there. "The next week somebody messed with my car."
But the most significant consequence of the Stuarts' appearance in the ad was an angel benefactor who helped pay for surgery on Juanita Stuart's right hand, which had been left nearly useless after almost 30 years of rheumatoid arthritis. Stuart said that she sends thank-you notes to the anonymous donor's lawyer.
Stuart said she can't afford to have the plumber fix her dishwasher, "But I'm so happy about my hand and my surgery so life kinda balances itself out."
And even though her 72-year-old husband hasn't been able to quit his part-time job at Wal-Mart, Stuart is happy with the president, for whom she volunteered during the campaign.
"It's gonna take time," said Stuart. "No one person can straighten everything out. But President Barack Obama is working."
WATCH "American Stories":
Calling all HuffPost superfans!
Sign up for membership to become a founding member and help shape HuffPost's next chapter