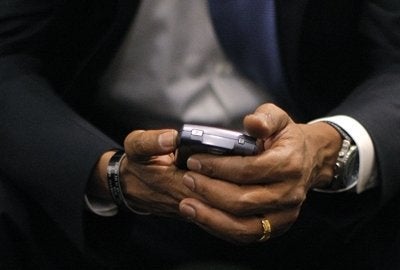 President-elect Barack Obama has repeatedly said how much his BlackBerry means to him and how he is dreading the prospect of being forced to give it up, because of legal and security concerns, once he takes office.
"I'm still clinging to my BlackBerry," Mr. Obama said Wednesday in an interview with CNBC and The New York Times. "They're going to pry it out of my hands."
What could the "BlackBerry president" charge for his plugs of the device if he were not a public servant? More than $25 million, marketing experts say, and maybe as much as $50 million.
"This would be almost the biggest endorsement deal in the history of endorsements," said Doug Shabelman, the president of Burns Entertainment, which arranges deals between celebrities and companies. "He's consistently seen using it and consistently in the news arguing -- and arguing with issues of national security and global welfare -- how he absolutely needs this to function on a daily basis."
Calling all HuffPost superfans!
Sign up for membership to become a founding member and help shape HuffPost's next chapter