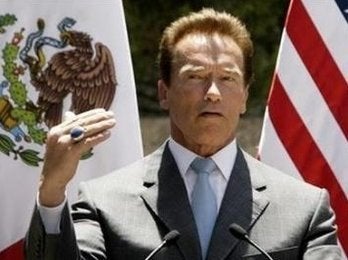 President Barack Obama appeared last night on The Tonight Show, the first sitting president to do so.
President Barack Obama is back in the East after a whirlwind visit to California which pointed up his strengths and suggested some things he can do differently.
Polling shows that Obama, who crushed John McCain here last November, 61% to 37%, is the only really popular politician in California now. The state is wracked by the recession, which took hold here earlier than most other places, and hampered by a largely dysfunctional state Capitol.
As important as Obama is for California, so, too, is California for Obama.
California is key for Obama politically and financially. The rather tarnished Golden State provides one-fifth of the electoral votes needed to win the White House. In November, just over one-third of Obama's national popular vote margin came from his huge win here over John McCain, the largest in a presidential race since Franklin D. Roosevelt was re-elected in 1936. Obama campaigners here spilled out across the nation in the general election campaign, both in person and on the phone. And California is Obama's biggest fundraising state, important both for the heavy hitters of Silicon Valley, Hollywood, and elsewhere in the state and for an immense cadre of online contributors.
Obama's strengths were evident during his visit from late Wednesday through Thursday. A big town hall in the heart of "Reagan Country" -- Orange County -- followed by another in Los Angeles. Each with spirited crowds and unscreened questioners, in sharp contrast to the town halls held by former President George W. Bush.
Obama toured an electric car facility, delivering a major policy address on transforming the economy and its resource base through technological innovation and green job growth, and ended up on The Tonight Show with Arnold Schwarzenegger pal Jay Leno, charming one of the show's largest audiences ever, getting his message through essentially unfiltered. Albeit with the distraction of a somewhat off-color joke about his bowling being suited for the Special Olympics.
Which brings us to needed adjustments for Obama. He's not the only major politician whose tongue gets a little loosened by the California sunshine.
Last year, he made his notorious remark at a private San Francisco fundraiser about "bitter" folks in small town Pennsylvania, "clinging" to God and guns. Maybe it's a good idea to keep that experience in mind ...
In addition, there are some unhappy key folks in California in the wake of the trip, people who didn't get to see the president and haven't been invited to White House gatherings in the still new presidency. Now, some of these folks have a built-in sense of entitlement, but it's always best to keep people happier than not.
Which suggests something to deal both with this and with a bigger reality. Obama could use a California coordinator in the White House, much as Bill Clinton had during his presidency. That was my old Gary Hart colleague John Emerson, now an investment banker, and it worked very well. With this approach, there's one central clearing house -- rather than 19, or 27 -- for dealing with the multiplicity of California issues. From the personal and rather mundane, i.e., vips with noses out of joint, to the complex issues of the world's seventh largest economy on a border with an increasingly unstable Mexico.
However that all gets addressed, or doesn't, Obama certainly has one big partner in California that a lot of people hadn't known about before.
Obama appeared at a town hall yesterday in Los Angeles with Governor Arnold Schwarzenegger.
The nascent alliance between the new president and Governor Arnold Schwarzenegger, discussed on and off for months on my site and in my columns, was on full display in yesterday afternoon's presidential town hall meeting in Los Angeles.
After his introduction by LA Mayor Antonio Villaraigosa, who was not shown on the cable news nets, Schwarzenegger praised the new president as "a fantastic partner" for California who "is our leader in economic recovery." He described Obama's economic recovery program as "the greatest package."
The moderate Republican Schwarzenegger had criticized Obama in his only appearance of the general election campaign with John McCain - the Friday before the election in Columbus, Ohio, site of Schwarzenegger's annual Arnold Classic sports festival - as "scrawny" and a big taxer.
But as I noted immediately after, that wasn't to be taken all that seriously. And the next day, Obama chief strategist David Axelrod, commenting at an appearance in Nevada, was cool with it, saying only this: "We hope to get Governor Schwarzenegger on the basketball court after the election."
Then President-elect Barack Obama addressed Schwarzenegger's climate change summit in LA a few weeks after the November election.
A few weeks later, Obama endorsed Schwarzenegger's UN-sanctioned Governors' Global Climate Summit in LA, cutting a video address which was played to the international crowd in attendance at the Beverly Hilton, as I noted in this Huffington Post piece, "Obama, Arnold, and the Renewed Climate Change Fight," which also contains the Obama video.
For his part, Obama lauded Schwarzenegger as "a great innovator in state government" and even expressed general support for the Schwarzenegger-backed initiatives related to the state budget compromise on the May 19th special election ballot, saying "It's so important for everybody to get engaged in the various initiatives that are going to be coming up, to make sure - that what you just articulated, to invest in our kids...is reflected in the state budget."
Obama also praised former Governor-turned-Attorney General Jerry Brown when he introduced him to the town hall crowd, for "always covering the waterfront on the issues."
Obama and Schwarzenegger met again today in the Oval Office, with Schwarzenegger, accompanied by New York Mayor Michael Bloomberg and Pennsylvania Governor Ed Rendell, in Washington to talk up the pro-infrastructure investment organization Building America's Future.
Obama and Schwarzenegger have some important common interests. Obama needs a famous Republican ally. And there are few people in the world more famous than Schwarzenegger, though most conservatives don't think he's much of a Republican.
Schwarzenegger needs an ally in the White House, which he didn't really have with Bush, with whom he had a tepid relationship. And Obama's great popularity in California can help revive Schwarzenegger's. Though he's won two landslide elections as governor of California, defeating the Democratic candidate each time by 17 points, Schwarzenegger's job approval has yo-yoed up and down since his dramatic election in the 2003 recall. (Which he announced on his friend Jay Leno's Tonight Show.)
Both have common interests in key issues, such as stimulating the economy, building infrastructure, dealing with the greenhouse effect, and promoting a new green tech economy.
Obama toured an electric car facility yesterday in Pomona, where he announced a $2.4 billion initiative to develop new vehicles.
Former state Controller Steve Westly, the ex-eBay honcho-turned-green tech venture capitalist, one of Obama's earliest and biggest backers, did meet with the president on this trip. He's worked with Schwarzenegger on occasion and sees the common interest between the governor and the president.
"We've got a tremendous opportunity to lead the way on an entirely new economic and resource base," Westly told me. "Barack and Arnold working together can help make that happen."
And with the new Gallup Poll showing, for the first time in the 25 years of asking the question, a majority of Americans ranking economic growth over environmental protection, the politics are obvious.
Economic growth now outranks environmental protection by a margin of 51% to 42%. This is hardly a surprise. And it's one reason why you're hearing even more about green jobs now. Though, to be fair, that was always a key component of the Obama message. In fact, it goes back to the Jerry Brown Administration and the SolarCal "Jobs From the Sun" report.
While Obama has formed an alliance with Schwarzenegger, one that transcends office, Obama has to think about the next governor. Because Schwarzenegger is termed out in 2011.
On Wednesday, Obama drew thousands to a town hall in the heart of "Reagan Country" -- Orange County, California.
Democratic prospects here look good. While two super-rich Republicans -- ex-eBay CEO and McCain campaign co-chair Meg Whitman and state Insurance Commissioner Steve Poizner, last seen hugging the far right rail to appeal to the right-wing which dominates the California Republican Party -- are running, there is no global icon like Schwarzenegger in the mix.
Just before Obama flew out here, California Secretary of State Debra Bowen released new voter registration figures for the state. They show a growing Democratic edge in the state, a lynchpin of the Democratic electoral base in presidential politics.
Two years ago, Democrats were 42.52% of the California electorate. Now Democrats are 44.52% of the electorate.
Two years ago, Republicans were 34.19% of the electorate. Now they are 31.14%.
Two years ago, decline to state were 18.83%. Now they are 19.99%. And two years ago, American Independents, by far the largest of the minor parties, were 2%. Now they are 2.17%.
I mention the American Independent registration because most people don't know that they are a right-wing party. Such as Jennifer Siebel, wife of San Francisco Mayor Gavin Newsom, who registered as an American Independent because she thought it meant "independent." The new Mrs. Newsom re-registered as decline to state. Though presumably she is now a Democrat, since Newsom is a Democratic gubernatorial hopeful.
Putting these numbers together, we see that Democrats are 44.52%, up 2% in the last two years. Independents are 22.16%, up 1.33% in the last two years. And Republicans are 31.14%, down 3.05% in the last two years.
The basic competitive positioning for a Democrat in California is pretty clearcut. Hold and turn out the Democratic base, appeal to the center, and deny centrist positioning to the Republican.
Most of the Democrats trying to run or thinking of running for governor were prominent supporters of Obama's bitter rival in the primaries, now Secretary of State Hillary Clinton. Westly ran a near-miss campaign for the Democratic nomination in 2006 and hasn't closed the door on another run in 2010, but has burgeoning business interests and young children.
Of the Democrats who are most likely to run, and not all of them will, only former Governor-turned-Attorney General Jerry Brown - who beat Bill Clinton in a half-dozen presidential primaries in 1992 - did not back Obama's opponent. Brown was formally neutral in the race, though members of his family backed Obama. LA Mayor Antonio Villaraigosa was a national chair of the Hillary Clinton campaign, while San Francisco Mayor Gavin Newsom was a national co-chair of the Hillary campaign. Both campaigned extensively for her in other states, and leveled attacks against the new president. Lieutenant Governor John Garamendi was a state co-chair of the Hillary campaign.
As for Senator Dianne Feinstein, who flirted heavily with races twice before, she won't run. Her long-planned ascension to the chairmanship of the Senate Intelligence Committee, which I've discussed here and elsewhere, makes it all but impossible. You do not take on that post, one of the most sensitive and influential in the world, then drift off to run for governor thousands of miles away.
In the meantime, Obama has his alliance with Schwarzenegger, who just received a big boost to his campaign to pass six initiatives on the May 19th statewide special ballot related to the hard-won state budget compromise when the state's building trades unions joined his increasingly bipartisan coalition. The building trades are a big part of the state's labor federation. This makes it less likely that there will be major public employee union opposition -- due to new proposed spending limits -- and places the onus on the right-wing, which is opposed to the tax hikes in the package, to ante up.
Meanwhile, Obama is back in the White House. (Though he's going to Camp David with his family for the weekend, skipping the annual Gridiron Dinner, which Schwarzenegger will headline.) And back in Washington, Obama has fish to fry that makes California's troubles seem simple by comparison.
REAL LIFE. REAL NEWS. REAL VOICES.
Help us tell more of the stories that matter from voices that too often remain unheard.