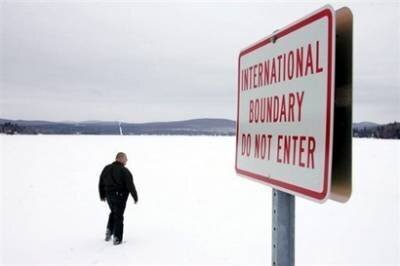 OTTAWA -- When then-U.S. President George W. Bush took office in 2001, he chose Mexico instead of Canada for his first foreign visit, and relations with Canada suffered throughout his presidency. To heap the decline of Canada-U.S. relations entirely at the feet of his decision to go south rather than north is overly simplistic. Instead, taken in retrospect, it was a harbinger of a polarization between the two largest trading partners in the world.
Now, new U.S. President Barack Obama is preparing for his first trip abroad -- to Canada -- on Feb. 19. It will be interesting to see how much of the eight years of bad blood can be cleaned up in just short of eight hours.
On the agenda is the consummate business trip: A quick morning commute to Ottawa, a visit with Prime Minister Stephen Harper and select parliamentarians, a press conference, a brief meeting with U.S. Embassy staff, and then back to Washington and home for supper.
No address to Parliament, no state dinner, and no Michelle.
It's a bare-bones whistle-stop visit, but his administration is counting on it being enough to lift the tenor of relations between two strong and interdependent neighbors.
"Canada is a vitally important ally," said Obama spokesman Robert Gibbs when he confirmed the trip late last month. "The President looks forward to the opportunity to speak with Prime Minister Harper and visit our neighbor to the north."
Over the years, there had been exceptions to the "first-stop-Canada" rule, but the enmity between Bush and then-Prime Minister Jean Chretien -- a strong supporter of multinationalism who enjoyed excellent relations with Bill Clinton and Al Gore -- gave Bush's move the air of a deliberate slight.
In truth, many presidents have visited other countries ahead of Canada. Indeed, some never ventured north at all during their tenures in the Oval Office. But in the modern era -- given the massive trade partnership between the two countries, as well as their energy interdependence and the mutual commitment to NATO -- Bush's decision raised hackles. What started perhaps as benign neglect or a minor diplomatic snub took hold like a prairie fire with a series of successive gaffes.
In his address to Congress following the 9/11 terrorist attacks, Bush thanked more than 20 countries for their messages of support but failed to acknowledge Canadians for their response, which included providing safe harbor to passengers on more than 200 transcontinental flights who were left stranded when the U.S. closed its airspace. Bush never publicly refuted false claims made by members of his own administration and conservative pundits that some of the terrorists had entered the U.S. from Canada. And he repeatedly referred to Britain as the U.S.'s closest ally.
In April 2002, Bush showed little remorse after four Canadian soldiers on a nighttime training exercise in Afghanistan were killed by a bomb dropped from a U.S. F-16, the pilot of which claimed that the Canadians fired at his plane.
In the run-up to the Iraq war, the Bush administration used an unprecedented diplomatic full-court press to pressure Canada, already a key partner in the war in Afghanistan, to join in the invasion of Iraq.
Bush did ultimately did reach out to Canada, visiting in late 2004 after securing his second term He even went to Halifax to thank those Canadian communities that welcomed the diverted passengers in the days after 9/11. But Canadians saw it as too little, far too late. To make matters worse, Bush's reelection had many moderate and secular Canadians questioning whether they still had much in common with their American friends and business partners.
As in much of the world, Obama's election has done much to restore the goodwill and sense of common purpose shared by Canadians and Americans. By making Canada his first stop, Obama is signaling that he values Canada as a friend and neighbor, a feeling that he can be confident will be reciprocated.
While the visit is largely symbolic, there is some real business to be discussed. Topping the list will be the future of the North American economy, especially the financial sector, manufacturing industries, energy security and trade. The latter is suddenly a hot topic for many Canadians after U.S. congressional leaders earlier this month tried to include "buy American" provisions on federal spending related to the stimulus package, a clear violation of the spirit of the North American Free Trade Agreement.
The White House cautiously denounced the protectionist measures and the provisions were later watered down, but Canadian business leaders remain unnerved by the prospect of the costly legal battles these measures would ignite.
The two leaders are also likely to discuss integrated security, Obama's commitment to devoting greater military attention to Afghanistan and the closing of the Guantanamo Bay detention center.
Obama's visit presents both opportunities and challenges for the conservative Harper government. Harper has made clear that he hopes to interest Obama in a bilateral accord on energy and the environment, which would aim to cut waste and coordinate on climate change, among other efforts.
But polls in Canada show Obama is considerably more popular than Harper, who is viewed as lacking empathy and warmth. Sharing the stage with Obama risks giving Canadians a chance to compare. Obama's popularity with Canadians will also make it harder for the Harper government to maintain Canada's autonomy when it comes to foreign affairs.
Obama will have to tread carefully if he doesn't want to alienate Harper by being seen as influencing Canadian politics.
Harper has only a minority mandate and could quickly be forced into an election. Waiting in the wings in Canada is the opposition Liberal leader Michael Ignatieff, a celebrated Harvard professor who has friends in key posts in the Obama administration, notably Lawrence Summers, the director of the National Economic Council and assistant to the President for economic policy, and Samantha Power, director for multilateral affairs on the National Security Council.
Both sides are clearly aware of all that is at stake in restoring the health of the North American economy, and will use the meeting to heal wounds and rebuild a friendship between good neighbors.
Popular in the Community