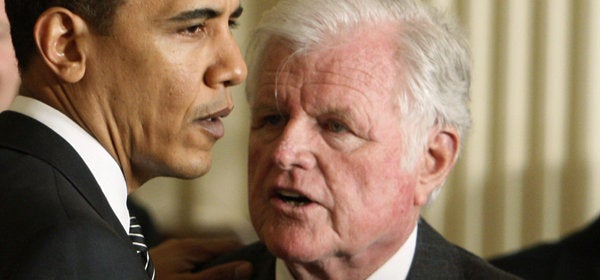 News on the health care reform front this past week has not been good, with two potential Senate bills receiving bad-to-atrocious cost and impact estimates and rising concern that a public option for insurance coverage will fall by the wayside.
In light of these bad developments, a growing number of health care advocates are beginning to revisit a legislative strategy that was once considered unquestionable. Should the White House have introduced a bill itself rather than let the product originate in Congress?
Months, even weeks ago, such a question would have been dismissed with a mix of ridicule and laughter. If one lesson was to be learned from Bill Clinton's failed effort at health care reform 15 years ago, it was that secrecy was a death sentence. The White House certainly preached such a philosophy in public, with chief strategist David Axelrod declaring in early June that it was never the president's "intent to come to Congress with stone tablets."
Several weeks later, however, health care advocates are wondering whether the White House deference to the legislative branch was ultimately misguided. One Democratic operative compared the current climate to a "three-ring circus," with no distinct voice bringing lawmakers together.
Another health care reform advocate, meanwhile, emailed the following note of concern:

"President Obama certainly learned from President Clinton's mistakes. He didn't drop a book on Congress' desk and say, 'Pass this.' There's an obvious downside to that approach, as we're seeing this week. The President has been out saying all the right things in public, standing up strongly for a public option. But I'm worried about the inside game. I just hope all those former Congressional staffers who are now top White House political aides are pressuring their former bosses hard to stick with a strong public option. I fear this isn't happening, given the way Congress is wandering off on their own looking for 'compromises.'"
Certainly, there is panic in the air. Two prominent health care reporters -- Ezra Klein of the Washington Post and Jonathan Cohn of The New Republic -- both published pieces on Thursday lamenting the past week of developments. At the heart of their concerns were the inglorious reviews received by two preliminary pieces of legislation that emerged from the Senate this past week. A partial bill put out by the Senate Health, Education, Labor, and Pensions (HELP) Committee was estimated by the Congressional Budget Office to cost $1 trillion dollars while only covering 16 million additional people. The Senate Finance Committee's effort was hardly better: estimated to run a $1.6 trillion tab while lowering the number of uninsured by two-thirds. The Finance Committee's Chairman, Max Baucus is now looking at ways to lower costs.
At the same time, a group of bipartisan former Majority Leaders released a study on Wednesday that did not include a national public option for insurance coverage -- a key component to Obama's vision reform and a proposal favored by three-fourths of the public.
Added together, the events have created somewhat of a dreadful if not chaotic environment for health care reform advocates. Operatives say they are now working around the clock, including full days on Sundays, just to limit the political fallout. "The sky is falling," offered a particularly pessimistic aide.
All of which is not to say that legislation won't pass. White House aides have publicly remained calm, arguing that the legislation process is inherently ugly. In private, some have grumbled at the Senate's work -- wondering, in particular, why incomplete legislation was allowed to be scored by the CBO. Still, said one high-ranking administration official, "we'll pass a bill."
Along those lines, there do not appear to be huge regrets in the White House over the decision to allow legislation to originate in Congress. For all the lament from outside government, the truth remains that the Obama administration has played a very active role in the process. High-ranking aides to the president are engaged with the bosses they used to work with on Capitol Hill. The President and his campaign arm, Organizing for America, have begun ramping up a public campaign designed create an environment ripe for a bill's passage. Poll numbers show that the public still very much favors comprehensive reform along Obama's wishes.
And then there are those who argue that, when it comes to health care, it doesn't matter where the product originates. Republicans would have been skeptical regardless of whether the bill was crafted by Obama, Sen. Ted Kennedy, or Baucus. The fault lines, in short, were already largely drawn.
"I still believe that it would have run into this kind of trouble either way," said Mike Lux, a progressive activist who worked in the Clinton Health Care War Room. "So I don't think where it starts matters that much."
Popular in the Community