In three cases involving married, same-sex, binational couples facing deportation proceedings in New York, New Jersey and California, attorney Lavi Soloway will argue that the proceedings should be halted because the only thing standing between each couple and a green card is the Defense Of Marriage Act, which he will argue should not be given effect in light of Wednesday's DOJ announcement. Says Soloway, "The issue is urgent as deportation carries with it a 10-year ban on returning."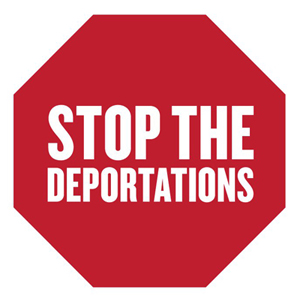 The New Jersey case has advanced to the Board of Immigration Appeals (BIA), a fifteen-judge panel that serves as the highest administrative body for interpreting immigration laws. The petitioner's notice to appeal states, "Because the Attorney General has declared invalid the basis upon which the Service denied the Petitioner/Appellant's Petition, there is no longer any constitutional basis to deny the Petition where, as here, the Petition is grounded in a marriage that is valid under state law."
Because the BIA is part of the Department of Justice and acts on behalf of the Attorney General, Soloway says this case and others like it will give the DOJ the opportunity to declare a broad policy that would put all deportation proceedings involving legally married same-sex couples in abeyance:
Although the administration will continue to enforce DOMA in its entirety as long it remains on the books, Wednesday's announcement by the Attorney General that it will no longer defend Section 3 of DOMA in court creates an important opportunity for policy makers within executive branch agencies such as the Citizenship and Immigration Services, Immigration and Customs Enforcement, and Executive Office of Immigration Review to develop innovative strategies to ensure that DOMA does not tear apart any married gay or lesbian binational couples while Congress works to repeal the law and the federal appeals courts continue to decide its ultimate fate.
The executive branch has substantial discretion to hold deportation proceedings in abeyance. In 2009 the Department of Homeland Security did so to stop the deportations of widows and widowers of United States citizens who had been married less than two years. In 2010, the Obama administration decided not to deport so-called "Dream Act elligible" students who came to the United States without papers when they were children. Soloway believes the President's newly articulated position on DOMA could weigh heavily in the exercise of discretion in cases involving binational same-sex married couples.
LGBT legal experts agree. Lambda Legal's Jon Davidson wrote in The Advocate this week:
To have the nation's president and highest law enforcement agency conclude that discrimination based on sexual orientation should be approached as being of dubious validity -- like laws that discriminate based on race, national origin, sex, religion, alienage, or illegitimacy -- will send out ripples, if not waves, touching all laws that continue to oppress lesbians, gay men, and bisexuals, and will influence many in our nation to rethink whether those laws should be maintained.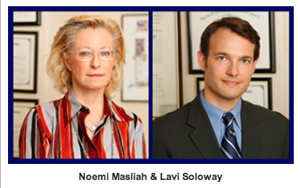 Last October Soloway and his colleague Noemi Masliah, partners in the immigration firm Masliah & Soloway, started Stop The Deportations: The DOMA Project "to raise awareness of the cruel impact of the DEFENSE OF MARRIAGE ACT on married gay and lesbian binational couples and bring an end to that discrimination." The campaign invites same-sex bi-national couples to submit testimonials, videos, and photographs to help raise awareness of the impact of DOMA on their lives.
To date, LGBT advocates for immigration equality have dedicated the bulk of their efforts toward passing the Uniting American Families Act (UAFA), which would enable same-sex "permanent partners" of United States Citizens to become permanent residents. Last year advocates for the bill achieved a significant victory when Senator Charles Schumer, lead sponsor of Comprehensive Immigration Reform, announced that key provisions of UAFA would be included as part of the larger immigration bill. However, with the election of a Republican majority in the House of Representatives last November, prospects for the passing bill dimmed significantly.
Soloway, who in 1993 cofounded the organization Immigration Equality with Noemi Masliah and Suzanne Goldberg, is quick to point out that this new strategy is not meant to replace any other saying the movement for LGBT equality must continue to move ahead on all fronts, including legislation and litigation. However, he adds, "The sole obstacle remaining to resolving the status of same-sex binational couples is DOMA. Resolve that, and game over, we're done."