Text by Stacy A. Anderson, Associated Press
WASHINGTON - Some 30,000 kids and their parents swarmed the White House grounds Monday for the annual tradition of rolling Easter eggs across the South Lawn, complete with games, storytelling and a visit from the Easter Bunny.
"I hope everybody is having a great time here," President Barack Obama said in brief remarks formally kicking off Monday's event. He was joined on a balcony overlooking the sun-drenched South Lawn by wife, Michelle, daughters Malia and Sasha and mother-in-law Marian Robinson.
Michelle Obama said it was "pretty amazing" that a record 30,000 people would be attending. All 50 states and Washington, D.C., were represented, according to the White House.
Take a look at photos of the festivities by Getty -- and check out Michelle's snazzy gray and floral frock by Tracy Reese. And scroll down to keep reading!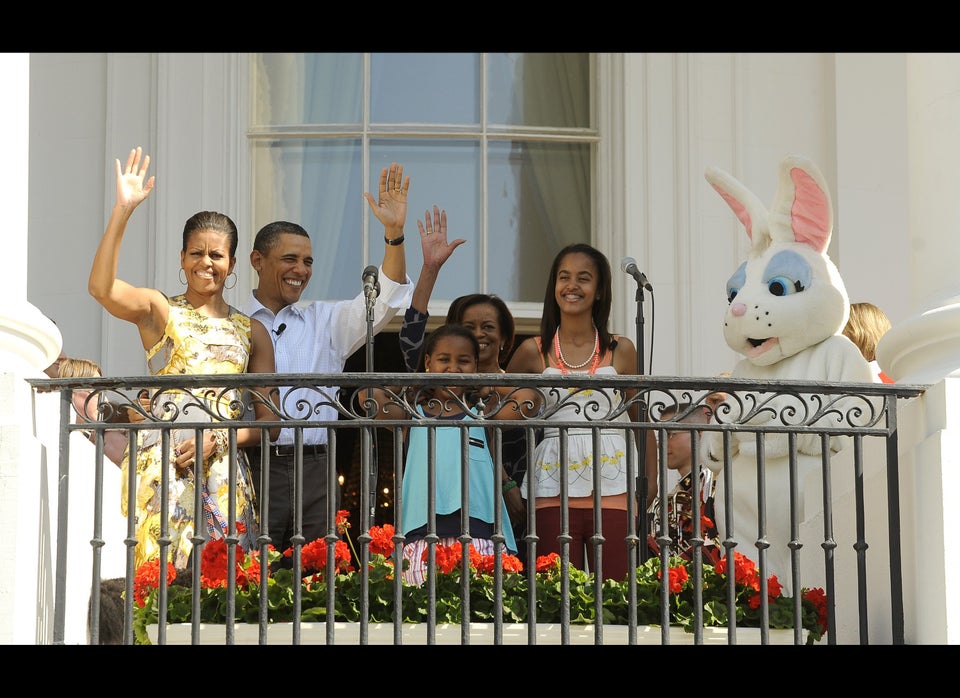 "We are so excited about this year's Easter egg roll," she said. "The theme is "Get Up and Go!" because, as you know, I'm a big proponent of getting up and going, making sure we're moving and eating healthy and this Easter Egg Roll reflects all of that."
Mrs. Obama has traveled around the country stressing healthy eating and exercise as part of a nationwide campaign against childhood obesity.
She urged Easter Egg Roll participants to enjoy all the available activities, including story time, obstacle courses, yoga, dancing, tennis and basketball with professional athletes and, of course, the traditional rolling of pastel-colored hard-boiled eggs across the plush lawn that essentially is her back yard.
As the rest of his family and the Easter Bunny looked on, Obama blew a whistle to start one of the traditional egg-rolling races.
"Is everybody ready? Everybody feels good about their form?" he said before signaling the start.
As the race neared an end, one girl was left rolling long after the others. Obama encouraged her, then helped her flip her egg across the finish line.
"Everybody's a winner!" he said before delivering a high-five to the boy who won and posing for pictures with them all.
Before saying good-bye, Obama and the first lady took turns reading "Chicka Chicka Boom Boom."
The Easter Egg Roll dates to 1878 and President Rutherford B. Hayes.
Tickets to the daylong affair, scheduled for 7:30 a.m. to 6:20 p.m., were distributed to five groups. Each group of 6,000 guests will be allowed to spend two hours on the South Lawn, the White House said.
Popular in the Community