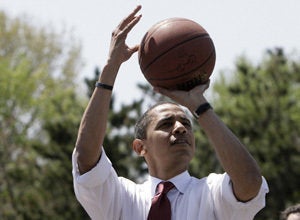 Senator Barack Obama continued his election day ritual Tuesday with a two-hour basketball game on Chicago's West Side.
Among the players in Obama's good-luck game at Attack Athletics Center on the city's West Side, according to NBC Chicago:

[C]hief strategist David Axelrod, former pro player and state treasurer Alexi Giannoulias, Ariel Capital Management's John Rogers Jr., Chicago Public Schools CEO Arne Duncan, campaign treasurer Marty Nesbitt and Dr. Eric Whitaker, an executive for the University of Chicago Medical Center.
Obama left the gym around 4:45 for the Hyatt, where he will watch election returns before heading the short distance to Grant Park.
Watch video of Alexi Giannoulias discussing today's game:
Popular in the Community