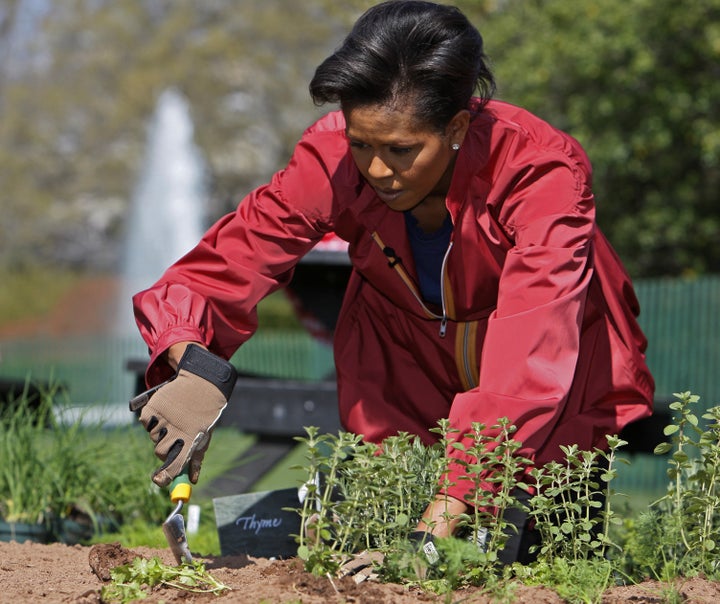 Between 2002 and 2007, the number of small "hobby farms" (consisting of 10 acres or more) has grown 30 percent to 232,000 nationwide, the U.S. Department of Agriculture's most recent farm census reported.
Recently, the Obama administration has ushered in a transformation of the world of agribusiness as well. The USDA has contributed to the rise of independent farms, increasing the number of active farmers markets by 13 percent. This unprecedented rise is part of a new pilot program designed by the USDA to bolster the local food movement.
Then there's the White House farmers market, a symbol of the Obama administration's push to promote buying locally grown food. It's the first time since Thomas Jefferson was president that fresh produce is being sold in the open air so close to the president's house," according to an NPR segment aired on October 4. The market opened its doors last month with First Lady Michelle Obama happily shopping for produce. She's made encouraging families to eat healthier one of her top priorities as First Lady.
Produce grown by local independent farmers is often more expensive than conventional produce sold at a supermarket, which makes buying local out of reach to many low-income families. The White House market alleviates this problem by accepting food stamps - and makes them worth twice as much as they would be if spent elsewhere.
The Obamas hope that making fresh, local food accessible to more Americans will make it easier for more families to eat healthier, which will serve to decrease overall health care costs, while stimulating economic development in rural areas. But we're not there yet. Before Washington can reform our health care system, it's got to reform our agribusiness methods, The Omnivore's Dilemma author Michael Pollan argued in a New York Times editorial last month. Right now, small farmers account for only a small portion of the total profit made by the farming industry as a whole - over the last five years, 108,000 new farms had sales of less than $10,000, according to Agriculture Secretary Tom Vilsack. In addition, only a fraction of the 2008 farm bill of $35 billion has been allocated for organic, local, and small farmers.
You can support small farms in your area by looking for locally-produced food at your home supermarket or farmers market. Visit localharvest.org to find a farmers market near you. Check out Causecast's tips for how to eat locally.
REAL LIFE. REAL NEWS. REAL VOICES.
Help us tell more of the stories that matter from voices that too often remain unheard.