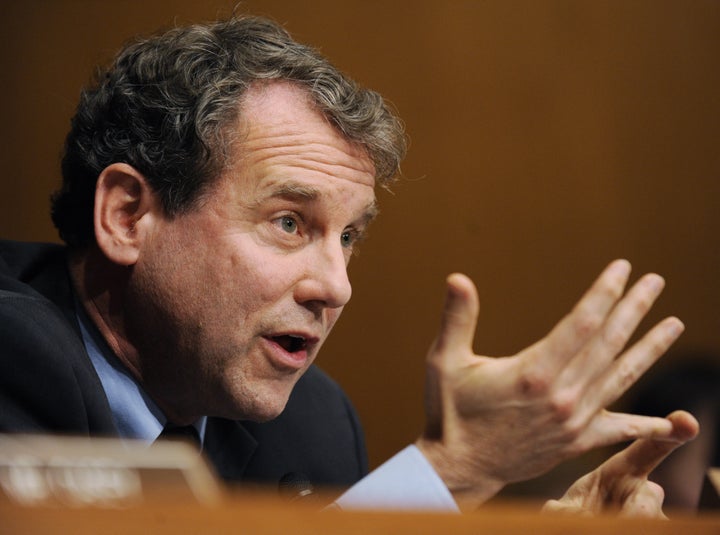 Despite urging Democratic senators on Wednesday to forge ahead on health care reform, President Obama and his aides have been largely hands-off in guiding the legislative process, Senate aides tell the Huffington Post. And on Thursday a leading Senate progressive called out the White House publicly for abandoning the leadership role that is needed to get legislation passed.
"The president was weighing in pretty heavily on the discussions between the House and Senate before the Massachusetts special [Senate] election," Sen. Sherrod Brown (D-Ohio) told Huffington Post. "It's dried up since."
"I think the president needs to work out with House Democrats and leaders in the Senate what we've got to do in reconciliation and what we can pass in reconciliation," Brown added. "And I think we can do a lot. I'm not a minimalist here, that we just do the minimum, do the little bit that's required. I think we can do some significant improvements on the Senate bill. We need to because House members are not exactly trusting of the Senate these days."
Brown's lament was echoed in conversations with several high-ranking Senate aides this past week, many of whom agreed that the administration's involvement in health care negotiations has declined since Scott Brown's victory in the Massachusetts Senate race. Part of the toned-down engagement seems tactical. The main hurdle to getting reform passed is an absence of conviction among House Democratic lawmakers that the Senate will amend their bill using reconciliation. And it's debatable how much the president can do to generate that trust.
On Wednesday, the Plum Line's Greg Sargent reported that White House officials were telling congressional aides that they support a plan for the House to pass the Senate's bill with an accompanying reconciliation fix. But an administration official told HuffPost that no such signal was being sent.
All of which has struck Sherrod Brown and others as somewhat peculiar. Most observers of the debate believe that the best way to get legislation passed is to follow the suggestion of House Speaker Nancy Pelosi (D-Calif), who said that the Senate needs to make a firm commitment (either in writing or action) to amend its legislation. Whatever steps can be made to facilitate that process would seem important. But the administration is so far declining to engage.
Asked on Wednesday what the White House was doing to help convey Pelosi's message to Senate Democrats, Deputy Press Secretary Bill Burton replied: "Well, I think that Speaker Pelosi has made her views clear, and I think that she's probably communicating her own message to Senate Democrats."
Huffington Post: "So you're not helping her out communicating that message?"

Burton: "Well, I think that if Speaker Pelosi wants to talk to Senate Democrats, she knows where to find them, and I assume that she is indeed talking to them. The President, as I've said, has made his principles clear here on health care and thinks that we need to finish the work so that we can get health reform signed into law."