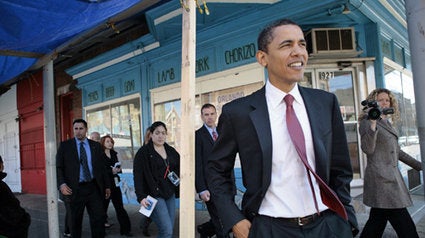 Late last week, as Barack Obama's trip abroad was dominating national media coverage, John McCain's campaign issued a retort for pundits who wondered if the Arizona Republican was getting lost in all the hoopla.
In an email to reporters, McCain's director of regional media Jeff Sadosky claimed that a majority of Americans actually get their news from "local and regional newspapers and local television news programs" that had been covering McCain all week long.
The purpose of the memo was two-fold: first, to pressure big media to show McCain a little more love, but secondly, to argue that McCain's freeze-out perhaps wasn't such a big deal after all. Featuring numerous clippings from four states the presumptive Republican nominee had visited while Obama was abroad, Sadosky's implicit claim was that the campaign was winning the media war where it really counts, closer to home.
But the local coverage wars are not so clearly tilted toward McCain's advantage. A review of reporting in local papers finds a slew of coverage of Obama's active field operation, mostly hooked on the dozens of Obama campaign offices opened in recent weeks.
This week in Montana, for example, the Helena Independent Record led its story on local organizing with a Obama staffer's line: "Republican presidential candidate John McCain is taking Montana for granted..." The paper noted that the Illinois Democrat currently has six state offices in action to McCain's zero. In a July 31 Bozeman Daily Chronicle story headlined "McCain campaign manager expects big victory," the paper pointed out that a Obama's advantage in paid field staff may be yielding dividends -- citing a Rasumussen poll that showed McCain down five points despite the fact that President George W. Bush carried the state handily over John Kerry in 2004.
Montana isn't the only Republican stronghold where Obama's unprecedented field operation is inspiring positive local coverage. In The Oklahoman, a recent report detailed how a gang of enthusiastic Obama volunteers opened the first office of either campaign in Sooner State. After noting that Obama's national campaign was finalizing plans to open their own official site, the paper reported that "U.S. Sen. John McCain, the presumptive Republican presidential nominee, has no immediate plans to open an Oklahoma campaign office."
Battleground states are also interested in reporting on Obama's superior ground game. Ohio's local ABC affiliate WTVG reported last week that, even while Obama was abroad, he was also dominating in terms of local outreach.
"And while [Obama] spent more time in Paris today than he has in any part of Toledo this summer, Obama has opened a campaign office in Toledo with dozens of young enthusiastic people pushing his message," the station reported, adding: "McCain does have a headquarters [in Ohio]," the station added. "It's a regional office in Columbus that covers both Ohio and Pennsylvania. Meanwhile, Obama has satellite offices open all over both states."
In Michigan, papers in Macomb and St. Clair counties gave prominent coverage to the openings of new Obama offices. And in McKeesport, Pennsylvania, The Daily News reported this week that Obama has 10 to 1 advantage over McCain in terms of state offices.
So while McCain has a valid point that the national media may navel-gaze from time to time, by electing not to match Obama's investment in field offices, his may also be losing the race to inspire the positive local coverage they cite as being important.
Calling all HuffPost superfans!
Sign up for membership to become a founding member and help shape HuffPost's next chapter