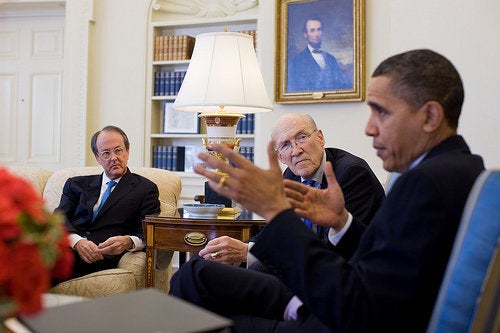 The move only heightens suspicion that rather than forging a national consensus on future spending priorities, the commission's work will consist of backroom dealings in which members of the Washington aristocracy find high-minded excuses for cutting the social safety net.
Bruce Reed, the commission's executive director, assured the Huffington Post there is nothing sinister about holding working group meetings like today's in private. But he had no good reason why they shouldn't be held in public, either.
"The smaller working group meetings are not decision making meetings," he said. "It's not practical to have C-SPAN there anytime two or more fiscal commission members are gathered.... We're going to have some boring meetings in public -- and some boring meetings by ourselves."
Reed said the "actual deliberations are going to be in public, at the full commission meetings."
But what's the harm of letting the public into the other meetings as well? Reed struggled with the answer. "Look, I think that the, the goal of, of the working group meetings is to give members of the commission a chance to ask questions and learn things and not have to make formal statements and, and so we're going to have plenty of opportunities for members of the commission to educate the public and be educated by the public. But sometimes members want to have a boring meeting just by themselves."
Rep. John Conyers, Jr. (D-Mich.) and 15 other progressive members of Congress last week sent a letter to the commission's co-chairs, asking that they allow C-SPAN coverage and Internet streaming of all the panel's meeting and deliberations, including those "working groups" -- which they figure are actually the most likely place that deals are going to get cut.
House Minority Leader John Boehner sent the commission a similar letter in March -- at least as far as demanding transparency.
The commission's initial staffing decisions only add to progressive concerns. Reed, the executive director, hails from the Democratic Leadership Council, true paragons of political triangulation. Reed brought DLC research associate Conor McKay on board as well.
Pleading poverty on account of the commission's $500,000 budget (a good chunk of which will go to the executive director's $150,000 a year salary, and office expenses) Reed said he is reaching out to other government agencies and nonprofit groups to lend him "detailees" for key staff posts.
Deficit hawks are policymakers who have an unhealthy obsession with keeping the federal budget under control. Lately, the only concrete thing they seem to be able to agree on is that Social Security payouts need to be reduced.
Reed denied that he is putting his thumb on the scale with his staffing decisions. "We are building a staff of experts," he said. "It will be a bipartisan and nonpartisan staff with people from across the spectrum, much like the commission itself."
He said future hires could come from such progressive groups as the Economic Policy Institute. "I think that we'll have progressive staffers, we'll have conservative staffers, we'll have centrist staffers. This is an issue that concerns people across the spectrum for different reasons."
The full commission, which will meet once a month, in public, heard a limited range of views at its first meeting on April 27. Headliners included Federal Reserve Chairman Ben Bernanke and OMB's Orszag.
Similarly, the heads of the working groups don't exactly represent the whole political spectrum. Wednesday's meeting, of the "Discretionary Spending" working group, was led by Rep. John Spratt (D-S.C.) and Senator Tom Coburn (R-OK). That represents a range from Blue-dog deficit hawk (on the left) to radical government de-funder (on the right).
The commission's makeup and the requirement that all recommendations be approved by 14 of the 18 members make is almost foreordained that it won't agree on much.
There are certainly enough votes on the right to block any significant tax increase proposals.
There certainly aren't enough votes anywhere to propose deep spending cuts in the bloated military budget.
The only real question is whether there are five votes -- enough to block passage -- against cutting social programs, particularly Social Security.
Reed disputed this vision of the commission's future. "I guess I don't accept the premise that because a group is concerned about the deficit that means it has an agenda," he said. "I think it's far too early to assume anything about what members will be willing to recommend."
WATCH: Alex Lawson, communications director for the progressive group Social Security Works stood outside the commission's meeting room Wednesday morning and livestreamed the door closing over and over again, as members and staff members filed by saying "no comment."
Commission Members

President Obama appointed the two co-chairs and four regular members. The majority and minority leaders of the House and Senate each got to pick three each.
Co-Chairs:
Erskine Bowles, Former White House Chief of Staff
Alan Simpson, Former Republican Senate Whip
Members Appointed by Obama
David Cote, Chairman, CEO, and President of Honeywell
Ann Fudge, former Chairman and CEO of Young & Rubicam Brands from 2003 to 2006
Alice Rivlin, Senior fellow in the Economic Studies Program at the Brookings Institution and visiting professor at Georgetown University
Andy Stern, President of the Service Employees International Union
Democratic House Members
Rep. John Spratt (D-SC), House Budget Committee Chairman
Rep. Xavier Becerra (D-CA), Democratic Caucus Vice Chair
Rep. Jan Schakowsky (D-IL), Member, Energy and Commerce Committee
Republican House Members
Rep. Dave Camp (R-MI), Ranking Member, House Ways and Means Committee
Rep. Paul Ryan (R-WI), Rankinig Member, House Budget Committee
Rep. Jeb Hensarling (R-TX), Vice-Ranking Member, House Budget Committee
Democratic Senate Members
Sen. Dick Durbin (D-IL), Senate Majority Whip
Sen. Max Baucus (D-MT), Senate Finance Committee Chairman
Sen. Kent Conrad (D-ND), Senate Budget Committee Chairman
Republican Senate Members
Sen. Judd Gregg (R-NH), Ranking Member, Senate Budget Committee
Sen. Mike Crapo (R-ID)
Sen. Tom Coburn (R-OK)
*************************
Popular in the Community