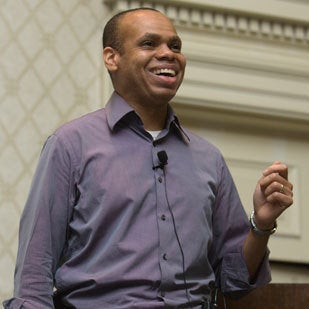 When you ask former and current colleagues to describe Patrick Gaspard, the picture they paint is eerily universal.
Barack Obama's political director, they say, is a tireless worker known for putting in 14-hour days. He is a family man, devoted to his wife and two kids beyond any other aspect of his life. He is intensely modest, often shunning credit for the achievements he's helped create. And he may very well be the most brilliant strategist and organizer you have never heard of.
"Patrick is the best political mind of his generation in New York and maybe the nation," says Kevin Sheekey, who as Michael Bloomberg's right-hand-man has frequently worked and battled with Gaspard.
"I wouldn't dispute that," said David Axelrod, Obama's chief strategist and Gaspard's cohort on the campaign trail. When reminded that such a title could be bestowed on Axelrod himself, the strategist said he was "happy to cede that" to Gaspard.
And yet, for all his abilities, there is shockingly little mention of Gaspard's accomplishments in the public record. A Lexis Nexis search of his name from before the 2008 campaign reveals next to nothing, a far cry from the star-power personas of former White House political directors like Ed Rollins, Rahm Emanuel and Karl Rove.
But one should not take Gaspard's near hermit-like desire for privacy -- attempts to reach him for this piece went un-returned -- as an indication that he's avoided the tough political fights. Far from it. As friends and colleagues recall, he's been content to do the grunt work while others reap the praise. "He is one of the most impactful people I have ever met in politics," said Axelrod.
Born in Haiti, Gaspard got his first taste of high-stakes politics in 1988 when he assisted Jesse Jackson's presidential campaign. That momentous but losing effort led to an equally historical win one a year later, when Gaspard helped David Dinkins become New York City's first African-American mayor. As would be a common feature throughout his career, aides say he poured himself into behind-the-scenes work, making inroads with different constituencies and offering strategic advice when needed.
"He has great instincts," Dinkins recalled for the Huffington Post. "You were not apt to find him beating his chest and talking about how great a job he did is. But anyone who worked for him would make that observation for him."
The Dinkins years, owing mainly to a worsening economic situation and city's crime rate, were frantic ones, during which Gaspard was tasked with advance work and government affairs. One of his signature achievements came when he spearheaded a trip to South Africa for cabinet members to meet with Nelson Mandela in 1992. He poured himself emotionally into that as well as every other task, said Bill Lynch, Dinkin's chief aide at the time. And when, a year later, Dinkins was out of office, losing a closely contested election to Rudy Giuliani, Gaspard took the loss hard.
"When we came out to announce that we had lost he was out in the hallway crying," recalled Lynch. "He took it very badly. He had spent so much energy putting it together in 1993."
Over the next few years there is remarkable little about Gaspard on the public record, though Lynch says he was heavily involved with the city council and political organizing. An NPR piece from September 1995 described him hosting a meeting for an outfit called The New Party in the basement of his home in Brooklyn. The topic: school board races.
And then, the next big political issue came.
By 1999, Gaspard was working as the chief of staff for councilmember Margarita Lopez, when a 23-year-old immigrant from Guinea was shot and killed by four New York City Police Department plain-clothed officers. Amadou Diallo would become a symbolic crest to the anything-goes, oftentimes brutal police work that personified the Rudy Giuliani administration. Unarmed at the time of the shooting, Diallo's body was riddled with 19 bullets (out of 41 shots fired). When the four officers were acquitted of charges of second-degree murder, demonstrations erupted across New York.
One of the city's most powerful unions, SEIU's 1199, needed someone to coordinate their Diallo efforts. And the group's political director, Bill Lynch, turned to his old aide for the task. "[Patrick] took the lead on that," he recalled. "He helped organize city-wide efforts and was instrumental in bringing leadership together."
The protests were massive in their scope, with multiple elected and religious officials as well as a scattering of celebrities taking to the streets. And while they did not result in legal vindication, in March 2004 Diallo's family did receive a $3 million settlement from the government. Gaspard had his entrance into union life. Over the next few years he would help augment 1199 as a political force in the city and nationally. His work took him from Florida -- to help with the 2000 presidential recount -- to the streets of New York. And he took to the task with his usual vigor.
During a massive and successful fundraising campaign five or six years ago, Gaspard walked into the 1199 offices with a satisfied look on his face. "It was his birthday," recalled Jennifer Cunningham, the union's political director at the time. "When I wished him happy birthday, he looked very pleased with himself and finally admitted that he'd had a 'pretty good run' that morning. When pressed, he shared that he'd just run ten six-minute miles and knew that he was not over the hill yet. If it were anyone else, I would have HATED them. But he's so great and so self-effacing, I could only marvel."
By 2004, Gaspard was no longer one of those 40-under-40 budding political stars but rather a full on political force. After Howard Dean -- whom 1199 supported during the Democratic primary -- dropped out of the race, Gaspard signed on with America Coming Together, a 527 organization dedicated to getting out the Democratic vote.
"He is extremely close to his kids and obviously his wife," recalled Steve Rosenthal, director of ACT. "Getting him to leave New York to join us was a very big get. But he did it at an enormous sacrifice."
As National Field Director, Gaspard oversaw officials in almost every single state and played a key role in directing a paid staff of, eventually, 8,000. The work was tireless, and Rosenthal would occasionally tease Gaspard that he was going to "develop a severe case of carpel tunnel syndrome at a young age," from overuse of his BlackBerry. John Kerry would lose the election but in many regards ACT was a major success. Ken Mehlman, the RNC director at the time, credited the group with keeping the race close, and its work canvassing served as a template for much of what Obama would do four years later.
Gaspard, of course, would be there to see that effort through. After helping win state and local races for 1199-favored candidates in New York, he joined the Obama campaign in June 2008 to serve, once again, as "political director." His job interview became a semi-famous anecdote when it found its way into an article by the New Yorker's Ryan Lizza,
"I think that I'm a better speechwriter than my speechwriters," Obama told Gaspard. "I know more about policies on any particular issue than my policy directors. And I'll tell you right now that I'm gonna think I'm a better political director than my political director."
Statements of bravado aside, Gaspard earned the respect of his boss and others on the campaign. Aides described him as a "glue man" -- tasked with holding different groups and constituencies together despite the obvious strains that a campaign can bring.
"He was dealing with politicians and political organizations from very high-ranking people to people down the line, all around the country," said Axelrod. "So it is fair to say that he had a lot of headaches from morning to night because you can never please everybody... Patrick was, I thought, incredibly deft at making the right judgments and enforcing the right decisions and doing it all in the spirit of our campaign."
There was similar applause over his appointment to the Obama administration. Rosenthal called him the "rare breed" of individual who could help bridge the world of activism and governing pragmatism. His skills as a strategist, organizer and political "technician," he added, will make him perfect for the director post. Lynch, meanwhile, said that Gaspard's efforts on behalf of working-class families would spill over into the White House, making him a key voice for labor and health care issues.
And in an administration that some say lacks a high-level liberal persona, Gaspard -- with his union background, his immigrant roots, and the political scars earned in New York City -- could be that voice.
"He is obviously a progressive guy," says Axelrod. "But I think there is a difference between being idealistic and being an ideologue. I think he generally believes you can enhance the lives of people through politics. I don't think that, to him, it is a game. I think it is to him and means to an end to make this place a better country."
Popular in the Community