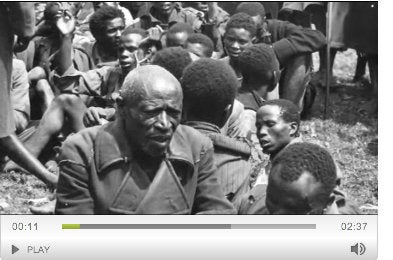 President-elect Barack Obama's paternal grandfather was brutally tortured by the British during Kenya's Mau Mau uprising, according to Obama's Kenyan relatives and reported in the Times of London.
Hussein Onyango Obama, Mr Obama's paternal grandfather, became involved in the Kenyan independence movement while working as a cook for a British army officer after the war. He was arrested in 1949 and jailed for two years in a high-security prison where, according to his family, he was subjected to horrific violence to extract information about the growing insurgency.

"The African warders were instructed by the white soldiers to whip him every morning and evening till he confessed," said Sarah Onyango, Hussein Onyango's third wife, the woman Mr Obama refers to as "Granny Sarah"...."He said they would sometimes squeeze his testicles with parallel metallic rods. They also pierced his nails and buttocks with a sharp pin, with his hands and legs tied together with his head facing down," she said The alleged torture was said to have left Mr Onyango permanently scarred, and bitterly antiBritish. "That was the time we realised that the British were actually not friends but, instead, enemies," Mrs Onyango said. "My husband had worked so diligently for them, only to be arrested and detained."
The Guardian questions how this new information will affect Obama's relationship with the UK and view of interrogation techniques.
Obama, with more pressing contemporary problems on his plate, is unlikely to be fixated on extracting revenge from the UK. But he may draw the broader historical conclusion that the imposition of torture and repressive violence has a habit of undermining the political legitimacy of world-class powers.

He has already signalled his determination to close the Guantanamo Bay detention centre and speed up withdrawal from Iraq. We will have to wait and see whether his grandfather's experience has a bearing on his policies on Afghanistan and international terrorism.
Popular in the Community