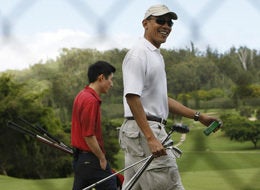 The pool report on Obama's holiday vacation in Hawaii today has some amusing accounts of his spam sushi lunch and a confession that he's not very good at golf:
President-elect Barack Obama finished his afternoon golf game about 5:30 p.m. local time, five hours after arriving at Olomana Golf Links.

There is no word on Mr. Obama's score or any of the others in the foursome.

But half-way through his 18 holes, as he stopped by the snack bar, he unexpectedly bumped into the pool sitting outside the club house. Asked how his game was going, he smiled and conceded: "I'm not that good."

He chatted for a moment, telling the pool to have a beer and put it on his tab. No one took him up on the offer.

As for Mr. Obama and his group, a snack bar clerk later confirmed that he purchased two hot dogs, two spam musubi, two passion orange sodas, one Powerade and one coke, for a tab of $17.75. The spam musubi, a local luncheon specialty, consists of spam and a fried egg on a bed of rice, all held together with a dried seaweed wrap. (Visualize a very big sushi role, slightly larger than a Hostess Ho Ho.)

The golf course was located in the Windward community of Waimanalo, about 20 minutes from Waikiki. The 18-hole course, a par 72, is set against a backdrop of the Ko'olau Mountain Range. The public course, according to marketing materials, features challenging holes of water hazards, sand traps and undulating topographical conditions.

The pool held near the clubhouse for the duration and did not watch the president-elect play.

The motorcade rolled out of the golf course at 5:42 p.m., with Mr. Obama seen on his cell phone, as he made his way back to the Kailua vacation house.

Evening plans? Uncertain.

Jeff Zeleny
New York Times
Calling all HuffPost superfans!
Sign up for membership to become a founding member and help shape HuffPost's next chapter