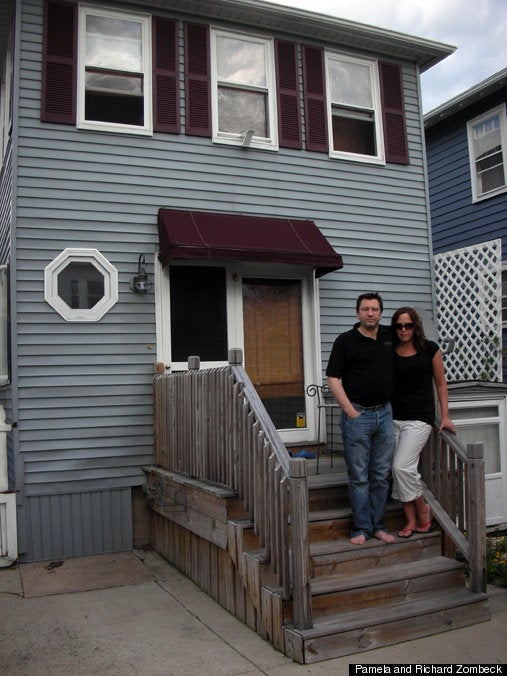 Additional reporting by Matthew Palevsky

Many homeowners on the brink of foreclosure had been crossing their fingers hoping for a loan modification when President Obama announced his Making Home Affordable program, a government subsidized mortgage modification program that looked like their answer. But in practice, the "homeowners' bailout," intended to alleviate the burden of predatory lending rates, may only delay the inevitable for many who currently face foreclosure.
When it was unveiled in February, the Obama administration's Making Home Affordable (MHA) plan was hailed as a step in the right direction. The $75 billion plan promised to help as many as 7 to 9 million homeowners with their mortgages, 4 to 5 million through loan modification.
The New York Times reported at the beginning of June that only 100,000 loan modifications have been offered, with even fewer approved -- while at the beginning of June, the number of homes foreclosed in 2009 alone surpassed one million. One loan servicer told the Huffington Post they have reached out to 49,000 homeowners who might qualify for a modification under the Obama plan, and have so far approved 1,300 such modifications. That's under 3% in the four months since the program was initiated, but they say that 75% of the borrowers who apply could eventually be approved.
Homeowners testify that just getting the attention of loan servicers involves jumping through hoops and waiting for months on end. But those who have braved the bureaucratic red tape and managed to land a MHA loan modification say that these loans, too, bear scrutiny.
Loan servicers participating in the MHA program receive "Pay for Success" incentives: an up-front fee of $1,000 for each modification, and an additional fee of $1,000 a year as long as the borrower stays current on their payments, for up to three years. Under the terms of the program, a borrower's monthly payment is reduced to no more than 31% of their gross income, which can lower payments significantly. To get down to this 31% debt-to-income ratio, loan modifiers can cut interest rates as low as 2% and extend the term of the loan up to 40 years.
But the rest of the debt? It doesn't vanish, and five years later, interest rates can start creeping up again. Many of the homes now in danger of foreclosure are worth significantly less than they were before the housing bubble burst -- so some homeowners are stuck paying off loans worth more than the value of their house.
The MHA program also gives banks the option of reducing the principal, and provides incentives for them to do so. But it seems, instead, that banks modifying loans are not interested in write-downs, even for houses that are underwater (worth less than the owners' loan balance). This leads to MHA loans that may not be tenable for the long term.
Take Richard and Pamela Zombeck of Boston, MA, whose foreclosure story was featured on the Huffington Post in February. The Zombecks were given the runaround from their loan servicer for upwards of seven months and were at the end of the line, headed toward foreclosure unless they got a break.
In September 2006, the Zombecks had bought their first home in a suburb north of Boston for $360,000. A close friend who worked as a realtor recommended they apply for a zero down mortgage: "Why would you throw money at a loan when you can get 100 percent financing?" she advised them. Their two loans averaged less than 8% for the first year and would steadily increase to as high as 12% over the two years after that. Their friends in the real estate and banking industries promised them that the housing market was only going up, and they would be able to refinance in a year or two for a lower-interest mortgage.
Taking this advice, the Zombecks applied to refinance in May 2008. Their bank drew up a contract for a 5.8% principled interest loan, but decided to rewrite the terms at the last minute in response to a falling stock market and an uptick in foreclosures.
Weeks later, in early July, Pamela was laid off from her job as an event planner at Harvard University in the publishing department. "I thought I'd have that job forever," she said. "Then Harvard closed the entire office."
With things crashing down around them, and with only one income, the Zombecks turned to Second Chance Legal Services, a firm that promised to help them through the woolly details of loan modification. Second Chance convinced Richard and Pamela that they didn't have the know-how to negotiate with their loan servicer, Ocwen, and charged them $3,500 up-front. Second Chance was later served two cease and desist orders from California officials and was accused of fraud -- exploiting homeowners already on the edge of foreclosure.
In December, the Zombecks refused the loan modification that Ocwen finally offered. It was more of the same: their interest would almost double after two years from 7.44 to 13%. They would be back in the same sinking boat in two years.
Then the Obama administration announced their MHA program, meant to help people in exactly the Zombecks' situation. But it took them months to get Ocwen to approve a MHA loan modification. At first, they were denied the modification "due to insufficient disposable income." At the same time, the Zombecks were offered an in-house modification for the 2nd lien loan that included an adjustable interest rate, a 30-year interest-only term and no reduction in principal -- with extra fees added on. Pamela questioned their logic: "So we don't have enough money to pay a lower interest rate payment, but we have enough money to pay a higher interest rate payment? Makes sense, right?"
At the Zombecks' request, Ocwen reassessed their situation and offered them a government-program modification. With the Home Affordable loan modification, their interest is down to 5.125% for the first five years, and will increase after that to 5.290%. But they don't think this loan is realistic for their financial situation. According to Pamela, even though Ocwen reduced their interest, their principal is the same as before -- which means if they make full payments on time for the duration of the loan term, they'll still owe a one-time balloon payment of $250,000. "We just can't afford it," says Pamela.
When the Zombecks were sold their original mortgage, they were told that rising housing prices would ensure they could refinance before their payments increased beyond their means. The logic of the Home Affordable modification they recently received rests on a similar assumption. If the housing market doesn't rise substantially, the Zombecks will continue paying interest on a house that's significantly underwater. Pamela says, "I'd like to see someone who the [MHA program] has worked out for."
Who is being helped by the the Making Home Affordable program? If you or a neighbor has applied for or received a Home Affordable loan modification, we're eager to hear from you. Send us your stories at submissions+foreclosure@huffingtonpost.com. And sign up here to receive further updates about our foreclosure project.
Calling all HuffPost superfans!
Sign up for membership to become a founding member and help shape HuffPost's next chapter