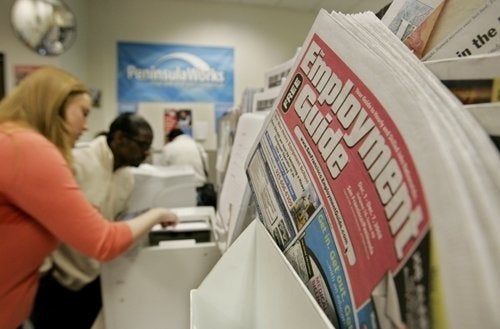 Others and I have noted that building bridges and schools will mostly provide jobs for men. Men are losing more jobs than women so far in this recession, but there are new appeals for attention to gender in the economic crisis that warrant attention. Let's talk about welfare, job equity, and education.
Although the recession is hitting men's employment more directly, overall women's employment rates in the 2000s have fallen more, and progress toward gender equality has stalled. A new report shows this is especially true among rural families, where wives are more likely to be the primary earners.
The crisis has affected most people in the U.S. (and the rest of the world), but families in the bottom-fifth of the income distribution will suffer the most. Beyond lost jobs, retirement accounts have lost value, but only 10% of these families have retirement accounts. Home values are down, but only 40% of these families own their homes. Most of these families are single women and their children.
Because most children still live with their mothers (married or not), as women go, so go children -- in economic crises as at any other time. After 12 years of decline, early reports show that welfare caseloads are ratcheting back up this year. The latest official data are from March through June of 2008, and show that 18 states (representing 55% of the national TANF caseload) had growing numbers of families in the program. The biggest second-quarter increases were in Oklahoma, California, Washington state and Florida, but reports show increases in D.C., Maryland and Virginia, as well.
Bill Clinton's welfare reform was all about getting families out of the program, on the expressed hope that the women who care for them will find jobs. After huge cuts in the first three years of the new TANF program, the first 2000s recession produced a marked slowdown in "progress" booting women out of the system.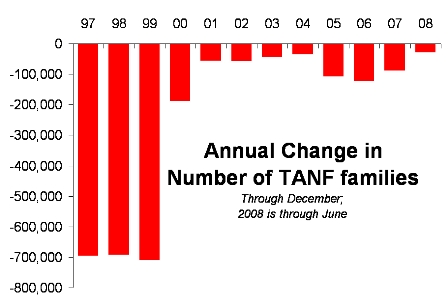 We now appear headed back toward a national increase in TANF cases. But the restrictive rules on work requirements and time limits are keeping many families that need assistance out of the program, as Peter Edelman has pointed out. If the government can extend unemployment benefits during the crisis, why not impose a moratorium on booting people from TANF?
A new petition for "Equity in New Job Programs," coming from gender and family researchers, is making the rounds, suggesting three lines of action for Obama:
1. Revive and enforce the Labor Department regulations that require government contractors to institute affirmative action plans that provide a share of the jobs for women and minorities. Closely monitor the contractors for compliance.

2. In connection with the infrastructure projects, institute apprenticeships, and ensure that at least one third of the positions go to women.

3. Add projects in health, child care, education, social service that will both provide jobs to women, and also provide needed services to them.

Some women in college or graduate school, with families, are speaking up, asking for -- among other things -- federal support for preschool and after-school programs, paid family leave to bring the U.S. up to international standards, universal health care and workplace flexibility. The new investments in green technology will yield better payoffs for gender equity in the long run if they are accompanied by a push for women's advancement in science and technology, too.
Will Obama and his economic dream team hear these calls?
Calling all HuffPost superfans!
Sign up for membership to become a founding member and help shape HuffPost's next chapter