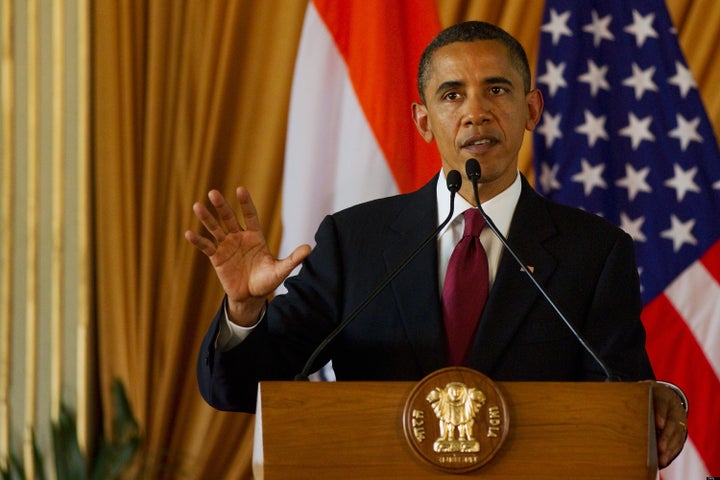 President Obama finally begins his twice-postponed Indonesian visit on Tuesday, and though his stay can be seen a homecoming of sorts, he is expected to reprise many of the same diplomacy themes expressed during his three days in India, according to reports.
However, though the U.S. has traditionally enjoyed strong ties with India -- including during the Bush administration -- many officials feel Obama needs to improve relations with Indonesia. Bloomberg reports that Indonesia's trade with the U.S. totaled $18 billion last year and, according to Jeff Bader, senior director for Asian Affairs at the National Security Council, is "the most important" of the 10 countries which make up the Association of Southeast Asian Nations (ASEAN).
Others agree that Obama needs to acknowledge the nation's emerging economic power. "We were in the shadow of China and India, in terms of development, over the past 10 years or so," Arifin Siregar, a former Indonesian ambassador to the U.S., told the Financial Times. "With the visit of President Obama, we hope that the attention of the public in America will be more toward Indonesia."
Having spent four years of his childhood in Jakarta, Obama's visit is seen as a homecoming of sorts. Despite his opponents claiming wrongly he was Muslim in an effort to undermine his popularity during the 2008 elections, Obama is expected to stress reconciliation to the Muslin world during his speech at the University of Jakarta on Wednesday. "He knows the Islam in Indonesia from when he was a child," Ali Mustafa Yaqub, the grand imam of Jakarta's Istiqlal mosque, told the FT. "We hope he will build a bridge between the Muslims and non-Muslims of the world."
Still, the president's Indonesian visit does face a few hurdles. Though Obama's departure from India early Tuesday is still on schedule, Mount Merapi's recent eruptions have prompted other airlines to cancel flights into Jakarta, according to the Associated Press. And both student and Muslim groups have already staged large-scale protests in advance of the president's arrival.
"We don't see the differences between Obama and Bush," said Ismail Yusanto, a spokesman for the Hizbut Tahrir Muslim Group in Indonesia, told CNN. "They both oppress Muslims, they both have blood on their hands. That's why we reject Obama and we don't believe that he's reaching out to Muslims."
Popular in the Community