You can increase your revenues by selling products and services overseas, even if you've never done it before. Moreover, exporting creates jobs in America. That is why President Barack Obama wants the federal government to help you get started.
The U.S. Small Business Administration is charged with helping small-business owners become exporters. The federal agency disseminates information about trade missions overseas, helps you identify prospective markets and guarantees exporting loans for lenders.
SBA's guarantee mitigates up to 90 percent of the lenders' risk, and yet, banks are skittish about jumping in. Since I live in Atlanta, Georgia, I checked out the list of export lenders in my state at SBA.gov/international. Only SunTrust and Metro City Bank participate.
"The banks listed on the website are misleading as they only list the banks that are headquartered in that state," says Ray Gibeau, Atlanta-based manager of SBA's U.S. Export Assistance Center. He says that Branch Bank and Trust, for example, makes exporting loans here but is based in North Carolina.
So I checked. BB&T and American Community Bank are the only export-lending banks listed for North Carolina. But SBA just launched its newly renovated web site and more banks may be listed.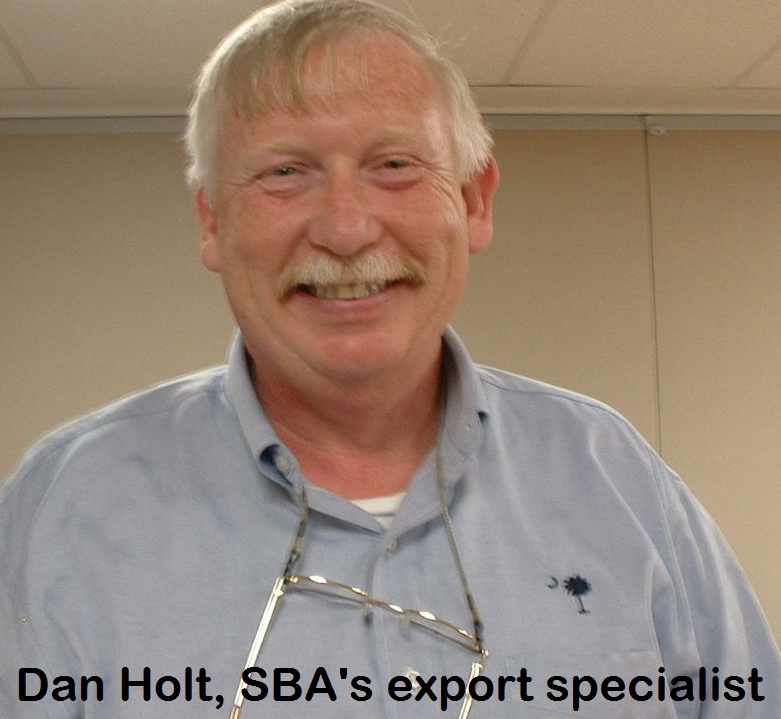 Dan Holt is Gibeau's counterpart in North Carolina and he said, "I do not waste much time trying to convince bankers to participate." Instead, he is willing to refer business owners to lenders based in North Carolina, Tennessee and Virginia that are currently financing exporters. He added that one of these lenders recently funded a loan "to export soybeans to Japan" -- a $9 million transaction.
Gibeau says, "Many banks find that the general purpose domestic loan programs can assist a company with both their domestic and export sales," and these lenders are not be listed on SBA's web site. He added that, "under the Small Business Jobs Act signed into law late last year, all three export loan programs have been improved."
A big improvement was increasing the maximum loan to $5 million from $2 million. The Export-Import bank can go considerably higher than SBA and its clients are privately-held and public companies of all sizes.
Meanwhile, Charles Green, the former president of Sunrise Bank of Atlanta, author of The SBA Loan Book, and founder of Small Business Finance Institute, said that locally, "SunTrust found SBA to be natural extension of their healthy export/import finance business line." Moreover, export lending is "dominated by larger banks that could justify expense of managing process and risk."
Export lending is complicated and servicing intensive. It requires unique skills beyond those used in more traditional business financing. Additionally, export lending is often short term, transactional and requires lines of credit. That makes it unsuitable for selling loans into the secondary market.
Lack of a secondary market is a deterrent for small community banks. They sell the guaranteed portions of longer-term SBA loans to replenish their funds. Additionally they receive up to 10-point premiums from guaranteed-paper buyers. So on a $1 million loan with a 90-percent guarantee, for example, they may get a premium of $90,000.
By contrast, most large banks keep SBA loans in their portfolios. Thus, the non-existent secondary market does not prevent them from making short-term loans. But because of the higher servicing cost, they prefer large loans to experienced exporters.
Metro City Bank in Atlanta is also on SBA's list. It caters to Atlanta's Asian community who has family and business connections overseas. Green says that in Atlanta, Chinese-owned Summit Bank, acquired by East-West Bank, "was into this kind of work because they had a large client base that needed it." Seeing East-West's success in export lending, "other Asian banks followed," he says.
This is a similar pattern elsewhere as well. Large, multi-state banks with existing, overseas business make exporting loans. Smaller community banks make exporting loans to serve their existing customers with overseas connections
Even though exporting is complex, the financial benefits make it worthwhile for business owners. And help is available.
Green can be contacted in Georgia at (404) 406-3181, or by e-mail, charles@charlesgreenco.com.
SBA's Gibeau is in Georgia. Call him at (404) 897-6089, or e-mail, raymond.gibeau@sba.gov. Dan Holt functions similarly out of North Carolina and can be called at (704) 333 4886 x226, or e-mail, Dan.Holt@mail.doc.gov.
To locate the U.S. Export Assistance Center near you, call SBA's answer desk at (800) 827-5722or e-mail, answerdesk@sba.gov.

Jerry Chautin is a volunteer SCORE business counselor, business columnist and SBA's 2006 national "Journalist of the Year" award winner. He is a former entrepreneur, commercial mortgage banker, commercial real estate dealmaker and business lender. You can follow him at www.Twitter.com/JerryChautin

Calling all HuffPost superfans!
Sign up for membership to become a founding member and help shape HuffPost's next chapter