WASHINGTON -- Senate Minority Leader Mitch McConnell (R-Ky.) vigorously defended his party's conduct regarding President Barack Obama's judicial nominees on Tuesday, as the administration and its allies step up criticisms that the GOP obstructs confirmations.
"We just today confirmed the 10th judicial nomination of President Obama's second term. Today. The 10th judicial nomination of President Obama's second term," said McConnell in a Capitol Hill press conference Tuesday afternoon. "At this point in President Bush's second term, he got zero judges. None. With regard to vacancies, about 75 percent of the vacancies that we have in the judiciary don't even have nominees."
"So we have treated the president's judicial nominees very, very fairly by any objective standard," he added.
While it is true that Obama has lagged on nominating individuals for court spots, Republicans have also, as The New York Times reported last year, "played a role, ratcheting up partisan warfare over judges that has been escalating for the past generation by delaying even uncontroversial picks who would have been quickly approved in the past."
Obama's judicial nominees wait an average of 116 days on the Senate floor for a vote, which is three times longer than the average wait for President George W. Bush's nominees. Many nominations stall even after being passed out of the Senate Judiciary Committee.
Senate Judiciary Committee Chairman Patrick Leahy (D-Vt.) has also laid some of the blame for the vacancies at the feet of Republicans, saying on April 8, "of the 35 judicial emergency vacancies, 24 are in states with Republican senators. In fact, close to half of all judicial emergency vacancies are in just three states, each of which is represented by two Republican senators. Those senators should be working with the White House to fill those vacancies."
In 2008, Sen. Orrin Hatch (R-Utah) also said, "Lacking nominees for vacancies X, Y, and Z is no excuse for failing to hold hearings and votes on nominees to vacancies A, B, and C."
Speaking to reporters shortly after McConnell's press conference, Senate Majority Leader Harry Reid (D-Nev.) disputed his colleague's characterization of how the Senate GOP has reacted to Obama's nominees.
"As I spoke on the floor yesterday, scores -- scores -- of people have been blocked -- 57 to be exact, where there have been actual filibusters on the floor," said Reid. "But scores and scores have been stopped in other means, with holds and secret holds and other things of that nature. We have a number of judicial emergencies around the country. That means you have too many cases, not enough judges. So I'm watching very closely, as are the American people, how we fare on nominations."
This week, the White House is focusing on Sri Srinivasan's nomination to the U.S. Court of Appeals for the D.C. Circuit, which is often considered the second most powerful court in the country and a stepping stone to the U.S. Supreme Court. The principal deputy solicitor general has a confirmation hearing scheduled before the Senate Judiciary Committee on Wednesday.
Reid said he hopes that Srinivasan can be confirmed "very quickly." He also shared that he spoke with White House officials on Tuesday morning, who said that there will be three more nominations in the coming weeks.
The majority leader also left the door slightly open to filibuster reform in order to change the rules for approving judicial nominees, telling the press, "I hope that's not necessary."
Even as a percentage, Obama is getting fewer nominees through than Bush did. The Alliance for Justice keeps track of judicial nominations and confirmations. From its snapshot on April 4 (which does not include the latest confirmation on Tuesday):
On March 22, Obama withdrew the nomination of Caitlin Halligan to serve on the D.C. Circuit. Senate Republicans had blocked the former New York solicitor general for more than two years.
Both privately and publicly in recent weeks, Obama administration officials have been stepping up their pressure on Republicans to stop blocking the president's nominees.
The D.C. Circuit recently gained extra attention after it ruled that Obama's three recess appointments to the five-member National Labor Relations Board violated the Constitution.
UPDATE: 8:14 p.m. -- Sen. Chris Coons (D-Del.) will be presiding over Wednesday's Senate Judiciary Committee hearing for Srinivasan. In his opening remarks, provided to The Huffington Post, the senator points out that the D.C. Circuit has not had a nominee confirmed since 2006, when Bush's fourth nominee to the court went through.
"There are now 188 pending cases per active judge on the D.C. Circuit, 50 percent higher than when the Senate confirmed Thomas Griffith to fill the 11th seat in 2005," Coons adds.
More from his planned remarks:
Every time the Senate holds up a nominee for political reasons, we lose not only the contributions of that candidate but we also make it harder to find talented individuals who are willing to serve.

The nominee before us today appears from his qualifications, from my discussions with him, and from the many bipartisan recommendations his nomination has received, to possess an exceptionally talented legal mind. He has served in the Solicitor General's office for both Republican and Democratic administrations. He has served with such distinction that 12 bipartisan, high-ranking officials in the Office of the Solicitor General have endorsed his nomination. [...]

The D.C. Circuit is perhaps the most important appellate court in the nation. [...]

The cases that come before it require sober consideration and legal acumen, not ideological purity.

In my view, when a president submits a qualified candidate, of good character and sound legal mind, absent exceptional circumstances, that candidate is entitled to a vote.
Before You Go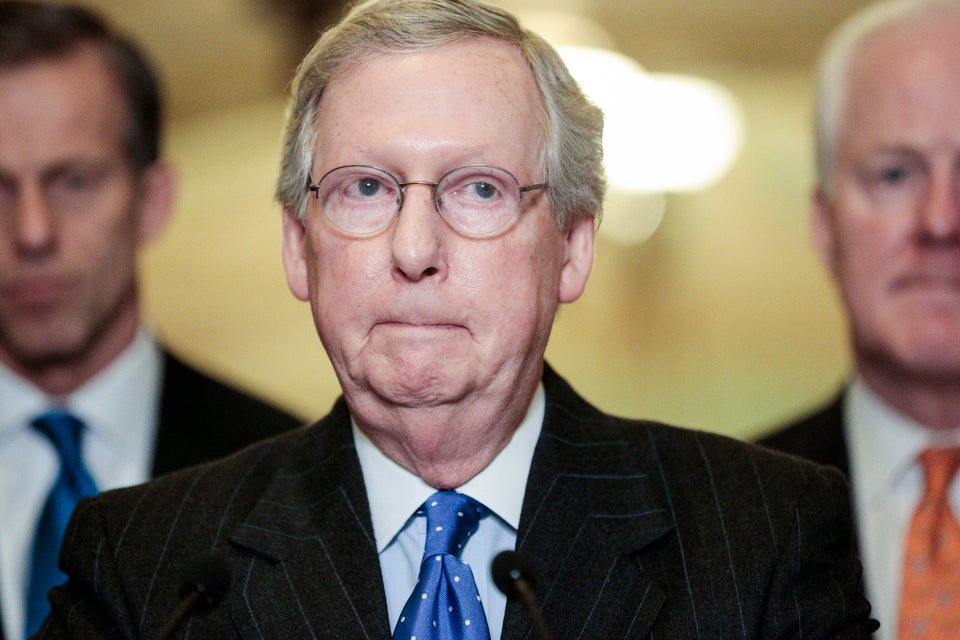 Say Cheese! Mitch McConnell Smiles
Popular in the Community