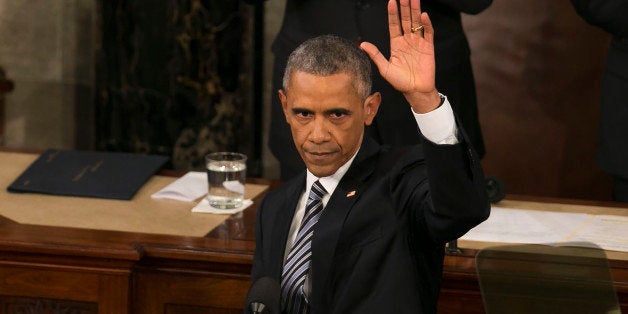 Last night President Obama took a quasi-victory lap during his last State of the Union address. He laid out four big themes that boiled down to fairness and opportunity, using technology to solve our biggest challenges, keeping us safe, and more civility (and actual progress) in politics.
The technology bullet point was mainly about climate: "How do we make technology work for us, and not against us -- especially when it comes to solving urgent challenges like climate change?"
It was great to see climate in such a prominent position. When the president got to that part of the speech, he took a humorous shot at deniers. If you want to debate the science, the president said, "you'll be pretty lonely, because you'll be debating our military, most of America's business leaders, the majority of the American people, almost the entire scientific community, and 200 nations around the world who agree it's a problem and intend to solve it."
Those statements are true but beside the point. The denier community seems to pride itself on not going with the crowd. So the argument that matters is this: tackling climate change is for our health and our economy. And Obama did make that case.
He pointed out that wind power is now cheaper than fossil fuels in many locations and that solar employs more people than coal. (Actually, the newest numbers show more people work in solar than even in oil and gas!) The tipping point on renewables has come and gone. More than half the new capacity put on the grid over the last few years came from clean energy. As the president challenged the Congress, "why would we want to pass up the chance for American businesses to produce and sell the energy of the future?"
For perhaps the first time in a speech this important, a president made it clear that clean energy is the only real option for a thriving future (although let's remember that President George W. Bush, was actually the one who said "America is addicted to oil" back in 2006). In previous speeches and SOTU's, Obama played the "all of the above" card and talked about expanding all forms of energy. Perhaps he needed to when he still had elections to win. But now he says "we've got to accelerate the transition away from dirty energy."
Another important element of the president's approach was to link climate to keeping us safe. That's something the Pentagon and military has done repeatedly, saying climate change is an "urgent and growing threat" to national security. The president basically said that climate is a real existential threat and not, in fact, terrorism (ISIL and other groups, he said, "do not threaten our national existence").
I was also a bit surprised that Obama didn't talk more about the historic Paris climate agreement besides mentioning those "200 nations" who agree on the problem (the White House pushed this point a bit more in a slide they posted with the text of the speech -- see below). His leadership - as well as Secretary Kerry's this year and then-Secretary Clinton's in 2009 in Copenhagen - was critical to success in Paris.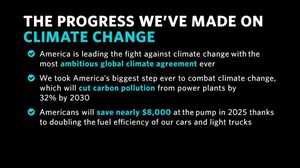 In total, this was by far the most climate hawkish State of the Union ever, and that's important progress. But I have two wishes for future addresses.
First, let's purge the language of "saving the planet", which the president still threw in there. Yes, climate change is a planet-wide, existential threat, but the planet will likely be fine; it's humans who are at risk.
Second, I fervently hope that our leaders will stop saying things like "if you don't believe the science of climate." Let's make this the last national address where we have to give credence to deniers.
Of course, whether this is the last time we hear anti-science rhetoric depends on whom we elect in November.
Calling all HuffPost superfans!
Sign up for membership to become a founding member and help shape HuffPost's next chapter