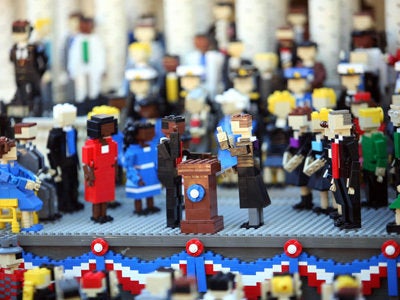 Legoland California swore in its Lego Obama last Friday and will recreate the historic inauguration through Memorial Day.
The LA Times has the story:
President-elect Obama and his family along with Vice President-elect Joseph Biden and his wife will be replicated as mini-figures in Lego bricks.

Invited dignitaries include Lego versions of President George W. Bush and first lady Laura Bush, Vice President Dick Cheney and Lynne Cheney, former President George H.W. Bush and Barbara Bush and Sen. Dianne Feinstein (D-Calif.).

ITN has video of the miniature ceremony.
Popular in the Community