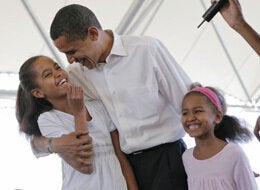 Parade Magazine has posted an open letter written by Barack Obama to his daughters Sasha and Malia. Here are a few excerpts; the full letter is available at Parade.com, and the print version will be in the January 18th issue. See if you can get through it without tearing up a little.
*Scroll down for some Obama family slideshows*
The eloquent letter begins on a humorous note, addressing the girls' steady consumption of ice cream on the campaign trail, why he decided to run for president, and, of course, the incoming puppy.
Dear Malia and Sasha,

I know that you've both had a lot of fun these last two years on the campaign trail, going to picnics and parades and state fairs, eating all sorts of junk food your mother and I probably shouldn't have let you have. But I also know that it hasn't always been easy for you and Mom, and that as excited as you both are about that new puppy, it doesn't make up for all the time we've been apart. I know how much I've missed these past two years, and today I want to tell you a little more about why I decided to take our family on this journey.

When I was a young man, I thought life was all about me--about how I'd make my way in the world, become successful, and get the things I want. But then the two of you came into my world with all your curiosity and mischief and those smiles that never fail to fill my heart and light up my day. And suddenly, all my big plans for myself didn't seem so important anymore. I soon found that the greatest joy in my life was the joy I saw in yours. And I realized that my own life wouldn't count for much unless I was able to ensure that you had every opportunity for happiness and fulfillment in yours. In the end, girls, that's why I ran for President: because of what I want for you and for every child in this nation.
He then goes on to address education, the environment, war, and the lessons their grandmother -- his mother, Ann Dunham -- taught him.
She helped me understand that America is great not because it is perfect but because it can always be made better--and that the unfinished work of perfecting our union falls to each of us. It's a charge we pass on to our children, coming closer with each new generation to what we know America should be.
He concludes by echoing the message in his victory speech on November 4th.
I am so proud of both of you. I love you more than you can ever know. And I am grateful every day for your patience, poise, grace, and humor as we prepare to start our new life together in the White House.

Love, Dad
Related